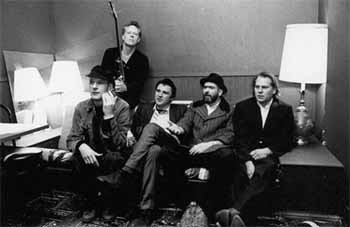 ---

" I just read a review that says it's the same old, depressing Eitzel, and it pisses me off."

---
Though the line-up was the same -- Eitzel on vocals and guitar, Dan Pearson on bass, Mooney on drums and Vudi on guitar with new member Marc Capelle on piano/trumpet -- their approach was somewhat different. Formed in 1983, American Music Club had garnered a reputation for its travels in rather stark territory, thanks to powerhouse -- though overlooked -- albums like 1991's cinematically gloomy Everclear and its follow-up, 1993's haunting Mercury. Eitzel's songs were dark, drunken rants, soaked in soul-searching, angry reflection and regret, recanting and recasting painfully attractive life episodes that throb like a decayed tooth that you can't seem to quit pushing with your tongue.
With Love Songs for Patriots, however, Eitzel and company have re-emerged in brighter, more hopeful terrain. Peppered with socio-political glances, the record rocks more often than it floats (for you outsiders, think upbeat Twilight Singers or Red House Painters). The unmistakable optimism is woven into songs like the lilting "Only Love Can Set You Free," where Eitzel urgently testifies "I've been so lucky," or "Another Morning," where he tells a down-and-out friend, "You wear your pain with pride you refuse to remove it / You become the evil that plays with you like a doll," or the first-person fable, "Myopic Books," where he realizes that "Maybe the worst is over."
Or maybe Eitzel is just being ironic and I was misreading the whole collection. Are these really songs of hope?
"I think so," he said. "I certainly didn't set out to write them that way, but I think there's a lot of positive stuff here. Still, I just read a review that says it's the same old, depressing Eitzel, and it pisses me off. They got it all wrong. They weren't listening."

---
Back to

Published in The Omaha Reader Nov.10, 2004. Copyright © 2004 Tim McMahan. All rights reserved.