The attention is justified. Since the band's remarkable debut, Don't Fall in Love with Everyone You See, released on respected indie label Jagjaguwar Records in 2002, Okkervil River has developed into one of the most thoughtful and emotionally powerful folk-rock bands on the indie circuit (and one of my favorites). A few years after graduating from high school in Meredith, New Hampshire, guitarist/vocalist Sheff, and former classmates mandolin, electric/string bass player Zach Thomas and drummer/percussionist Seth Warren formed Okkervil River in 1998 built around their mutual love for traditional American folk music by the likes of Roscoe Holcomb, Skip James, Leadbelly, the Carter Family, Doc Watson, and The Stanley Brothers.
Those influences and their decidedly rural, acoustic arrangements quickly got them pegged as an "alt-country" band early in their career. Their new CD, Black Sheep Boy, released April 5 on Jagjaguwar, should change all that. The CD's second track, "For Real," starts in the usual Okkervil way, with a quietly strummed guitar and Sheff's yearning, broken voice singing, "Some nights I thirst for real blood / For real knives / For real cries" before exploding into pounding electric guitar chords that feel like a hard boot to the head. The rock continues on tracks like the poppy "Black," and the anthemic "The Latest Toughs." But old school Okkervi fans need not fret. There's plenty of the quieter, twangier moments on the CD as well.
Sheff acknowledged that Black Sheep Boy was a departure of sorts, but quickly added it wasn't by design. "I have a lot less power over that sort of thing than you think," he said. "Playing rock music is something that we only recently learned how to do in a way that's communicable. Our new drummer, Travis Nelsen, and our touring guitarist, Chris Heinrich, are rock players and understand how to do it in a way that I never did."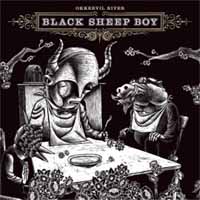 ---

"Playing rock music is something that we only recently learned how to do in a way that's communicable."

---