Bliss Repair consists of St. Paul's Eric Rea and Omaha's Stephen Sheehan. The two first met while working at Spaghetti Works in Omaha in 1983 -- Sheehan as a waiter and Rea as a chef. They became musically bound thanks to a shared 3-year stint behind the counter at Homer's Records. Sheehan went on to form Omaha's first Durutti Column / Throbbing Gristle / Left Banke- inspired rock band called Digital Sex, which enjoyed its share of notoriety both locally and in, of all places, France. Rea also played in a few local bands, none of which he's willing to name (though they included The Decades), before moving to the Minneapolis/St. Paul area in '93.
Their collaboration was borne out of a Thanksgiving meeting in '98, when Sheehan showed Rea an instruction manual to a female contraceptive device he got in the mail called Reality. "The instructions referred to it as the first female condom," Sheehan said. "Taken out of context, its manual was kind of fucked up and interesting."
He ended up sending Rea a homemade cassette recording of him reading the instructions out loud -- phrases like "Reality only works when you use it," and "Before using Reality, read the directions, learn to use it properly." As a lark, Rea used a 4-track mixer to meld Sheehan's reading with various loops, beats and sound effects.
"The result gassed us both so much that it awoke our inner idiot," Rea said.
The tape also included a version of "Lactose Oblivious," Sheehan's beat-style poem about Jesus walking into an ice cream parlor and ordering a sundae "split 12 ways," and the stream-of-conscience-flavored "Saw God and Laughed." "When I first heard the mixes, I was floored," Sheehan said. Inspired by the results, he sent Rea more tapes and the outcome is the duo's full-length debut, Lo-fi Enlightenment, released in May on Omaha's Side 1 Records.
The project could have had all the appeal of a poetry slam recited over a hippy soundtrack, but it works because of its almost relentless effort at being unpretentious. Sheehan's readings could have come off as embarrassing, but he pulls it off, thanks to his matter-of-fact recitation style. There are no obvious affectations or cute nuances when he's reading lines such as "Kisses dripping down my chin through my chest hairs onto my answering machine." Instead, the effect is like listening a blank stare or a disembodied mantra not quite meant for your ears. Nothing ever seems too serious, at least not to the point where you don't get the joke.
Rea compliments Sheehan's free-form weirdness with a collection of both found and made-up sounds, ranging from live bass, guitar and synth touches recorded in a studio, to obscure samples and loops that will only be recognized by collectors of rare records. The exception is "Blue Material," where Sheehan blurts out the word "sex" over a rather long sample of Frenchman Paul Mauriat's "Love Is Blue," a worldwide smash hit of 1968 that you will immediately recognize as soon as you hear it, and then long to hear the original in its entirety.
"There are awards to knowing where the samples come from and awards to not knowing the references," Sheehan said. "I'm not in on every joke."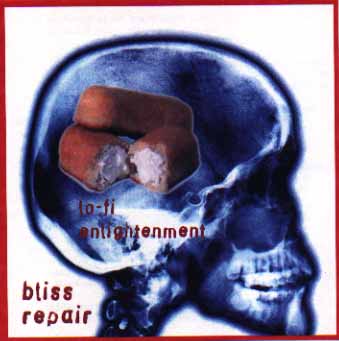 ---
| | | |
| --- | --- | --- |
| | "The result gassed us both so much that it awoke our inner idiot." | |
---