Lazy-i: August 21, 2002


The new kids might call it "old school," but for Bombardment Society, the punk of the early '90s is the only punk worth listening to.
"I just keep playing the old stuff," said Bombardment Society drummer Kevin Jones, who along with Jason Ludwick, guitar, and Robert Higgins, bass, make up the post-punk-flavored trio that's celebrating the release of its debut 7-inch record Aug. 24 at Sokol Underground, 13th and Martha.
A list of favorite influential bands rolled from Jones' tongue like he was reading them off cue cards: Minutemen, Smart Went Crazy, Mission of Burma, Husker Du, Pixies, Fugazi, Drive Like Jehu, and Nebraska bands Mousetrap, Fischer, and Opium Taylor. It's no wonder that his day job is at The Antiquarium, considered Omaha's No. 1 underground music source.
"There's a big lack of straightforward rock music in the indie scene these days," he said. "We like playing music that has its roots in punk." The rest of the band shares his tastes. Bombardment Society formed a little over two years ago after the demise of Jones' and Ludwick's last band, In Memory of Radio. "We talked Bob into playing bass," Jones said. All three were friends while attending Papillion LaVista High School.
The influences are obvious on the first spin of the band's single, "Nocturne Addiction" b/w "Four Months in the Making" and "Assembly of Youth." Recorded last May at The Nevada Room with DIY stylist Dan Brennan at the knobs, the single captures Bombardment at its messy best. "Nocturne Addiction" opens and ends with feedback and sandwiches plenty of plodding rhythms, intricate guitars and scream/howl vocals in between. Reminds me (a lot) of the gone-but-not-forgotten early-'90s Omaha noisemeisters Mousetrap. Side two is more of the same car-crash-abrasive audio violence, ending with a nod to those seminal post-punkers-with-a-smile, the Minutemen, on a song that itself spans only a minute.
Jones said the band selected vinyl for its debut for the usual nod-toward-tradition/DIY/credibility reasons. "We all three love vinyl over CDs," he said. The medium is also a favorite of the band's label, Speed Nebraska Records, which boasts a catalogue of vinyl releases from The Monroes, Pioneer Disaster, D Is for Dragster (all three bands include label operator Gary Dean Davis as the frontman), Fullblown, and Solid Jackson. Those of you without a record player can quit whining. Jones said a CDR version of the single will be available, eventually.
Playing the Aug. 24 bill with Bombardment Society are Bleeders for Treats, a band Jones describes as hard-rocking and artsy in the LIARS/Holy Ghost vein that includes former members of Kid Icarus; Real Time Optimist, "an arty, ambient band like Faraquet," and tractor-punk extraordinaires The Monroes.
---
Back to

Originally published in The Omaha Weekly Aug. 21, 2002. Copyright © 2002 Tim McMahan. All rights reserved.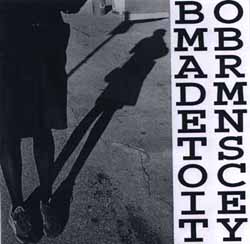 ---

"There's a big lack of straightforward rock music in the indie scene these days. We like playing music that has its roots in punk."

---