Ziegler acknowledged the criticism that a garage band's music can sound the same from song to song. "That's totally fair," he said. "I find myself saying that about a lot of bands. Some bands have one or two songs you like, and everything else blends together. But a band like (Memphis') The Oblivians -- they sound alike from song to song, but (the songs) all sound so great."

Although Big Deal… has "more interludes and things like that," Ziegler said he's kept to the traditional chorus/verse format with a bridge thrown in for good measure.

Still, there's no denying the nuances in styles on the album's core song cycle. It starts with the usual blown-out rock of "Everybody Else Is Having Fun," but then shifts to the stomping "Suicide Blues," with its blinding guitar solo that burns brightly through the middle of the track.

Ziegler points to album producer Mike McHugh, who has worked with such acts as Black Lips, Jon Spencer and The Strange Boys. "He would take a guitar track and run it back out to a smaller guitar amp and mic it, making it sound like two guitars playing at the same time," Ziegler said. "When the solo would come up, he'd slide the slider all the way up. It was a pretty crude method."

That's followed by "I'll Find You," a track with an almost post-punk sheen, thanks to the chiming second guitar part. "Nicky had this pretty, kind of twinkling chording that was in a different key," Ziegler said. "We never thought it was something we'd ever do."

The album shifts gears again with the laid-back "Final Dispatch," which sports a sunny, almost Nuggets-esque guitar line beneath a more traditional ballad. "We were going for a Real Kids sound," Ziegler said, referencing the '70s-era Boston punk band whose albums were released on Red Star Records. "They were great, sort of unknown pop songwriters."

Than it's back to the band's trademark blown-out garage rock on "Elation," which Ziegler said is actually a rerecording of early Brimstone song "Kiss Me Happy." "I liked it so much, but didn't like the (first) recording," he said.

When it all comes together on stage, you're not likely to step outside for anything. Unfortunately, Brimstone Howl's hardcore touring days may be behind them. "The funnest part for me is writing songs for the band and putting them out," he said, adding that while they touring, it's becoming more difficult to pull off. "I'm married and have a little kid right now, so I have to hold down a job and a house. I work for Douglas County as a police dispatcher, and getting vacation is tougher because of seniority."

Certainly the band's label, Alive Records, would like to see them tour more often. After the label released their last two records -- the Dan Auerbach-produced Guts of Steel and Jim Diamond-produced We Came in Peace -- Ziegler said Brimstone decided to shop Big Deal to other labels.

"We sent it around to Sub Pop and Matador and did some big dreaming," he said. "And then Patrick (Boissel at Alive) heard it and called Nicky and said they still wanted to put it out. It was like being an athlete and having the coach still believe in you after having a shitty game. If I could, I would sign a four-record contract with Alive. I feel privileged to be on the label."

Ziegler said the record would have to be "a big fluke" and sell 50,000 copies to make any money for the band and the label, but that's not what it's all about. "We're not trying to write top-40 hits," he said. "Huge financial success is not on the horizon, but sometimes you see bands on Conan or David Letterman who are appearing for the first time and are 35, 40 years old. I'm only 26. I'm willing to wait it out.

"I can't speak for the rest of the band, but I feel like I'm a pretty satisfied person. I love my home and my family. If I had to pick a job to do for free, it'd be music."
---
Back to

Published in The Omaha Reader Nov. 19, 2009 Copyright © 2009 Tim McMahan. All rights reserved.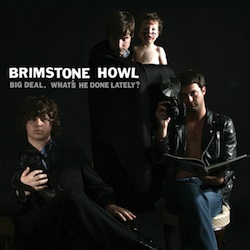 ---

"

It was like being an athlete and having the coach still believe in you after having a shitty game.

"

---