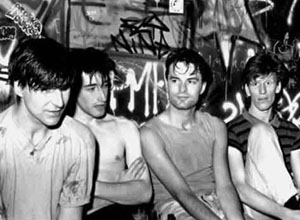 The Chameleons circa 1984. Burgess is first from left.
---

"A lot of people have made the Interpol connection, but I don't hear it."

---
Artistic is a good way to describe The Chameleons' sound, which combines warm, ethereal melodies with crashing, chiming guitars. A typical song could go from a study in dark-night textures to a rising, glorious celebration. The key sonic features include echoing guitars, a throbbing, driving rhythm section and Burgess' intimate, personal vocals.
Burgess said comparisons to The Cure are most likely based on the fact that Dave Allen, who produced the Chameleons' later CDs, also produced The Cures' most popular late-'80s recordings, including Kiss Me… and Disintegration. The Interpol comparisons, however, are a complete mystery to him. "A lot of people have made the Interpol connection, but I don't hear it," he said. "But that could be because I'm in the band and so close to it."
Burgess said citations of their influence on other bands are "extremely flattering."
"It makes you feel like part of a great tradition," he said. "We got turned on by bands that inspired us. It's a wonderful feeling because you feel like you've made an impact."
The band currently is on a hiatus with the recent birth of guitarist Reg Smithies' son. "The baby's his focus right now, so there's not much we can do in the immediate future," Burgess said. "I got the idea of just going out and playing on my own. I never done anything quite like this before. It's something very different, and I'm trying to keep what I'm doing fresh. People have responded quite well to it in Europe."
He said many dates on the American leg of his solo tour were suggested by people in cities around the country, including Omaha's Stephen Sheehan (Bliss Repair, ex-Digital Sex), who wrote Burgess asking for a tour stop.
"A few people went 'Huh?' when they heard Omaha was on the tour," he said laughing. "I was surprised about Omaha, too. I looked at it geographically and it made sense. Stephen wrote me a nice letter saying, 'You'll probably be surprised, but rest assured there are people who want to see you.' I'm happy to get invited and hopefully people will be open for it and enjoy it."

---
Back to

Published in The Omaha Weekly-Reader June 18, 2003. Copyright © 2003 Tim McMahan. All rights reserved.