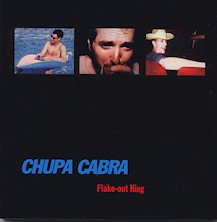 Chupa Cabra
Flake-out King
Captive Records
It's hard to be objective when this band seems to have cut its sound directly from my personal pattern for what I want in alt/rock/math music. Yeah, I said math rock, although I'm not entirely sure these guys would agree. Being a huge Chavez fan in all, I found the opening track of this 5-song EP -- Flake-out King -- to be right down my alley, so to speak. In addition to having cool lyrics (The fewer actors, the better) it has a powerhouse sound that alternates from a groovy bass-driven grind to a guitar line that sounds like guitarist/singer Brett Ackerman would like to simply destroy his ax in some sort of fucked-up feedback haze. Hey, these guys are from New York City, after all, so I suppose the angrier you get, the better for everyone involved. Fast, heavy, distorted, post-grunge rock.
That's New York City -- as in Brooklyn -- and have been playing at underground clubs for years. Bio says the band's name comes from South American folklore -- chupacabra the vampire goat that kills cattle... (I guess that would make them... Mooo-nsters?) The trio have separately been in a number of other bands, who have opened for the likes of Fugazi, The Melvins, Arcwelder, Jesus Lizard, Bob Mould, etc. They say they're influenced by oldsters Mission of Burma, Wire (these days, who wasn't?) and Girls vs. Boys.
Second track, Paradise, is more mainstream-heavy-metal than the opener, complete with slightly distorted vocals. Ackerman has a good, though undistinctive, voice. What Am I kinda reminds me of something off Smashing Pumpkin's Gish CD, I don't know why, and I don't think that's necessarily a bad thing (have you heard Gish?). Ricochet almost sounds like a continuation of the last track, until the band gets into the main stuff, when they begin to sound a lot like Husker Du meets latter-day Superchunk, with a touch of that awesome Chavez-style guitar thrown in. I like this one. Final track, Constant Waiting, opens like a post-punk monster. The guitars are viscous, as is Phil Hampton's solid drums. The lyric matches the angst: "God be with me/He's not with you." Ouch!
While the Midwest continues to bury itself in ska and shitty neu-big band swing, and the West Coast suffers under pseudo-whiteboy hip hop glop, the East Coast continues the post-punk tradition of being mad at everyone, which I like. Gotta wonder, though, if there isn't a couple dozen bands playing this sort of sound throughout Manhattan, waiting for someone from Matador to drop by one of their shows. I have to guess that Captive Records is owned by the band, and that, like all good demo-releasers, they're looking for a label. The competition must be tough as shit out there, because Chupa Cabra would blow away most of the stuff going on throughout the rest of the country.
Contact info: Captive Records, 117 No. 5th St., No. 3 RH, Brooklyn, NY 11211
Website: Chupa Cabra
E-mail: Stellardog@aol.com
Copyright © 1999 Tim McMahan. All rights reserved.