The story of Vitreous Humor is a rather short one. The Harbor single was followed two years later by a 7-song self-titled EP. Posthumous, a collection of unreleased tracks, outtakes and live cuts, was released on Crank! Records in '98, well after the band already had called it quits and moved onto Pound's next project, The Regrets.



A decade later and Pound has left Vitreous Humor's jangle-grunge behind in favor of a more grown-up, sophisticated sound born out of his fondness for mid-20th century folk and blues.



"After The Regrets broke up, I discovered Harry Smith's Smithsonian Folkways recordings, began listening a lot of blues and pulled out The Basement Tapes," Pound said.



The result was The Danny Pound Band's 2005 debut on Lawrence label Remedy Records, Surer Days, a collection of tuneful alt-country rockers that sounded like a cross between Centro-Matic and The Silos.



But even that style was short-lived. Since its release, Pound and his band -- bassist Jeremy Sidener (ex-Zoom -- another classic '90s Lawrence band), guitarist David Swenson, and drummer Ken Pingleton (who replaced former drummer Dan Benson, who also was in Vitreous Humor) -- have moved in a whole different direction, creating music that recalls '70s-era So Cal groove rock. The band's as-yet-unnamed follow-up to Surer Days was recorded at Black Lodge Studios in Eudora, Kansas, and is slated for release on Remedy Records sometime in the near future.



"You couldn't call our new record rootsy. It's more of an electric rock record," Pound said. "I get bored quickly. I'm always trying to find new things to do."


As for Vitreous Humor, Pound said he doesn't understand why the memory of that band continues to live on in places like Omaha and Milwaukee -- another city with more than its share of that band's fans. "It must be a Midwest thing," he said. "We never toured very much. I don't think we even played in Omaha as Vitreous Humor."



While he acknowledges that the band could have influenced someone, Pound is hardly proud of those early recordings. "I'm not offended by that era, but it doesn't give me great pleasure to listen to that music," he said before immediately correcting himself. "I take that back. Some of it was interesting, if a bit too earnest. I know there are those who liked it, and there's nothing wrong with that."



---
Back to

Published in The Omaha Reader Dec. 6, 2006. Copyright © 2006 Tim McMahan. All rights reserved.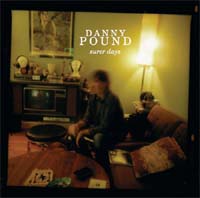 ---

"I get bored quickly. I'm always trying to find new things to do."

---