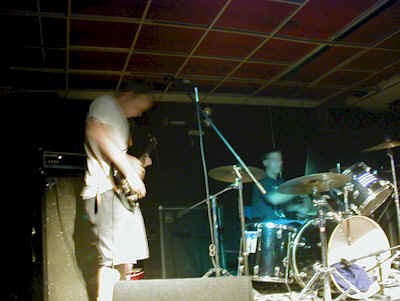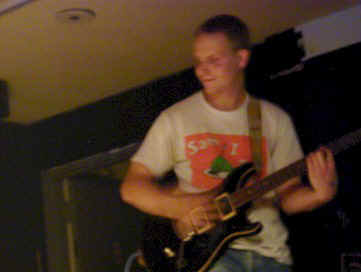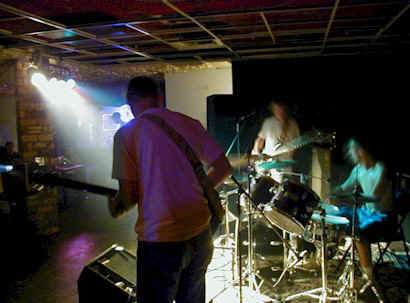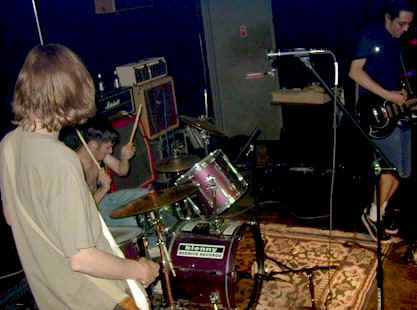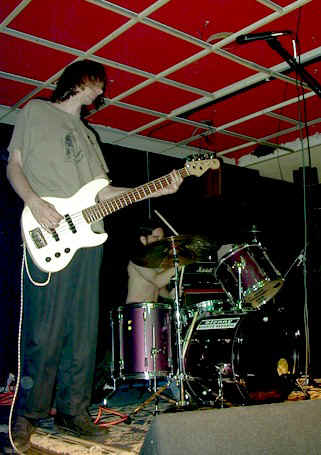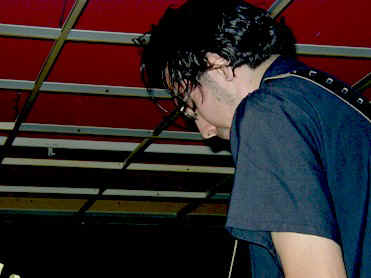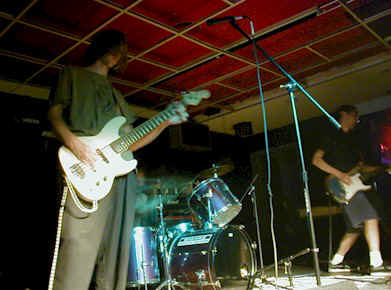 The Saturday night show opened with a 30-minute set by OGP, a high-energy rap-core outfit that featured two gravel-voiced MCs, the usual crunch guitar, foreboding bass and a big guy behind a turntable scratching like a madman in his Chicago Bulls jersey. These guys come from the Rage/Korn/Limp school of white rap heavy-metal, though they're trying to push their sound a little further to the dark side. Apparently playing with a drummer who had only been with the band for two weeks (no word on what happened to the old drummer), they seemed a bit wobbled and slightly misguided at times. About half-way through their set, the sweat-covered lead MC seemed frustrated that no one was on their feet. "Y'all gonna sit down all night?" he asked. The answer, at least for the OGP set, was "yes."
Next up was the instrumental three-piece, Fromanhole, a stand-out in Cotton's repertoire of metal/hardcore bands in that instead of playing end-of-the-world angst-anthems, the band performs angular, highly syncopated prog/art rock with a decidedly underground flair. Bassist Doug Kiser, guitarist Darrell Kiser (his brother), and drummer Roach, placed themselves into some sort of Vulcan mindmeld during their set, focusing on each other's every move. They had little choice, considering the intricate nature of this style of music, which hearkens back to such experimental, mathy, rhythmic-heavy post-rock bands as Don Caballero and Slint.
I saw Fromanhole open for Red Menace at The 49'r about six months ago and their sonic crossword puzzle sounded like so much unrehearsed sludge. Oh what a difference a few months' worth of practices and gigs can make. Though they were far from polished, they got their point across in a driving, forceful style that few other bands in town are willing to attempt. They're songs aren't all instrumentals. Occasionally Doug steps forward to the microphone, carefully speaking a line or two of poetry-mosh that neither adds nor distracts from the presentation.
About three-quarters through their set, Darrell broke a guitar string, leaving Doug and Roach to limp along like a wheezing jalopy with a flat tire. Darrell quickly switched axes, groping with a dangling guitar strap. It was a moment that undressed just how important and necessary each member is to making this style of complicated, start-and-stop art rock work. When they're in complete synch, which was for most of this fine set, the result is rewarding.
By now the Junction crowd had settled in. The bar, located in the heart of downtown but just on the outskirts of the Old Market, has to be one of the most inhospitable venues to see a band. The lower level is a run-of-the-mill horseshoe bar with keno, a TV set, and so on. It's more like an airport lounge, complete with airport prices -- an incredible $2.75 for a bottle of Bud Light. The makeshift performance area is located up three steps. It's little more than a tiny, converted dancefloor with a riser slapped on one end. A massive brick pillar has been strategically placed to obscure any view of the band from any angle. This place obvioulsy wasn't designed for gigs, but somehow Cotton has managed to pull it off, with the help of decent sound system and a rack of spot lighting.
His band, Ravine, blazed through their set of blisteringly loud, break-neck metal anthems. The trio, which features Cotton on bass, guitarist Mike Saklar and drummer Oliver Morgan, produced a grinding, minor-key wall of sound that borders on satanic. This is tightly structured metal, whose hallmarks are Saklar's guitar pyrotechnics and Morgan's frenetic, at times tribal, percussion that keeps this burning car rolling ever forward toward the edge of the cliff.
Also on the bill that night was Groove Champion, who Cotton says has a '70s-influenced, funky yet edgy sound. Regardless of the revenue from the show, Cotton says the comp's mastering will begin immediately at Saklar's able hands. Look for the finished CD in early fall.
---
Back to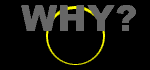 Published in The Omaha Weekly June 29, 2000. Copyright © 2000 Tim McMahan. All rights reserved.