Originally called The Good Looks when first formed in October 2004, the band changed its name to Eagle*Seagull in January while recording their debut CD at producer Ian Aeillo's bedroom studio. "Ian made these noises that sounded like an evil seagull," Mardock said. Too much alcohol transformed that description into Eagle*Seagull (The asterisk, apparently, is meaningless).
"We've been told that eagles and seagulls also are natural enemies," Mardock added for irony's sake or to give the name a little more weight than merely being a drunken misunderstanding.
Before the band completed its nine months (off and on) in Aeillo's bedroom, they already found a label -- Nashville's Paper Garden Records. Never heard of it? Probably because Eagle*Seagull's debut is catalog number 001. Upon seeing the band perform in Lincoln, former Nebraskan Bryan Vaughan made up his mind to launch the label with their debut. Vaughan, a former intern at both Sub Pop and Saddle Creek Records, now lives in Nashville where he attends Belmont University.
He made a smart choice. Eagle*Seagull's debut, released Oct. 11, is one of the year's best locally produced CDs, capturing the band's sweeping, urgent, yet jittery energy. The ensemble is rounded out by Eli's brother, Luther Mardock, on guitar and vocals, J.J. Idt on guitar and banjo, Mike Overfield on bass, and newcomer Carrie Butler on violin and keyboards.
So far, Skiles said, the CD has received good notices. "It's done well for an album recorded for as little money as possible," he said. "We've had a pretty good reception for a bunch of dorks writing songs."

---
Back to

Published in The Omaha Reader Nov. 16, 2005. Copyright © 2005 Tim McMahan. All rights reserved.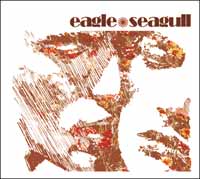 ---

"We've had a pretty good reception for a bunch of dorks writing songs."

---