Everett wound up landing his first record deal based on a handful of four-track recordings, never once having graced a stage. He first recorded under the name E, releasing his Polydor debut, A Man Called E, in 1992, which included the alternative top-10 hit "Hello Cruel World." Everett began performing as Eels in 1995 and released his DreamWorks debut, Beautiful Freak, the following year. The album included the MTV-nominated hit "Novocaine for the Soul," that defined him as a singer/songwriter to watch. He would top it three years later with his dark masterpiece Electro-Shock Blues built around themes of love and loss that mirrored his personal life.
On Shootenanny!, released last month by Dreamworks, Everett blends cocky three-chord rockers like "Saturday Morning" and "Lone Wolf" with simplistic trip-hop keyboard bouncers like "Love of the Loveless," with quiet, reflective numbers like "The Good Old Days" and "Restraining Order Blues." The thread holding it together is Everett's deadpan, just-woke-up vocals singing matter-of-fact lyrics that draw you in and don't let go.
Unlike Electroshock… Shootenanny! has no central theme. "Actually, the songs are based on my one-man Broadway show, Shootenanny!" he joked. "There are certain threads that run throughout the album, but it's just a collection of songs. Nowadays you get penalized if it's not a concept album.
"I was inspired by listening to Muddy Waters. I really wanted to do something succinct, direct and no bullshit, where most of the songs are explained in the title. I really admire that kind of writing. The old blues singers tell it like it is and the name of their songs wasn't something like 'Strawberry Letter No. 58,' it was 'Mannish Boy.'"
Everett's newfound appreciation of blues could be a reflection of his age. He turned 40 this spring. Has anyone suggested that he's getting a bit long in the tooth for a business populated mainly by youngsters?
"I haven't had anyone say that yet, and I'm sure it's coming," he said. "I feel like I've been slowly improving over the years. A lot of people by now are doing some of their worst stuff and I feel like I'm doing my best stuff lately. I feel like I have one more album in me and that's it. It remains to be seen."
He says after more than a decade on the road, he's only now beginning to enjoy touring. "I developed a tolerance for it in the past year that I didn't previously have," he said. "Last night, during the first couple songs, I said, 'Man, I love this. This is all there is for me.' If I can keep that perspective on it, then it's almost worth all the energy-draining hassles that go with life on the road."
You mean like almost getting your ass kicked by frat boys? Everett just laughed. "I got these big, fat security guys. They do my fighting for me these days."

---
Back to

Published in The Omaha Weekly-Reader July 16, 2003. Copyright © 2003 Tim McMahan. All rights reserved.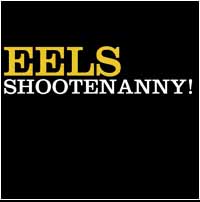 ---
| | | |
| --- | --- | --- |
| | "Last night, during the first couple songs, I said, 'Man, I love this. This is all there is for me.'" | |
---