Just as ironic is the fact that Ester Drang's wide-horizon musical style isn't a product of living beneath Oklahoma's golden skies. "None of us would make that connection," he said. Instead, the sound draws from a common appreciation held by McAlister, guitarist/synth player Jeff Shoop and frontman Bryce Chambers. "We're all drawn to cinematic and landscape-oriented music," McAlister said. "It's a shared convention."

All three also share a common life-threatening experience -- an accident that took place just outside of St. Louis in September 2004 that cost them everything but their lives. McAlister said the ordeal couldn't help but impact their music. "I suppose it's a cliché sort of thing with anyone who had a near-death experience," he said. "In an instant, our van and all of our gear was gone. The accident took us off the road for a week, but we got right back out with gear borrowed from friends."

It's only a coincidence, he said, that Rocinate opens with the soaring track "Come Back Alive," a song Chambers wrote before the accident. "In a way, it changed the song's meaning," McAlister said.

The accident, however, didn't impact the band's love for touring and performing, especially from McAlister and Stoop, who spent part of last year touring with Sufjan Stevens on his Illinois tour (They were among those clad in cheerleader uniforms at last September's dazzling Sokol Underground gig). Like Stevens' epic approach to recording, Ester Drang also uses a boatload of instruments to fill out its sound.

"Our music is a collision of the three of us -- we all play a lot of instruments," McAlister said. "We decided on a palette of sounds, and left as much as we could to chance." It fell on McAlister to pull together the string and brass charts, working with a number of musicians including former Polyphonic Spree violinist Daniel Hart. "We gave Daniel a license to construct harmonies any way he wanted to. The strings, along with the flugelhorn, gives the recording its '70s vibe."

Can the trio, along with additional bass player Jonathan Ford, reproduce the album's dense, layered sound on stage? "People are always pretty shocked by how well we do it," McAlister said. "We try to make the live set as representative of the recording as possible using electronics. In the end, there's an energy there that's not on the record. I think you'll be surprised."

---
Back to

Published in The Omaha Reader March 8, 2006. Copyright © 2006 Tim McMahan. All rights reserved.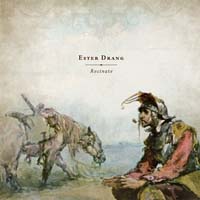 ---

"I suppose it's a cliché sort of thing with anyone who had a near-death experience"

---