There's nothing subtle about Evil Beaver, or the way they rock. Their first full-length, Lick It, due out in late winter or early spring, is a self-release licensed to Four Alarm Records. "We're not signed to them," Laura Ann says. "No one's got a leash on the beaver."
If you can't wait for the CD to come out, check out the MP3 files on the band's website -- www.ridethebeaver.com (and while you're there, take a look at some of the band's rather revealing poses from recent shows, some featuring two of their "dancers," who unfortunately aren't along for this tour. One pic reveals as much of Evie as Omaha ordinances would allow.) For the sessions, the band worked with Dave Trumfio of the new wave band The Pulsars, who has worked in the studio with such acts as Billy Bragg, Wilco, The Mekons and Cibo Mato.
"Davie's forte is fluffy stuff," Laura Ann said. "There's a bunch of huge producers in Chicago, but we wanted to get a pop sound and still have it be heavy. At one point when we were playing he just turned to us with a blank look, but he's cute and great with vocals."
Other than the obvious thick guitar sound and rapid-fire drums, the first thing you'll notice about Evil Beaver is their obvious knack for pop hooks amid the thunder. Their influences range from bands like 7 Year Bitch and Sabbath to The Minutemen, while their one-sheet draws comparisons to Metallica and The Breeders. In fact, their full-tilt rock sound is in the grandest tradition of the best grunge and post-grunge female-fronted outfits, like amped-up, angry That Dog or SF Seals or even Hole, but not nearly as cute, nor do they wanna be.
A song like "Chockin' the Pearl" breaks open with an almost stoner/sludge rock passion, while Evie lays vocals that remind you more of Perry Farrell than Courtney Love. "Cherry Master," the first single off the new album, borders on metal except that Evie's snarling vocals take the edge down enough to uncover a hook through all the powerchord hum. When the duo takes it down even further, they hit power-pop paydirt the likes of which we haven't heard since The Breeders were still breeding. "Superbird," included on the Decline of Midwestern Civilization compilation released by Omaha's Violenteer Productions and Ant Records, is at once subtle and melodic while verging on frantic violence and despair.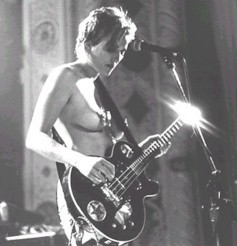 ---
Laura Ann describes The Manhole as "a total leather fag bar. We cleared out the back blowjob room and put up a stage."
---