That theater is yet to be named, but the company is called Film Streams, and Jacobson is the founder/executive director. The theater, to be built as part of the Saddle Creek Records / Bluestone project in the awkwardly nicknamed "No Do" or North Downtown development just west of the Qwest Center, will feature two screens -- a 208-seat room for first-run independent films and a 99-seat room for retrospectives, film series and genre flicks. But Film Streams will be more than just a couple movie screens. Lots more.
It's no accident that the independent movie house is tied to one of the country's most successful independent record companies. Jacobson has been friends with the people that operate Saddle Creek records and its bands for a long time. She first met label guru Robb Nansel back in the fall of 2003 while living in New York pursuing a career in non-profit fund raising. Nansel was in town for a couple Cursive shows at the Bowery Ballroom. "One night Robb and I were walking to a Bulgarian disco and he started telling me about the trouble he was having finding a space for his club," Jacobson said.
Nansel's search for the "right space" for Slowdown -- his combination music hall, bar and Creek office project -- goes back many years. While the two were brainstorming locations, Jacobson told Nansel about her dream of moving back to Omaha to open an indie film theater. "Robb just said, 'You're gonna do it.' But we didn't put the two projects together at the time."
Eventually, however, the ideas were merged, and Jacobson said her father David Jacobson, chairman of law firm Kutak Rock and an avid movie and rock music fan, got involved. With the help of fellow Kutak Rock attorney and Criteria frontman Stephen Pederesen, he called a meeting at his offices to discuss the project. "It was me, dad, Robb, (Saddle Creek's) Jason Kulbel, and my sister, Sarah," Jacobson said. "Dad ordered in Mama's Pizza and we just talked about the possibilities. He said if we can figure out a way to collaborate on this, Kutak can get behind it."
But other than everyone agreeing that it was a good idea, nothing came out of the meeting. Years passed and Jacobson kept in touch socially with the Creek folks. Then in January 2005, just after she sent in her application to Columbia University to pursue a Master's degree in Arts Administration, Nansel called and said he was heading to New York to see a Bright Eyes show, and that maybe the two should talk.
Nansel was still licking his wounds from the drubbing he took after proposing to build the Slowdown project (sans a movie theater) in Omaha's Metcalf Park neighborhood. The outcome, however, was the beginning of Saddle Creek's relationship with the City of Omaha, who recognized what a prize they had in the nationally recognized record label and helped identify the downtown location.
"Robb said the City thought it was a good idea to have a theater involved with the project," Jacobson said. "I decided right then and there to do it. I couldn't pass up the opportunity to be part of this new Omaha development and be affiliated with Saddle Creek." She moved back to Omaha June 1.
Jacobson's plan has always been to make Film Streams a non-profit entity, effectively freeing it from commercial constraints. Instead of sweating ticket sales, Film Streams will be funded through contributions generated from membership programs, individual donors, and grants from foundations, corporations and government organizations.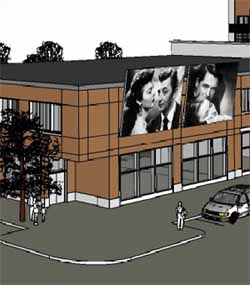 ---

"Dad ordered in Mama's Pizza and we just talked about the possibilities. He said if we can figure out a way to collaborate on this, Kutak can get behind it."

---