Tillmann said the years between Har Mar records (His previous, The Handler, came out in 2004) were spent performing as Sean Na Na and in rock band Neon Neon, as well as writing scripts, shooting video shorts and appearing in movies, including the current Ellen Page vehicle Whip It, where he plays a Roller Derby team coach. Tillmann, Page and Whip It co-star Alia Shawkat are now developing a series for HBO called Stitch N' Bitch. "We just revised the pilot and hope to shoot next spring," Tillmann said.

He's also been busy writing songs not only for his projects, but also for The Cheetah Girls, Jennifer Lopez and Kelly Osbourne. In fact, "Tall Boy," the first single off Dark Touches, which he performed during his appearance last Monday on Late Night with Jimmy Fallon, was originally written for Britney Spears, but don't look for it on her next album.

"It was one of those things," Tillmann said. "We wrote the song with her in mind. Her management turned it down, probably for a number of reasons, like the fact that she was having her first kid, and it's a song about fucking and drinking giant beers. I was already attached to it, so it all worked out."

For the Fallon performance, Tillmann did something he rarely does on stage -- he kept his clothes on. Looking like a taller, slightly younger Danny DeVito circa Taxi, Tillmann/Har Mar has a reputation for turning a room into his personal play-pen cabaret, stripping to his skivvies for the ladies (and a few curious men) like a an overweight, balding Chippendale dancer.

Once the music starts, the antics ensue. "There have been times when he was up on top of the bar in his underwear and squatted down and dropped them as if going to the restroom, while drinking ketchup and mustard out of bottles," Dalley reminisced.

"We had a guy the other night in New Orleans... he was real excited, and when Sean came out he put his face on Sean's chest. The guy got down to his boxers and jumped on stage with us. It was fun and not weird. Then before the encore (the guy) got completely naked and went on stage to say we were coming back on."

Nothing, it seems, surprises Dalley anymore.

"There was apparently a very realistic fake blowjob the other night in New York that fooled our drummer and several audience members," he said. "And there was the usual random make-out session during the performance, stuff like that happens all the time."

What's Dalley do while all this is going on?

"I'm kind of an on-stage audience member," he said. "I'm just as captivated as the people watching. I don't know what's gonna to happen next. It's definitely one huge party, and it usually doesn't stop when we get done playing. It continues until the bar closes and we pass out in an alcohol-fueled haze."
---
Back to

Published in The Omaha Reader Nov. 5, 2009 Copyright © 2009 Tim McMahan. All rights reserved.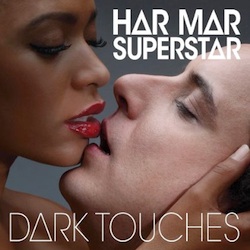 ---

"

There was apparently a very realistic fake blowjob the other night in New York that fooled our drummer and several audience members

."

---