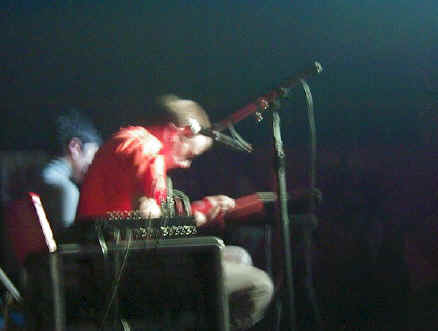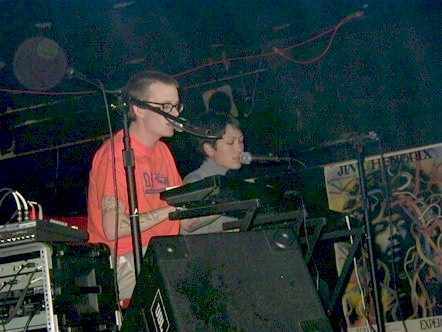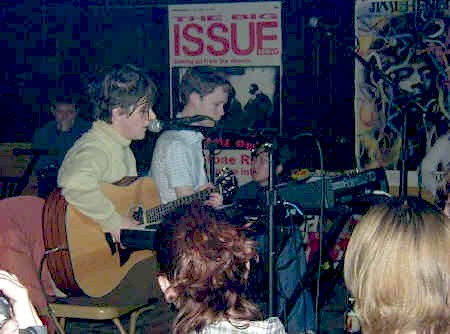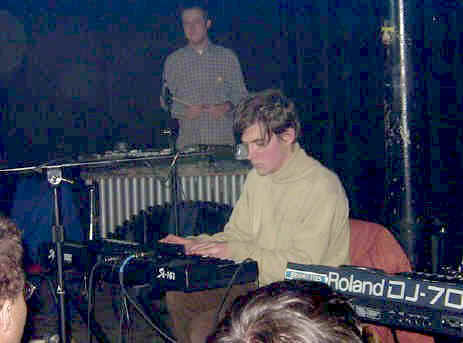 North Sea Story, a Brooklyn-based trio, took the stage after Son, Ambulance finished its set (thatís right, Ambulance has changed its name to Son, Ambulance for reasons I didn't catch). It was the first time I've ever seen a Sokol crowd sit in orderly rows on the floor, about six or seven rows deep from wall to wall like a kindergarten class during show-and-tell. They craned their necks to the sparsely lit stage while the band played its own, unique brand of dirge-like rock that had that same underwater hang-dog feel as, say, dronemasters Bedhead or Low, but without those two bands' wonderful dynamics or melodies. North Sea Story's formula: Start slow with a rolling bassline that repeats, repeats, repeats; add either a wonky-sounding angular guitar line or a fuzzy drone, then top it off with an off-key, warbling lead singer's depressing suicide vigil lament. Three-quarters of the way through the song, light-up the guitars and kick things in motion (in other words, rock out), but then go back to the dirge before the closer. Now, repeat that same formula five or six times until your audience either falls asleep or gets up to grab a beer.
Things took a 180-degree turn for the better with Her Space Holiday. The brainchild of AudioInformationPhenomenon label owner Marc Bianchi, the band consisted of Bianchi and his girlfriend, Keely, sitting on stage behind sets of keyboards that played everything from looped guitar lines to rhythm tracks to deep orchestral tones. The lush, moody, resonance blended with Bianchi's vocals in sort of a Jesus and Mary Chain meets Disintegration-era The Cure. The rich, dense music more than made up for a stage show that consisted of two people playing keyboards while one sang into a microphone. The crowd was too mesmerized to notice, or care.
Last but not least was Bright Eyes. By now, no one was sitting except the band's leader, Conor Oberst, who always seems to perform seated these days, surrounded by four other musicians who switched instruments between songs.
Oberst opened with an acoustic song -- just him and his guitar -- and emoted as only he can, pouring his heart out on stage, always bent over his ax, never looking up at the crowd or through the dark brown bangs that covered half his face. In his early days as a performer -- just a couple years ago, actually -- Oberst's vocals came in two emotional flavors: Either his trademark throaty, choked-up whimper/whine or his angry-young-man bombast. Both grab your attention as if you're eavesdropping on a stranger's private confessions. You want to turn away, but you can't. Oberst demands that you stop and listen and try to understand what's bothering him, whether you want to or not.
These days, you'll want to. While his early recordings relied entirely on his unique pathos to cover up his unsure instrumental abilities, Oberst has since blossomed into a full-fledged singer-songwriter who has the chops to match his writing skills that, at times, transcend anything you're likely to hear on your car radio on the way to work.
Oberst and company performed most of their recent Saddle Creek Records release, Fevers and Mirrors, including "Haligh, Haligh, A Lie, Haligh," "The Calendar Hung Itself," and "The Movement of a Hand." In fact, other than the opener and one or two other songs, Oberst spent a lot of time behind a keyboard rather than a guitar. Meanwhile, the band filled out the sound impressively, with instruments ranging from a vibraphone to keyboards to guitar.
Diehard fans got a sneak preview of a couple new songs, including one from an upcoming Bright Eyes/Ambulance split CD that continues in the same tradition of his earlier work -- in other words, Conor sounds as heartsick as ever. But isn't that part of the guy's appeal?
---
back to

Published in The Omaha Weekly October 12, 2000. Copyright © 2000 Tim McMahan. All rights reserved.