His latest CD Dereck 2, self-released last fall, is an ambient head-trip, a tonal excursion into deep, almost spiritual territory best listened to with headphones on and lights out. Higgins draws upon a myriad of conventional and unconventional influences, from '80s dream pop (Chameleons) to English progressive (early Genesis) to experimental ambient soundscapes (Eno), all to create a style that is as otherworldly as it is strangely familiar. A typical track melds electronic drums and synths with warm-tone guitar, bass and Higgins' haunted, almost brassy tenor that drops to a Peter Murphy deep-as-a-well echo on standout "You Live This Life."
A mental health rehabilitation specialist, Higgins says he can't separate his day-job from his music. "What I learn about human behavior and mental wellness is connected to my life view and the way I see things in general," he said.
But just as influential is his enormous record collection. Higgins throws out names of obscure bands not to impress but as a matter of fact. You may not have heard of The Minny Pops or Amon Duul II or The Names or Porcupine Tree or The Heart Throbs or Faust, but they're part of Higgins' everyday listening experience along with less mysterious acts like The Moody Blues, R.E.M., Wire, Joy Division and Magazine. "Some of the best records ever made are never heard," Higgins said. He hopes that isn't the case with Dereck 2.
Last winter, Higgins performed his material alone with a pre-recorded CD just to "get it out there." The results were spotty at best. Now with a full band backing him, including John Friedman on guitar, Bill Eustice on bass and Jeff Tegtmeir on drums, fans will get a chance to see his music fully realized in a live setting. Leave your headphones at home.

Go to Higgins' website to order a copy of Dereck 2, or check out his MySpace and iSound sites.
---
Back to

Published in The Omaha Reader July 13, 2005. Copyright © 2005 Tim McMahan. All rights reserved.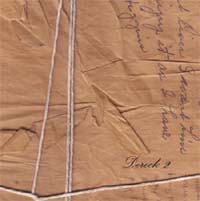 ---

"Some of the best records ever made are never heard."

---