The set was sloppy at times, not exactly tight, but their approach almost seemed intentional. Musically, they came off as a modern-day cross between Weezer and Ned's Atomic Dustbin or any other band you can remember that played that sort of pop-fueled, guitar-crunch alt style circa 1993. Despite their liaise faire attitude, they won over the crowd, closing with a cover of AC/DC's "T-N-T" that was respectfully messy and fist-in-the-air fun.
If there's one thing obvious about KFC, it's their lack of pretension. "If someone sees us becoming pretentious I want them to smack us in the mouth," Crader said. "We don't go up there and strut our stuff. Sure, we do timed jumps, but it looks dumb, not cool."
The band, whose unfortunate acronym more often gets them confused with fellow Columbia band Kung Fu Cowboys than fast food favorite Kentucky Fried Chicken, traces its origins back to Westminster College in Fulton, Missouri, where Crader first met O'Neill.
"We were two of maybe 15 incoming freshmen who decided not to do the fraternity thing," Crader said. "Instead, we started smoking a lot of weed and drinking vodka."
They quickly put together a band called The Lesch-Nyhan Syndrome, named after the rare genetic disorder whose victims have been known to eat themselves. But that band didn't last long and after the breakup, Crader and O'Neill quickly fell out of touch -- for five years -- until they serendipitously bumped into each other again at a Stephen Malkmus concert in Columbia.
Soon after they put together an early version of The Kingdom Flying Club before settling on the current line-up last March that includes drummer Steve Davis and lead guitarist Nate Kesterson. With a studio in Crader and O'Neill's house, and all the time in the world, the band recorded the 13-song opus Non-Fiction, a true-to-life telling of their personal relationships gone array.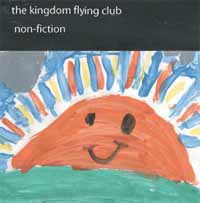 ---

"If someone sees us becoming pretentious I want them to smack us in the mouth."

---