The EP's opening track, "Maybe I'll Tell You in the Morning," starts in Harvey's usual hang-dog, broken-hearted style -- with an acoustic guitar and lyrics that lament "Baby I'm here but I'm already gone / And you're still hanging on." But as the track progresses little things emerge from the usual strummed chords. Things like a bowed standup bass and David Gilmore-flavored electric guitar echoes. Finally, after the singing stops, there's two minutes of low-end, feedback-style synthesizer noises that sound like interstellar mating calls heard under water.
The sonic undertow fades right into "Straight-jackets," where Harvey mournfully sings "So sorry love / I've been distracted / Been hiding from / All the straight-jackets" over slow, haunting, echo-guitar and what he calls a "groove box," but what we know as synth drums. This one ends with two minutes of strange, Morris Code-like blips created using an electric guitar and a couple remote controls.
Bob Dylan never sounded quite like this.
"A lot of people won't understand it," Harvey said across a shadowy table at Benson's hot new acoustic showcase, Mick's. "You have to sit down and listen to it with headphones. I wanted to release a piece of artwork, I guess. I wasn't thinking about it as an album."
The result of his personal explorations in sound is an experimental CD that will appeal both to fans of ambient bands like Mogwai and Radiohead as well as indie-folkies into Elliott Smith and Wilco. Harvey has managed to create an environmental recording that captures the emotional emptiness suffered after breaking up with a long-time girlfriend. It's bleak, and at times, downright depressing, but never boring.
Ironically, the CD's strongest moments occur after all the buzzing sound effects have worn away. On the more-upbeat (though still sad) 7-minute-plus title track Harvey quietly bleeds tonal sounds beneath the strumming, giving the effect of one long feedback howl. The slow-twang closer "Besos y Abrazos" -- Spanish for "kisses and hugs" -- feels like a good Red House Painters track, with Harvey's deadpan lyrics steeped in everyday observation whose confessional honesty is tough to ignore.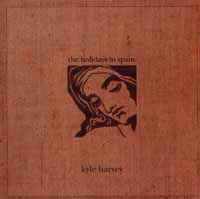 ---

"I wanted to release a piece of artwork, I guess. I wasn't thinking about it as an album."

---