"Right after we got signed with Interscope, Bush and No Doubt broke huge. It was really tough for a small band like us to get any attention. They had so much going on, we couldn't get priority."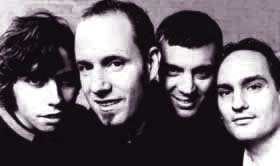 By Tim McMahan
Life can be tough for your typical unknown "straight-ahead" rock-and-roll band.
Take Love Nut, for instance. It seems like only yesterday that the Baltimore-based 4-piece was struggling to make it on the road, living in roadside KOAs and doing their best to stretch a $5 per diem.
"And I smoke, so that cuts my per diem in half," reminisces Love Nut lead guitarist, vocalist and all-around spokesman Max Mueller via telephone from where else but star-studded Hollywood, USA. He and bandmates Andy Bopp, (vocals/guitar), Dave Vespoint, (bass), and drummer Joe Parsons are doing a couple gigs at Jack's Sugarshack in L.A. as part of the International Pop Overthrow festival. The band's on the road and headed to Omaha, pushing their lastest album, "Baltimucho." Produced by Ed Stasium, who's worked with the Ramones, Smithereens and the Talking Heads, the CD is straight-up pop rock in the Cheap Trick-meets-Beatles-meets-Material Issue vein.
"We're just a rock-and-roll band that plays pop songs in a time when it isn't really cool for rock and pop songs," Mueller says.
The CD was released in April by Big Deal Records, the same label that currently houses Shonen Knife, Michael Shelley, Nick Hayward and the Gladhands. All big names in the business, but not quite as large as the labelmates Love Nut had at their last label, Interscope, home of Nine Inch Nails, Bush and No Doubt, to name a few. Interscope released Love Nut's last album, "Bastards of Melody," in the summer of '96 to much media hoopla.
"We originally released it on a small label, then Interscope picked it up," Mueller says. "It went to No. 25 on the CMJ most-requested list, but it didn't sell well."
He says Interscope had a three-album deal with the band, with the assumption that the first two albums were taken as given. "We recorded Baltimucho and Interscope wanted to rerecord it with Stasium, which was fine with us," Mueller says. But while sources (including an article posted on the band's website) say that the label ultimately passed on the release, Mueller says it was Love Nut who gave Interscope the heave-ho.
"We weren't really happy with their marketing scheme," he says. "Right after we got signed with Interscope, Bush and No Doubt broke huge. It was really tough for a small band like us to get any attention. They had so much going on, we couldn't get priority. We felt Baltimucho was a really good album and asked if we could leave (the label). We thought we could do better somewhere else."
Since Big Deal doesn't have as much going on as Interscope, Mueller says, the label can spend more time marketing the band. "They've been really good with radio promotion and press. We've picked up play on close to 40 stations, 99 percent of which have top-40 format. That surprised us, because while we have a more commercial sound these days, that's not what we set out to do. Our music is very sincere, honest and credible in an indie sort of way, and it just happens to be commercial."
Mueller says everyone except for drummer Parsons is married with children, which makes life on the road and away from their families even more difficult. "After everything we've been through -- two solid years of touring with 200 shows a year -- we still love to do it and we think it will serve us well in the future. I never finished college because of this, so I don't have anything to fall back on.
"I'd like to make a comfortable living with this band, but I'd be just as happy playing for a roomful of people who like what I'm doing. This industry and line of work will strip your soul and sanity from you. You have to be dedicated and patient and ready for the long haul."
---
Originallly printed in The Reader September 3, 1998.
Copyright © 1998 Tim McMahan. All rights reserved.