Maritime is a natural progression for Von Bohlen after the remarkably successful Promise Ring disbanded in the fall of 2002. Shortly after the break-up, he and Didier formed the trio Vermont with Pele guitarist Chris Roseanau. Then along came Eric Axelson, who Von Bohlen and Didier had first met years earlier at a Dismemberment Plan show in Madison, Wisconsin.
"It was their first tour, before they had an album and before we had an album," Von Bohlen said. "We were just a couple random bands playing a hall, and at that point I thought what they were doing was complete insanity."
If that doesn't sound like a compliment, that's because it isn't. Von Bohlen was stunned by Dismemberment Plan's early "avant pop" approach, which he said was more avant than pop. "I must have been 20 and thought 'What was this?' One guy was playing trombone. It was pretty challenging."
Years after that first meeting, however, the two bands became friends, and the coinciding disbanding of both Dismemberment Plan and The Promise Ring in 2002 made for an opportunity for Von Bohlen, Didier and Axelson to work together.
But even before Axelson joined Maritime, the band (which was then called "In English") already had received interest from the Promise Ring's former label, Epitaph subsidiary Anti- Records. "We had made a phone call deal for our first record and they said, 'Cool, we'll pay for it,'" Von Bohlen said. "When we sent them the master, they said they could take it or leave it. I guess they didn't think it was 'the sound of now.' We said, 'If you don't want to do it, we don't want you to do it.'"
Despite paying for the recording, Anti- handed the masters back to Von Bohlen and company. "We took it to a few places, but none of them wanted it. At the lowest point trying to figure out what to do with it, Kim Coletta from DeSoto Records called."
DeSoto was Dismemberment Plan's old label, and Von Bohlen had known Coletta, formerly of the band Jawbox, for years having been a huge Jawbox fan from his early teen years. DeSoto, who's roster includes bands like Burning Airlines, Juno and The Eternals, seemed like a perfect fit for Maritime's style, which is more adult and laid-back than The Promise Ring's jangly indie-pop. Songs from the new album like "Sleep Around," with its puppy-tail piano chords, gossamer horn parts, and young-boy Ray Davies vocals, feel like a sunny slice of British pop. The sweet, kicky arrangements almost always mask introspective lyrics tinged in new wave existentialism. Check out "Someone Has to Die," for instance, where Von Bohlen gleefully sings, "All I know is that someone has to die to make room for you and I" over a bubbly shuffle. Or the acoustic golden sunset of "I'm Not Afraid," with the line "I thought that I might start to smoke / Just so I'd have somewhere to put my hands / When time unplans affairs."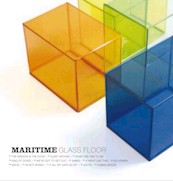 ---

"I must have been 20 and thought 'What was this?' One guy was playing trombone."

---