Today at age 28, Whipkey has managed to generate a respectable local following thanks to almost constantly performing, but he's still trying to break through to the next level -- a level that involves recognition outside of the Nebraska state border.

"I'm at the point in my life where it sounds silly and adult but you have to evaluate what you want to accomplish with your life," he said. "I'm 10 years into it. I have chosen my career path. The thing I'm good at is writing songs, performing and playing music. I make a living playing gigs -- not the most glamorous gigs -- and teaching music. I make a living with a guitar in my hand. It's an okay living, but I don't feel that I could go and raise a family on it."

With that, he caught himself, and then added: "I don't want to sound like I'm old, because I'm not."

But there's a maturity to Whipkey's new solo album, Instant Heart, that's undeniable, especially compared to the self-made folk ballads that he was playing at McFoster's back in 2000. The new 9-song collection consists of tunes that span his entire career back to his days with The Movies. "These are songs that never fit into the bands," he said. "We tried some of them, but they just didn't work; others I didn't even bother trying because I knew they would go over best with just me."

Most of the album's cuts -- recorded on an analog 4-track tape machine in his basement over the course of three weeks -- merely feature Whipkey, his acoustic or electric guitar and a harmonica. Some include bells and one has drums, but most sport a light, lonely, aching touch. The exception is the loud, angry "I'll Have to Learn," that captures Whipkey howling into an old "green bullet" microphone with his guitar amp cranked to 10.

Whipkey said the late-night recording sessions helped keep his mind off a recent break-up. "At the time a lot of things were going through my head," he said. "Once I started (recording) and liked how it was going, I immersed myself in it."

The final product was mixed onto an ancient DAT deck before being mastered by Doug Van Sloun at Focus Mastering and handed over to legendary local singer/songwriter Kyle Harvey for release on his one-man Slo-Fi Records imprint. Like other Slo-Fi releases, the album is limited to a run of 100 numbered copies. Keeping with the analog theme, each digipak contains a unique Polaroid photo taken by Whipkey.

Despite being a solo project, Whipkey has pulled a band around himself for Saturday night's CD release show at The Waiting Room that includes old comrade Scott "Zip" Zimmerman on drums, and two former Anonymous American members: Bob Carrig on bass and Corey Weber on guitar. Whipkey said he hasn't come up with a name for the new band, and probably won't, instead keeping it simply named after himself.

"When we started The Movies, it was called Matt Whipkey and the Movies," he said. "There was almost a backlash in having your name in the band back then. Now I think I can pull it off."
---
Back to

Published in The Omaha Reader Aug. 20, 2009. Copyright © 2009 Tim McMahan. All rights reserved.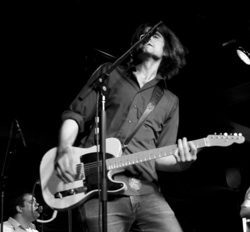 ---

"

At the time a lot of things were going through my head

.

Once I started (recording) and liked how it was going, I immersed myself in it.

"

---