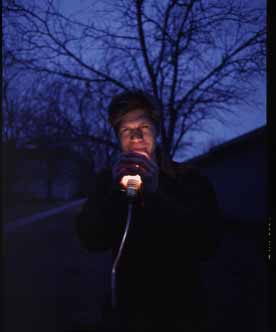 ---
| | | |
| --- | --- | --- |
| | "It's a really challenging thing to work with Lambchop. You have to have a great deal of restraint to not step all over everyone." | |
---
At the same time, McManus had met Kurt Wagner, the frontman for the Nashville-based ensemble Lambchop, a backporch orchestra that contained as many as 15 members playing a sort of avant-garde form of country music. Before long, McManus was also touring with Lambchop, which was building a sizeable following throughout Europe. "It ballooned from there and I ended up amicably parting ways with Vic to play more with Lambchop," McManus said.
His relationship with Wagner and the band continues today, having gone out 13 weeks in 2002 with Lambchop's mini orchestra. "It's a really challenging thing to work with Lambchop. You have to have a great deal of restraint to not step all over everyone. I can sit back in some songs and just listen and then make a peep or squawk, and then step out again. It's fun to be able to know your little part is going to make a difference."
McManus would play a similar roll as part of the Bright Eyes' 14-piece band that toured this year in support of their new CD, Lifted, or the Story Is in the Soil Keep Your Ear to the Ground. The tour also featured The Bruces as an opening act in support of McManus' new CD, The War of the Bruces, released on Misra Records.
War… started as a collection of 8-track recordings McManus had made in his Athens home. Conor Oberst, the singer-songwriter behind Bright Eyes, had heard the demos and urged McManus to rerecord them. "He was important for getting me to go to Nashville and record the album," McManus said.
Recorded at Beech House studios in January 2002 with the help of fellow Lambchop member Mark Nevers, The War of the Bruces features dusty folk songs like the bouncy opener "Do Si Do," the subtle banjo plunker "Two Dogs," and the warm, sprawling "Mountain," all showcasing McManus' humble, quiet voice and acoustic guitar. Some tracks are backed by Curtiss Pernice, another Vic Chesnutt sideman.
In June 2002, McManus moved back to Omaha "for a lot of reasons," he said. "My girlfriend and I wanted out of Athens. We wanted to buy a house, which just wasn't affordable in Georgia."
It wasn't until he got here that he realized what an institution Saddle Creek Records and Bright Eyes had become. "I had seen Conor when he came through Athens a few times, and we would always chat," he said. "Going on tour with him really blew my mind."
McManus played euphonium with Bright Eyes on a tour that was, at times, chaotic. "I guess I thrive on that," he said. "At first everyone was a little bit nervous and the first show was a bit rickety, but what band isn't on their first show? After the first couple shows, everyone had their parts down so well, it was a blast."
He said the opening slot as The Bruces (a name influenced by his father, who's also named Bruce), was well-received, and so far the CD, released in November, is in its third pressing at Misra (which equates to about 3,000 copies).
These days, McManus is busy fixing up his just-purchased Benson home, easy work for a former contractor's assistant. He plans on building a home studio and playing on a number of his friends' recordings, including Simon Joyner, who he hasn't recorded with since Joyner's '98 double album, Yesterday Tomorrow and In Between. "Simon and I have talked about doing a record over at his house," McManus said, "and hopefully I'll be playing guitar with Bright Eyes later this year, but that's not 100 percent."
Though he's seen a big part of the world thanks to his music, McManus continues to thrive in obscurity, even in his home town. "I love the people I play with, the friendships," he said. "I've been able to keep doing this for awhile. I'll always be involved in music, whether it involves touring or not. I can't really imagine myself not playing music."

---
Back to

Published in The Omaha Weekly-Reader Jan. 29, 2003. Copyright © 2003 Tim McMahan. All rights reserved. Photographs copyright © 2003 by Bill Sitzmann, used by permission.