"In almost every town we play, someone from New Orleans has come to see us and tell us what's happening there," Leclère said. "I've never been to New Orleans, but I saw the eyes of these people and it seems that there is a big problem there. They see their president talking about liberation for people abroad while there is starving and dying in their own country. Something should be done about that."

Since he's been in this country, Leclère said he notices he speaks about things he would never speak about in Europe. "I'm really fond of American music and the politics," he said. "I have to check for myself what your government is trying to hide or forget about. I'm here on tour to see what's happening from the people. I'm left with nothing but feelings of kindness and hospitality from everyone we meet."

He's also amazed by the quality of musicianship. "We've met so many good musicians," he said. "We usually play with two or three other bands on the bill and most of the time they're really good and we're really glad to meet them. You're lucky you have so many venues -- punk, classical, folk or reggae, you can choose."

It's quite a contrast from Finland, where playing a gig is almost impossible for a struggling musician. "It's very expensive," Leclère said. "There are five or six venues, and all ask for 1,000 Euros (from the band) to play. There are many musicians in Finland and France, but you never meet them. It's not like the states because you can actually meet musicians here on the road."

These days, the couple says they're happy being homeless. "We live in our car now," Leclère said. "We're on the road. We've been on the road since last fall and it's nice."

When their U.S. tour winds down March 10 in New York, Leclère says the duo will head back to Northern Europe, Germany and France to tour some more, and then head back to the U.S. "We're thinking of renting a place and staying here awhile and touring some more," he said, adding that they've been inspired by the latest Cat Power CD, The Greatest.

"Her new record is fantastic," Leclère said. "She (Chan Marshall) added color and flavor to her compositions by working with Memphis musicians. We want that same kind of color and flavor to mix with our music."

---
Back to

Published in The Omaha Reader Feb. 8, 2006. Copyright © 2006 Tim McMahan. All rights reserved.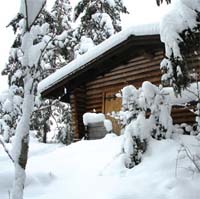 ---

"They see their president talking about liberation for people abroad while there is starving and dying in their own country. Something should be done about that."

---