So where did her music come from? You won't find out here, because Miranda didn't respond to questions about how she reportedly grew up in a strict, religious home, sneaking listens to her sister's contraband records. Or questions about how those religious rituals influenced her songwriting. Or how she fled her suburban Detroit home at age 16 to start her life again in New York City.

Instead, Miranda chose to talk about Kanye West and an incident that happened a few years ago that she called "a fluke," but that (unfortunately) continues to be reported over and over again. I asked her how much mileage she plans to drain from the Kanye story.

"It's pretty funny at this point," Miranda said in her reply. "People always say 'I HAVE to ask about the Kanye thing' and I say 'Oh? Do you have to?' There really isn't much of a story there. He posted a song on his blog, it got a lot of attention, it was very flattering and I definitely appreciate the support, but yeah that's the story. I don't know too much of his music, but what I've heard I dig."

There rarely are follow-up questions in e-mail interviews, and there weren't any here, though Miranda did say how much success in the music business depends on talent and how much depends on lucky breaks and Kanye flukes. "You'll need a LOT of both, and a strong sense of self," she replied. "If you don't know who you are in this industry, someone else is going to tell you who you are and they probably won't get it quite right."

Then Miranda answered some of the more mundane, pedestrian questions. In addition to Sitek (who's better known as the guy behind TV on the Radio), who would she like to work with? "Leonard Cohen. Ani DiFranco," she replied. What's she listening to these days that we should be paying attention to? "Little Dragon (Swedish electro), Maximum Balloon (Beverly Hills electro), The Antlers (Brooklyn indie, on Frenchkiss), Abandoned Lighthouse (unsigned Brooklyn indie)." The descriptions in the parenthesis are mine, not hers.

And finally, she talked about still possessing a drink chip from the last time her old band, The Jealous Girlfriends, played at Slowdown, which she plans to use once she lands back in Omaha. "I haven't had much time to explore the city," she wrote. "Where should I go? What should I do?" Could someone help her out?

As for the show, well, "You can bet there will be headbanging and some foot stomping, some sleigh bells and Steel Train (the headliner) will probably join us for a song," she wrote. "It's gonna be fuuuuuun!"

When I read that, it dawned me why she might not have wanted to answer all those personal questions about her past: Maybe it's just none of our business.
---
Back to

Published in The Omaha Reader March 17, 2010 Copyright © 2010 Tim McMahan. All rights reserved.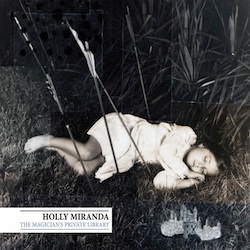 ---

"

If you don't know who you are in this industry, someone else is going to tell you who you are and they probably won't get it quite right.

"

---