A lot of it also is The National's stirring, bigger-than-life sound. Their dreamy music feels like a sonic confession made under anesthesia. The Brooklyn five-piece's style is sophisticated and smart. Their mostly acoustic instrumentation ranges from guitar to piano to trumpet, playing simple, almost austere parables that somehow bear the same weight and depth of much louder, moodier bands like Interpol or Radiohead. A large part of the band's dark-violet color stems from Berninger's low, brassy voice that falls somewhere between Nick Cave, Tindersticks' Stuart Staples and Gordon Lightfoot.
With such control over the band's overall sound, it's no surprise that Berninger delivers his lines not from behind a keyboard or with a guitar slung around his neck, but instead standing alone behind the microphone like a true rock 'n' roll frontman. Though surrounded by his band mates, that aloneness can, at times, feel daunting.
"I'm not exactly a great showman," Berninger said. "Years ago I used to drink and smoke on stage, those were my props. Now I can't do that as much, so it can feel awkward. I keep my hands in my pockets. It's fun, it's kind of a weird thing that I'm starting to enjoy."
He said the band has a rather laid-back stage presence. "We take it seriously, but we're not a well-oiled machine," he said. "We let it be loose. Every show is kind of different, we usually try to roll with whatever's going on. Some say the shows are more reckless than our record sounds. We don't really try to recreate the record live."
Just as their albums continue to get discovered by new fans, the bands' live performances continue to grow in attendance. It's been a slow process, but the pace has been just fine by them.
"We're not on a big label or have a huge budget," Berninger said. "The kind of press we've received has come organically. And for us, that's how we've developed as a band and how we write songs. It's a slow, iterative process, which all makes sense in terms of how our career has gone. We're just happy to reach a broader audience and play sold-out shows."
That's quite a contrast to playing the near empty rooms that Berninger described as the norm just a few years ago. "We're very used to playing to under 10 people, like we did for so many years," he said. "Back then, if we had more than 50 people show up, we were pretty excited."
But even today, not every show's a sell-out, and that reality helps keep the band well-grounded, Berninger said. "We'll play in Paris and it'll be sold out, but then play a few miles outside of the city and only 20 people will be there," he said. "It doesn't rattle us, it puts it all in perspective."

---
Back to

Published in The Omaha Reader Sept. 13, 2007. Copyright 2007 Tim McMahan. All rights reserved.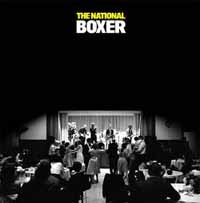 ---

"Years ago I used to drink and smoke on stage, those were my props. Now I can't do that as much, so it can feel awkward."

---