Despite all those influences, no single musical style pushes itself to the forefront of Your Ship Sailed the Seven Seas, the band's just-completed album released on Saklar's Ant Records. Opening track "The Morning Song" is a light-stepping, acoustic folk ballad. The guitar line that launches "Insect (Marble)" is pure Kiss Me-era Cure, while the 6/8-metered title track feels like a bar room waltz thanks to the sobbing slide guitar.

Esterbrooks, who just recently joined the band, said the broad variety of styles drew him to No Blood Orphan. "The project is successful because each song can differ 180 degrees, while the band still sounds the same," he said. "It's the songwriting and the style that keep it interesting. I've never been bored at a No Blood Orphan show."

"There is a lot of freedom with this band," Saklar added. "We do what we feel like doing. We don't have to answer to anyone. We don't have to play shows to pay off debts. We have enough friends and fans to play shows and have a good time and do whatever we want."

That same sense of freedom characterizes how the band views its future. If the line-up to No Blood Orphan seems vaguely familiar, it could be because Saklar also plays guitar with Bartolomei in Mal Madrigal as well as with Phillips and Esterbrooks in Virgasound. Of the three projects, No Blood Orphan could wind up being the redheaded stepchild.

"The future of this band is open-ended," Saklar said. "We can do whatever we feel is right. We could be a four-piece in six months or a six piece in six months. Of the three bands I play in, I can see the other two doing more touring. There's no pressure here."

And that's just the way Saklar and company like it. "It's kind of a throwback to the day when Simon Joyner put out cassettes and did local shows," Saklar said. "There's a certain fulfillment in being a musician and not putting all your eggs into one basket and saying, 'Come on, guys, we're gonna make it.'"




---
Back to

Published in The Omaha Reader Feb. 15, 2006. Copyright © 2006 Tim McMahan. All rights reserved.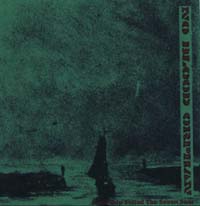 ---

"We do what we feel like doing. We don't have to answer to anyone. We don't have to play shows to pay off debts."

---