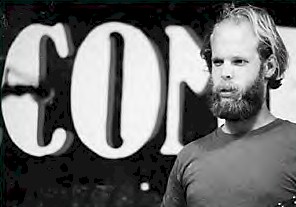 ---
| | | |
| --- | --- | --- |
| | "I was happy and I didn't have to listen to the radio. It's nice to be able to backtrack and not be embarrassed by the music you used to listen to." | |
---
Oldham's comments were similar to Bill Callahan's of Smog, another renowned indie singer/songwriter (and friend of Oldham) who swears his music has nothing to do with his life. In both cases, their songwriting and lifestyles insist that they isolate themselves from the world of popular culture to a place inhabited by only a handful of loyal listeners. Though he says at no time in his life has he been able to turn on commercial radio and listen to a half-hour of great music, Oldham grew up on pop.
"The first music I bought when I was nine or 10 was pop music from the '50s and '60s, like The Everly Bros., Elvis, Del Shannon, The Flamingos, The Platters, whatever I could get my hands on," he said. "And then some musical things, like Camelot, Singing in the Rain and Hair. I watched a lot of musicals on TV and a lot of Hitchcock, Bogart, and Cary Grant movies. Then I started listening to stuff my brother played, like The Fall, early Lou Reed and The Ramones. From there, I spent time with musicians and I started seeing and listening to bands like Husker Du, Foetus, Big Black and Dinosaur Jr. I was happy and I didn't have to listen to the radio. It's nice to be able to backtrack and not be embarrassed by the music you used to listen to."
Oldham says he's content making music that will only be enjoyed by a small group of people, so much so that he says success would likely lead to an early end of his career.
"I Iike the relationship that I have with my music," he said. "To be able to be accepted (in the popular culture) would distort my view of music. For example -- and this is purely hypothetical -- a musician like Beck, who hit it big with his novelty hit "Loser," was forced into a different world right away. He still made music he liked and had critical success and the girls liked it and everything, but I can't help but get the sense that it was a few steps too many, where he ended up adopting so many superficial stylistic changes to his music. His brain was forced to find interesting things without a foundation.
"If the general public welcomed one of my songs, the logical thing to do would be to retire or not make music anymore, because I could never to make it the same way again. If I had a hit song tonight I wouldn't be able to approach music the same way tomorrow morning. Rather than try to pretend that I could, I would rather pursue surfing. People would be buying my next record based on the acceptance of that one song, and it would create disappointment that isn't a part of the process now."
Yeah, but why should he care if they're disappointed?
"Because it would affect the other audience members who have a strong relationship with my music," Oldham explained. "It would be harder for them to enjoy because the audience would have changed and there would be that dynamic of anticipation and disappointment entering into the music. My booking agent would then want me to play venues for 2,500 people who expect me to play certain songs, but I would prefer to play to 250 people who were really listening. It wouldn't be fun to play those shows.
"I like playing shows where we're all in it together, rather than live that kind of life where it's a struggle against the way it was in the beginning. In that case, it would be better to not be available at all."
---
Back to

Published in The Omaha Weekly August 8, 2001. Copyright © 2001 Tim McMahan. All rights reserved.