Once a Pawn sounds nothing like the arena rock outfits that her kids are so interesting in becoming. Formed three years ago with guitarist Eric Scrivens, the band originally was a White Stripes-style guitar-and-drum punk rock duo. Balta, who grew up listening to her parents' country music before discovering KFRX, pop and R&B, got a crash course in AFI and Bad Religion when she met Scrivens her Sophomore year at Lincoln High School. The two started playing house shows in Balta's mother's basement in '02, eventually graduating to clubs in '03 before cutting the 6-song EP This Way in the winter of '04 with producer Ian Aeillo (Eagle*Seagull).

Songs like "Writing a Letter" and "Counterculture" showcase the duo's innocent-yet-ballistic intensity. Balta sounds like a very young, angry Rebecca Gates of pioneering mid-'90s guitar-and-drum duo The Spinanes, a Sub Pop band that neither Balta nor Scrivens probably ever heard of.

Regardless, their sound was bound to change when bassist Levi Bradis joined the band last summer. The trio is headed back to Aeillo's Off-White Studios this week to cut their debut full-length. And while This Way was released on their friend's One and Ten Records label, no one's lined up to release the LP.

"We'll figure out a way to make it," Balta said. "We're all broke, but we'll see what credit cards can do."

Balta said she never considered sending copies of their demo to perspective record labels. "I haven't found a good way of doing that without having them get thrown into the trash," she said.

Instead, Balta and the band are focusing on out-of-town gigs, including a show at Topeka's Booby Trap last Saturday night. "I ask every band that tours through Lincoln how they got on a label," she said. "The bottom line is that labels need to see that you're working hard and touring, and that you've made a CD and actually sold some copies."

And that you've played some important local showcases, like this weekend's Scenefest 4, organized by website Starcityscene.com. Joining Once a Pawn at Duffy's April 22 will be Robot, Creep Closer!, Producers of the Word, Electric Soul Method and Sinikil. The April 21 Scenefest showcase -- also at Duffy's -- features Ties These Hands, Prints of Apple Island, The Goddamn Rights, The Static Octopus and Straight Outta Junior High.

"I'm excited that we got asked to play," Balta said, adding that Once A Pawn also has been asked to submit a couple tracks to the next volume of A Situation, a compilation CD that pulls together songs by Lincoln bands. Omahans too lazy to drive to Lincoln will have a chance to see Once a Pawn May 12 at Buffoons and May 26 at Musicplex.

---
Back to

Published in The Omaha Reader April 19, 2006. Copyright © 2006 Tim McMahan. All rights reserved.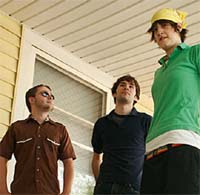 ---

"These kids are, like, 12 years old and having a hard time just playing chords and they want to play Metallica."

---