In fact, Élan Vital is the product of two completely separate recording sessions that spanned over a year. The record's journey began in New York with producer Phil Ek. Ek is something of a legend in indie circles, having worked with the likes of Built to Spill, Modest Mouse, Quasi and The Shins, as well as having produced Pretty Girls' last two records. This time, however, Phil didn't work out.

"There's nothing wrong with Phil, we love him," Dewitt said. "We separated ourselves from those recordings because we weren't prepared, and other factors that I don't want to get into."

Among the ones he did get into was the uncompromising situation they placed their new keyboardist, Leona Marrs. Seems most of the material for the New York sessions had been written before Marrs was on board. "So we told her to just put stuff on top of what we'd already done," DeWitt said. "We stood in the studio and said, 'Make it sound good' and 'No, we don't like it.' It was unfair to her."

They quickly realized the sessions weren't working out, and scrapped everything. "We kept maybe four or five songs from New York and reworked them with Leona," DeWitt said. "By the time we got around to deciding and planning and recording again, we thought it would be a nice idea to try recording with someone different."

It seems that making decisions is difficult for the members Pretty Girls Make Graves. Each comes from a different musical background, DeWitt said, and isn't afraid to let his or her point of view be known. So it was something of an achievement when they discovered that everyone liked the new record by Black Mountain, the Vancouver-based psychedelic fuzz-rock band fronted by Stephen McBean (also of Pink Mountaintops). Enter Colin Stewart, who engineered that record.

"He was an obvious choice," DeWitt said. "We recorded one song with him in Vancouver, and decided he was the right guy."

DeWitt said the differences between Ek and Stewart are subtle. "I think Phil's sound might be on the glossy side. He generally tends to develop ideas more in the mixing stage. He plays the board a lot. With Colin, we had very concrete ideas about what sounds we wanted on the record, and that made things a lot easier."

The result is an album that effortlessly combines post-punk starkness with a '90s-era indie-pop sensibility that stands up with the best Matador girl-fronted projects, such as Bettie Serveert and Helium. Allowing Marrs to write new keyboard parts was a good call. Her soulful tinkling provides a necessary tonal feather-bed that softens the band's severe, clashing edges. That said, you couldn't mistake Élan Vital for a "piano album." Tracks like "The Magic Hour" open with a tight, staccato chop before being torn in half by a glowing riff. Ice-pick guitars make everything grind, even when a track's most prominent instrument is an accordion ("Selling the Wind"). No one style dominates, and nothing is out of bounds. In fact, on "Pictures of a Night Scene" vocalist Andrea Zollo steps aside while bassist Derek Fudesco croons like a latter-day Ira Kaplan on a song that would be right at home on the last Yo La Tengo album. It's here that DeWitt drops his drumsticks and picks up the bass.

Look for similar shifts throughout their set Tuesday night at Sokol Underground, along with some exciting visual effects. "We have this insane light box with a rainbow heart on it," DeWitt said. "It weighs a ton. We hoist it somewhere behind me on stage. One night it'll give and fall on me, and I'll be paralyzed."

And with that frightening image, DeWitt's cell signal disappeared somewhere in the Seattle skyline.

---
Back to

Published in The Omaha Reader April 26, 2006. Copyright © 2006 Tim McMahan. All rights reserved.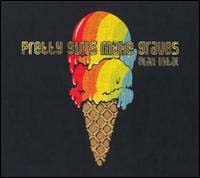 ---

"By the time we got around to deciding and planning and recording again, we thought it would be a nice idea to try recording with someone different."

---