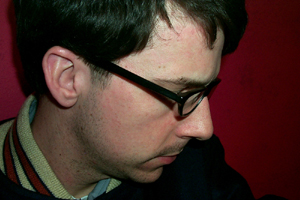 ---
| | | |
| --- | --- | --- |
| | "My live show is like watching me paint a picture in front of a crowd. I'm not an entertainer." | |
---
Opening the show will be an ensemble version of Omaha's ultimate one-man act, Fizzle Like a Flood. Joining singer/songwriter Doug Kabourek are bassist Travis Sing (ex-Darktown House Band), keyboardist Bobby Carrig (ex-The Movies), and drummer Matt Bowen (Race for Titles).
Kabourek said the combo came together quite naturally. He and Carrig both were in The Movies, while Bowen is an old pal from the Omaha scene. "I want to do a concept album filled with songs about Bowen," Kabourek said. "One song will deal with how he spent forever one time playing the Dance Revolution video game."
His connection to Sing goes all the way back to Kabourek's days as drummer with Iowa City power-pop trio Matchbook Shannon. "A long, long time ago, Dark Town did a gig with Matchbook Shannon," Sing said. "I went online and downloaded some Fizzle Like a Flood songs and said, 'Wow, someone's actually making real pop music around here.' It was very melodic, not just guitar, bass and drums. And it had real keyboard parts. It was pop with a capital P."
So shortly after moving back to Omaha from Portland, Maine, Sing contacted Kabourek and the rest is history.
The band will be playing new arrangements of songs from Fizzle Like a Flood's full-length debut on Earnest Jenning Records, Flash Paper Queen, a collection of mostly acoustic "demo tracks" recorded for an imaginary, never-released CD, along with a "radio single," "Like Wind Like Rain," which features Kabourek's multi-layered recording technique, heard on his self-released LP, 2000's Golden Sand and the Grandstand.
With a band in tow, will Kabourek actually try to tour? Don't count on it. "I don't like playing live. Never have, never will. I have stage fright," he said. "My live show is like watching me paint a picture in front of a crowd. I'm not an entertainer."
Also opening the show is Baltimore laptop rapper Cex, a.k.a Rjyan Kidwell, who has the reputation for putting on truly dance-worthy shows. Says The Seattle Stranger, "Cex is the Ferris Bueller of lo-fi, white-kid computer rap; the nerds, the geeks, and the freaks all worship him, in part because he raps about stuff like being a 20-year-old virgin and working at the one-hour photo store."
I can't wait.

---
Back to

Portions published in The Omaha Weekly-Reader April 24, 2003. Copyright © 2003 Tim McMahan. All rights reserved.