That was also when Mendenhall set down his guitar and picked up a keyboard. "I started this band to learn how to play piano," he said. "I just wanted to play piano all the time."
His keyboards are the driving force behind The Prom's pretty rock songs, forcing the inevitable comparisons to Ben Folds Five though their music is more detailed, more complicated and more interesting than Mr. Folds' simple pop ditties.
On Under the Same Stars, the band's just-released full-length on Barsuk Records, the trio pieces together lush songs with warm-hearted melodies that bounce casually a-top Mendenhall's bouncing, chiming piano chords. The music has a dusty, melancholy feel to it like a long-estranged ex-lover's sad, knowing smile. Maybe that's because Mendenhall wrote most of the songs while spending a month and a half visiting an ex-girlfriend in Japan.
"The CD is really about her," he said. "I'm over her, but the songs are still there." The tension of the experience is evident on tracks like the pulsing "Living in the Past," where Mendenhall laments "In the mornings I wake up / So tired and alone / Scared of the outside / And conversations," or on the weepy "Brighter than the Moon," where he croons "On a Tokyo train I realized / That I was fighting myself and losing inside." The pathos throughout the CD is deepened thanks to arrangements that feature violin, cello, flute and trumpet on more than half the tracks.
"I always wanted to work with a small orchestra, but it might be the last time I do it," he said. The problem is replicating the ensemble sound live. "Since we're not a money-making band, I can't afford to bring a bunch of people on tour with us. We recently got a new member on keyboards and samplers who helps us do more on stage and even lets me play guitar on a couple songs."
If there's a drawback to playing piano-based music, it's being trapped behind the keyboards on stage. "We look like a bunch of nerds when we play live," Mendenhall said. "It's hard to look cool with a keyboard. I bang on it a lot, but there's only so much you can do in terms of stage antics. It helps that we don't take ourselves too seriously."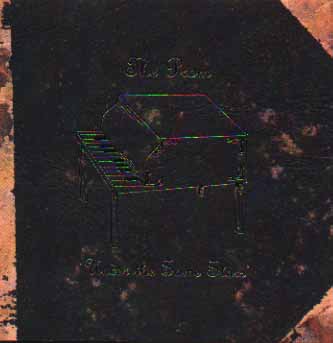 ---
| | | |
| --- | --- | --- |
| | "We look like a bunch of nerds when we play live. It's hard to look cool with a keyboard." | |
---