"We really didn't know anyone at the label," said a chipper Kelly Crisp via cell phone as she drove around Raleigh Sunday afternoon buying supplies to take on the road for the band's month-long tour that brings them to O'Leaver's Friday night. "Merge has always had a philosophy of listening to demos. They liked ours and heard we were playing shows around the area. They called us and asked if we could play a show with Portastic, another band on their label. We said. 'Yes, if you put out our record.' We never thought about what we would do if they had said no. We never thought of sending the demo to any other label."
Incidentally, Crisp added, a week before Merge signed The Rosebuds the label got another demo in the mail -- from The Buzzcocks -- who they also signed.
She said the band has only had two goals: 1) Put out a record on Merge, and 2) record with producer Brian Paulson, who's worked with such bands as Wilco, Beck and Squirrel Nut Zippers. You can guess what happened next.
Merge originally wanted to release the band's six-song demo as an EP. "We said we have so many songs, can we make a full-length? And they were, like, 'Well, if you want to.' So we told them we wanted Brian Paulson to record it."
Paulson hadn't been seen or heard in the area for a year, having been out of the country recording the latest CD by Welsh band Gorky's Zygotic Mynci. But as luck would have it, he returned to North Carolina the day after The Rosebuds had worked out the deal with Merge and ran into Mac McCaughan at a Yo La Tengo show at Chapill Hill nightclub Cat's Cradle.
"Mac asked him if he'd record us and he said, 'Yeah, why not?'" Crisp said. "We didn't have a huge budget, but Paulson didn't want to be bored and said, 'Yes.'"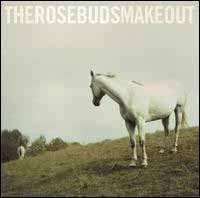 ---

"We never thought about what we would do if they had said no. We never thought of sending the demo to any other label."

---