Had I gotten Scout on the phone I would have asked her about working with legendary Chicago producer Steve Albini. Strike that -- Albini doesn't like to be called "producer," he prefers the more emotionally-divorced title "recording engineer," insisting that he doesn't influence the artist's performance, merely captures their sound like some sort of unencumbered recording cipher.
Regardless, Albini's deification for raw minimalism rings loudly from I Am, giving the recording an artsy, low-fi, home-made atmosphere without the annoying tape hiss. He's become indie music's studio version of Wynona Ryder, who, it's said, all rock stars must sleep with before they become famous. Niblett can now say she has done her time with the legendary "engineer" who's worked with every significant indie rock band from Nirvana to Low to The Jesus Lizard to, well, PJ Harvey.
"Working with geniuses like Albini" probably would have been the answer as to why she bothered to move to the good ol' U.S.A. from Nottingham, England, where she attended art college in the late '90s. An only child growing up in Staffordshire, Niblett said she took her name from the character Jean Louise "Scout" Finch from the 1962 film "To Kill a Mockingbird," partially as an homage to Gregory Peck. She says she gave up piano lessons when she was nine, because she "didn't want to learn other people's songs."
In 2001, she released her first album, Sweet Heart Fever with drummer Kristian Goddard on Secretly Canadian, which was followed by a split-release EP with Songs:Ohia that put her on tour with sprightly Americans Swearing At Motorists and The Microphones.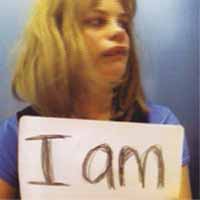 ---

She says she gave up piano lessons when she was nine, because she "didn't want to learn other people's songs."

---