Prewitt said making One Bedroom differed from their last CD, Oui, because all four members took part in the "loose-limbed practices" in which it was born.
Like all their recordings, the final touches come when Prekop adds vocals to the finished tracks -- vocals that the band never hears until the last minute. "It's a really odd way to do things," Prewitt said. "We never hear the vocals and lyrics until the mixdown, then it's 'What the hell is this?' Of course I don't like the sound of it initially, because I'm used to hearing it one way. He puts down a different type of melody that sits on top or interweaves or reacts to the situation. The whole listening experience becomes more broadened with the lyrics and vocals. More than half of our sound is Sam's voice and phrasing, which is different than the run-of-the-mill pop band."
In addition to their musical endeavors, Prekop, Prewitt and Claridge are accomplished artists, while McEntire is a respected engineer and producer. If you do a Google search for Archer Prewitt, you'll find just as many results for his Sof' Boy underground comic as his music. Sof' Boy is an always-smiling, puffy, ghost-like critter whose misadventures with Flitty the Fly, Pidgy the Pigeon, and the cannibalistic drunk bum have been documented in comic book published by Drawn & Quarterly.
"In some ways, I kind of long for the simpler way of doing things," Prewitt said. "Just doing my music would be simpler, but I like to juggle things and see what comes of it. The art of it is really exciting."

---
Back to

Published in The Omaha Weekly-Reader Feb. 26, 2003. Copyright © 2003 Tim McMahan. All rights reserved.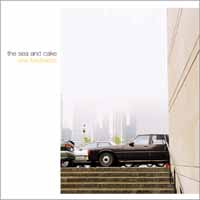 ---
| | | |
| --- | --- | --- |
| | "We never hear the vocals and lyrics until the mixdown, then it's 'What the hell is this?'" | |
---