Shelter Belt

Nothing Makes Me Sad Ever

self-released

Talk about being "under the radar," this CD was released in February 2000 with no fanfare whatsoever. To this day, if you ask around, you'd be hard-pressed to find anyone whose heard of Shelter Belt. Heck, the only reason I gave the CD a listen was because a few people prodded me into buying a copy by saying it was one of the best recordings produced by a local band in the last couple years. And they were right.

Though two years old, there's nothing dated about the music unless you consider the band's apparent influences, and then you have to go back a few decades -- there's little resemblance any current-day indie, punk or rock music.

The 9-piece band from Omaha, Lincoln and Blair is led by singer/songwriter Jesse Otto, who takes a traditional approach toward laid-back, feel-good rock. Opener "I Care About That," uses the entire ensemble to the greatest advantage and sounds like a jumpy Pinetop Seven number, complete with prominent trumpet/trombone line. But that's about it when it comes to the brass. For the rest, look for easy-going, acoustic-driven rock. "Gastonnbridge" has an Elton John Tumbleweed Connection feel to it. "Math" and "Bomb" herald back to early Buckingham/Nicks territory thanks to Otto's Lindsey-esque voice and Andrea Bloomquist's harmonies; while "Take" reminds me of '70s Todd Rundgren. From a more contemporary stance, there's a distinct David & David, Counting Crows and Ben Folds jonze goin' on throughout this massive 65-minute tome that boasts songs that stretch over the 8-minute mark. Could it have used some editing? Sure, but you can't blame them for pushing a good idea as far as possible.

Two years later, looks like Shelter Belt is making another go of it. The band has regrouped with a few line-up changes and is playing gigs, including a Dec. 7 gig at all-ages club Rebels in Council Bluffs before they re-enter the studio for a new release due next spring. Regardless, Nothing… is a helluva find and an excellent introduction to a band that hopefully will create loud echoes on the local music radar screen.
---
back to

Posted Nov. 27, 2001. Published in the Omaha Weekly Nov. 28, 2001. Copyright © 2001 Tim McMahan. All rights reserved.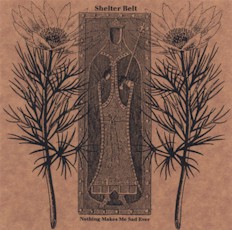 | | |
| --- | --- |
| | Rating: Yes |
| | Obligatory pull-quote: "Though two years old, there's nothing dated about the music unless you consider the band's apparent influences, and then you have to go back a few decades." |