Archive -- May 11, 2000 to March 8, 2001
Published in The Omaha Weekly March 8, 2001
The Get get Squiddy

It's good to hear The Get expand its already expansive blues-jam-rock sound on their brand-spanking new CD, Squid Noat. The trio, which has been kicking around the Omaha bar scene for a couple of years now, consists of Christopher Weber on guitars, vocals and keyboards, Cory Weber on bass, guitars and vocals, and Javier Ochoa on drums.
Pristinely recorded and mastered at WareHouse Studios by engineer Jim Homan, Squid Noat (the CD's title is explained on the band's website: www.getness.com) is the band's testament to their love for '70s roots rock. Their sound contains traces of the Allman Bros., The Band, Country Joe and the Fish, classic Dr. John and Joe Cocker -- we're talking countrified funk bass, organ, lap steel, shuffle guitar and lots of groovy hippy stuff. Other times there's no denying the Doobies/early Steely Dan riffage that comes straight from your big brother's 30-pound FM stereo, a throwback to the days when men were judged by the size of their speakers.
Check out Squid Noat when the band performs the tracks live at their CD release party Saturday, March 10, at The Music Box, 7777 Cass St. Also on the bill is Apostrophe and Oil.
* * *
3-Day Meat Sale Plus One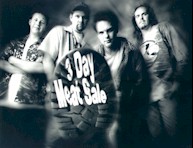 Omaha-based rock outfit 3-Day Meat Sale is bringing on a new guitarist.
Darren Keen, formerly of Lincoln band Status State, has joined the group, said 3-Day vocalist/keyboardist Michael Gagliani. The group's been searching for a second guitarist to augment lead axeman Chad Beisheim since the band formed in 1998, Gagliani said.
"We've probably tried-out at least 20 guitarist over that time," he said. "None of them seemed to click."
That is until 18-year-old Keen came along. Gagliani said the band met Keen at one of their many Ranch Bowl gigs. "He mentioned that we were an influence on his band, and that was quite a compliment," said Gagliani, who was equally impressed after seeing Status State perform.
"Darren has an empowering stage presence -- you cannot not watch him, he's like another Cudley," he said, referring to 3-Day drummer and on-stage gonzo maniac Mike Cudley, who's performance of the band's traditional set-closer, "Italian Lover," must be seen to be believed. Bassist John Lehotyak rounds out the five-piece.
When Status State disbanded after their bass player moved to California, Gagliani asked Keen if he wanted a try-out with 3-Day Meat Sale. "He's the guy we've been looking for," he said. "We're taking the time to make sure things are tight before we bring him out. He's already adding new ideas to our sound."
Gagliani said Keen's guitar will be heard on the band's next CD, which is currently in the process of being recorded. The band already has laid down some tracks at BJM Studios for three new songs to be included on a 5-song EP slated for release later this summer or early fall. With Pomoroy currently taking up most of BJM's studio time, 3-Day is trying to sneak back in and finish their tracks and possibly find another studio to record two songs. "We feel we need to get something fresh on the radio and to our fans," Gagliani said.
The band's last CD, You Can't Beat the Meat, also recorded at BJM, was released in 1999 and has garnered some local airplay. That 5-song EP is dominated by traditional, straight-ahead, big-guitar rock with tinges of disco and '80s pop. Gagliani said, all-in-all, the band is pleased with its progress over the past three years. "We've grown together, understanding how each other writes songs," he said. "Our following continues to grow steadily. It's encouraging, considering we're definitely the outsiders in Omaha's music scene."
When the new EP is finished, Gagliani said the band plans to do some regional touring, but ultimately views moving out of the Midwest as the key to their success.
"The long-term goal is to get out of Nebraska and move to San Diego, where we're driving distance to Los Angeles," he said. "We're trying to keep our hunger alive. If you're not hungry for it, you get very lazy. Though our name is still growing in Omaha, I don't think we have an opportunity here for label reps to catch our shows. If we're playing in a city as large as L.A., where there's a million bands per block as hungry as we are, it'll make us that much more hungry. And we'll slaughter a cow at the door of CBS record if it'll get us noticed."
It's unlikely that any cattle will be slaughtered when the 3-Day Meat Sale takes the stage this Saturday, May 10, at The Howard St. Tavern, along with Goodspeed and Jank 1000.
* * *
Bright Eyes w/Son, Ambulance and Azure Ray
Friday, March 9
Sokol Underground
13th & Martha
9 p.m.
Bright Eyes and Son, Ambulance will finally make their way back to Omaha for a live performance after being on the road the last few weeks. The bands are supporting their recently released Saddle Creek Records split-CD, Oh Holy Fools -- The Music of Son, Ambulance and Bright Eyes.

Opening for Bright Eyes on his recent tour is Athens, Ga., duo Azure Ray, who are supporting their recently released self-titled CD on the WARM label that was produced by Eric Bachmann of Crooked Fingers and former frontman for indie stalwarts Archers of Loaf.
Azure Ray features Orenda Fink (Japancakes, Little Red Rocket) and Maria Taylor (Little Red Rocket), both of whom have also played in Bright Eyes. Their forte is painfully beautiful, slow, whispy ballads with a sound that's been compared to Mazzy Star, though in fact their music is much more personal and less rural than anything Hope Sandoval ever produced.
Their song, "Fever," with the heartbreak line "Love is how it's lost, not how it's found" features the duo's perfect songbird harmonies laced over a simple acoustic guitar and warm, sunset string synths. Could there be a better compliment to Son, Ambulance's and Bright Eyes' coming-of-age songs of hope and despair?
Friday's show continues two remarkable months of shows at the Sokol Underground featuring a Magnet-magazine's worth of important national indie bands and Saddle Creek Records artists. Other upcoming shows:
Sunday, March 18 -- Death Cab for Cutie, John Vanderslice, Nina Dinova
Tuesday, April 3 -- Slaves (ex-VSS), I Am Spoonbender
Friday, April 6 -- Cursive, Dave Fishoff, Cerebrus Shoal
Thursday, April 19 -- Spoon, The Good Life, The Oranges
Saturday, May 26 -- The Faint, The Good Life, Har Mar Superstar
* * *
Published in The Omaha Weekly February 28, 2001
764-HERO
w/Kingsbury Manx, and The Carsinogents
Tuesday, March 6
Sokol Underground
13th and Martha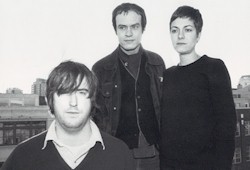 I'd all but given up on Seattle's 764-HERO after hearing their 1998 outing Get Here and Stay. No matter how much I tried to like that CD, after every listen I came to the same conclusion -- it was a slow, meandering, gloomy dud. What a disappointment, especially knowing that HERO falls into the same category of Pacific Northwest alt-prog indie bands as Modest Mouse and Built to Spill -- two of my all-time faves.
But my faith was rectified upon hearing Weekends of Sound, released last summer on Up Records. The CD is 42 minutes of pure, angular-funk indie rock bliss -- a night-and-day difference from Get Here…
Formed in 1995, 764-HERO began as a two-piece featuring John Atkins from Hush Harbor on guitar and Polly Johnson from Bell Jar on drums. James Bertram from Red Stars Theory closed out the trio on bass in 1998.
The ingredients are simple -- stompy song structures (a la The Pixies) that aren't afraid to stray from convention (a la Modest Mouse), while never forgetting the soaring, beautiful melodies that bring it all together (a la Built to Spill). That combination, pulled together by John Atkins' lofty, dream-like, everyman vocals, results in a unique, slightly sardonic trip laced with irony and charm.
Opening act Kingsbury Manx has been compared to such bands as Bedhead, American Analog Set, Smog, Elliot Smith, Yo La Tengo and Palace. The Chapel Hill band released its self-titled first album last year on Overcoat Recordings. Also on the night's bill is The Carsinogents, arguably the best live performing band in Omaha. We're talking big, chunky guitars, horror-movie keyboards and a tight-as-a-tick rhythm section playing blazing, electrified punk with a tinge of vintage surf rock underlying all of it. Someone better call the fire marshal.
* * *
Crossphade Family
w/Theory and SERUM
March 3, 9 p.m.
The Music Box
7777 Cass
$5, 21+
The Crossphade Family is more of a hip-hop consortium than your typical rap group. Consider them Omaha's own Wu Tang Clan, featuring Sinsta Kane, Supreme, Breathless and Hurricane Big Nube, Keelo-Z and Mr. All Nytta, all under the leadership of DJ Suicide.
The group finished recording the follow-up to its 1998's opus, 681, last August. Titled Middlenium, the CD features a handful of talented rappers and a smooth producer making the most of traditional hip-hop tools. The result is more of an ode to things past from a genre standpoint, and maybe that's what makes it so good. We're talking Old School circa mid-'90s with a touch of gangsta thrown in. The difference is that the threats they make in the heat of rhyme are more about defending beats and rep than acts of crime. As a result, the language is much harder than on their previous effort, which was more of a hip-hop snapshot of Omaha than a statement about living here.
Everything on Middlenium flows naturally but the language. I mean, how many times can you use the 'N' and 'S' words (not to mention the 'F,' 'MF' and 'B' words) before it starts to sound forced? And how many threats do you really need to make? Does this posse sound defensive? You bet, but I guess that's to be expected from a hip-hop crew based in Omaha, forced to prove it before they get the respect they deserve. For me, it's all about the beat and the unique character of each member of this talented ensemble. Omaha doesn't realize what it has in DJ Suicide and crew.
* * *
Published in The Omaha Weekly February 21, 2001
The Public Private Soundtrack
A slew of Omaha bands are represented on the sound track to Dana Altman's just finished film, The Public Private, which will premiere this Saturday at The Omaha Playhouse to an invitation-only crowd.
Among the Omaha bands represented are Five Story Fall, Oil, Clever, and The 9's. Also on the soundtrack are Denver's Nina Story, Seattle's The Day I Fell Down, and Iowa's The Nadas and Mr. Plow.
Altman said he consulted with RTI's Rick Galusha when searching for music for the film. "Omaha should be proud of the talent right under everyone's noses," Altman said.
For their participation in the project, all the bands involved own half of all generated revenue from a soundtrack if one is developed, should a distribution company buy the film. Altman said broadening the bands' exposure is an even bigger perk. "If someone in Los Angeles sees the film and says 'Track down The Nadas, they have the sound I've been looking for,' it makes it all worth while," Altman said.
* * *
Who Remembers Alex McManus?
San Francisco-based Absolutely Kosher Records, whose artist roster includes The Mountain Goats and Thingy, says it will be releasing a recording by The Bruces in early- to mid-2002. The Bruces is headed by former Omahan Alex McManus, known as a member of the Nashville country-soul outfit Lambchop, as well as a member of Empire State.
McManus has released one cassette ("Family Day") and one LP ("Hialeah Pink") as the Bruces on Omaha's Sing Eunuchs! label. After nearly six years without a release, the German label Sommerweg recently released a new Bruces 7" (though the tracks were recorded two years ago) and is slated to release a Bruces album months before the Absolutely Kosher album.
* * *
Oh Holy CMJ Listings
Saddle Creek Records' Oh Holy Fools - The Music of Son, Ambulance and Bright Eyes has cracked the College Music Journal top 200 less than a month after its release. According to Saddle Creek, the CD was the No. 8 most-added record on college radio the week of its release, and debuted at No. 52 on the CMJ listing the week ending Jan. 31. It currently sits at No. 32.
* * *
Omaha musician Dereck Higgins recently made available an 18-song CD of personal music that's more than a little bit on the spiritual side.
Higgins, former bassist and songwriter for Digital Sex, RAF, Binary Race and a number of other '80s-era rock bands, says he recorded the CD at home on a 4-track between January 1984 and last September with no intention of ever letting the songs see the light of day.
"I've been making music on and off at home for my own benefit because I wanted to hear a certain mood or feeling," he said. "Then my girlfriend asked for some new music, and I decided to burn a disc of songs as a Christmas present to her and my friends."
His friends convinced him the project was good enough to mass-produce and place in stores. Called Nice, the CD is a collection of mood pieces, soundscapes and outright songs that feature Higgins on guitar, bass and keyboards/programming. Guests artists appear on a couple tracks, including Bill Farber (Paddy O' Furniture, Rhythm Collective) on flute ("Earth Dream), and a mini choir that includes Mimi Schneider and Jeff Clayman on the Digital Sex-ish "Love from Above," the only track recorded outside of Higgins home at Warehouse Productions by Tom Ware, who also added keyboards and percussion to the track.
For the most part, the ambient-flavored melody-driven music is a soothing departure from Higgins' RAF punk and Digital Sex New Wave, with songs "Undying Devotion" and "The Wind at Night" going back to the mid-'80s, while the CD's final two cuts were recorded last September.
Higgins hasn't spent the past two decades only making music in the confines of his home. He continues to perform as part of the reggae outfit Righteous Vibration as well as sitting in as part of the Paddy O' Furniture collective. Nice, however, marks his first serious recording effort since his Digital Sex days. "The project is taking on a life of its own," Higgins said. "I intend to take it further with a bit of advertising both locally and probably in (national publications) Alternative Press and The Big Takeover."
In addition, he says he's planning a CD release party this spring, where he'll perform the moody, ambient tunes live either as a one-man project or with some supporting players. "If that's successful and I can sell some CDs, I'll take it to the next level. Every step has to dictate itself. I'm going to pressure myself in increments; I'm not going to press 1,000 CDs right away. If it works, I'll keep doing it."
Being in another rock band, however, isn't in the cards. "I don't think I could do that again," he said. "Being in a band is a lot of work. However, I don't mind the idea of putting together a band that plays my music, from rock to ambient, and ideally to improvisational jazz."
Copies of Nice are available at The Antiquarium and Homer's, and will be made available through Border's starting next week.
* * *
I Think I'm Turning Japanese
Bad News Records, the Japanese label licensed to sell Bright Eyes' catalog in Asia, has just completed an English version of its website, located at http://www.badnews.co.jp (follow the links to the English section).
Seems like something gets lost in the translation: "Bright Eyes is Conor Oberst's solo unit. Oberst first began playing in Omaha area bands during the early '90s when he was still in middle school. Oberst can convey complex emotions simply through his quavering vocal inflections. He must be represent of new generation."
Bad News' description of Don't be frightened of turning the page, the Japanese-only release that contains the Bright Eyes' portion of the Oh Holy Fools split with Son, Ambulance: "It is new masterpiece of Bright Eyes. You can see his different face on this album." And of Fevers and Mirrors: "With this album, Bright Eyes proves that their talent is real. 20 years old guy's playing next standard rock of 21 century!"
Despite the website, you can't order any of those rare Japanese releases online -- unless, of course, you can read Japanese and have a few thousand yen in your bank account.
* * *
Published in The Omaha Weekly February 14, 2001
Son, Ambulance's Father
An addendum to last week's cover profile on Son, Ambulance, the new Saddle Creek Records project featuring singer/songwriter Joe Knapp:
Joe's father, Kyle, has finished recording his second CD, "Refugee," to be released on Lincoln's Tremulant Records, formerly known as Fire Records.
"It's a folk acoustic project that deals with the concept of refugees coming to America for freedom, and is a metaphor for the spiritual condition of mankind," Kyle told me last week when I interviewed him for the Son, Ambulance feature.
He's been involved in local music for more than 20 years and had similar career dreams as his son, Joe, before he got married and had kids. A freelance bookkeeper and computer consultant, he says his first love has always been music, and that seems to have rubbed off on Joe.
"It's exciting seeing Joe have such a degree of success so early in life," he said. "It makes me proud and a little envious. I never got to tour Europe when I was his age."
Joe already has seen a good chunk of the globe touring as member of Bright Eyes. Does dad have any advice to pass along, one musician to another?
"There's a couple things," Kyle said. "I told him to continue with his education so he has some skills to fall back on. Even if he's fairly successful in music, it's likely that there will be times when he won't be able to make a living at it."
Kyle also doesn't trust big record labels. "Music is a business and they will take advantage of anyone. Don't compromise the integrity of your art. That's something that's always been important to me and Joe."
* * *
Caulfield Records Showcase
There'll be a pseudo-Caulfield Records showcase Feb. 17 at The 49'r when Omaha's The Sound of Rails and Lincoln's Her Flyaway Manner take the stage. Both bands recently released CD's on Caulfield, the Lincoln-based label whose nationally distributed roster includes Luck of Aleia, m.i.j., Mercy Rule and Mineral.
The label says Her Flyaway Manner "owe more to the aggressive rock-and-roll release of bands like Hoover or Regulator Watts, than any number of popular, lukewarm, and overly sensitive contemporary 'emo' bands. Intricate guitar work laid over a rock-solid rhythm section, with well-timed bursts of power and abandon." The trio recently finished recording both a split 7" with Haymarket Riot and a new 5-Song CDEP, both available this spring.
The Sound of Rails plays tight, rhythmic, almost mathy indie-style songs that feature a surprisingly dense sound for a three-piece. The combo takes an intense but tuneful tact, with spare vocals and constantly building dynamics that emphasize the instrumental side of their music. Their 8-song full-length, Prelude of Hypnotics, was released late last year.
The show begins at 10 p.m. and is $3.
* * *
Published in The Omaha Weekly January 31, 2001
Musico Hits the Big Apple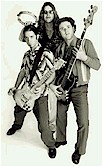 Omaha's Musico has loaded up their van and headed out on their first East Coast tour this week.
The band will first play a couple gigs with Marlee Macleod in Minneapolis before they launch into a week of New York dates the first week of February that include shows at The Elbow Room, The Bitter End and Baggott Inn. They're even targeting a Feb. 7 gig on The Late Show with David Letterman, but don't hold your breath.
"We've been harassing David for awhile now," said Brad Underwood, bass/vocals/keyboards. "I was in New York in December and put Musico stickers all over Ed Sullivan Theater and sent a letter to the show with our press kit and our rider. It's more to amuse ourselves, but we're rehearsed and ready to play if called."
Even without Letterman's help, Musico shouldn't have any problem attracting attention in the Big Apple. The trio has a distinctive, American rock 'n' roll sound, sort of like Urge Overkill meets The Tubes with plenty of '80s rock inspiration in the mix. There's no denying influences such as Elvis Costello, Trip Shakespeare and XTC on their self-recorded, self-titled 10-track CD loaded with stripped down, intimate arrangements that take advantage of memorable hooks, fuzzy guitars and simple pop melodies. Along with Underwood, the band includes guitarist Pluto (ex-Yardapes) and drummer Mark Hinrichs.
Underwood said the band used its connections and a fine-line of B.S. to book their New York gigs. One hook-up was Hinrich's brother, Drugz, a percussionist who lives in New York, plays at the Bitter End frequently and has toured with Burlap to Cashmere when they opened for Christian rockers Jars of Clay. "With his help, we contacted booking agents and after countless rejections, got in," Underwood said.
"Being a band from Nebraska, you can get away with stuff that East Coast bands couldn't," he said. "While trying to book a show, Mark pretended he was from a booking company and the buyer said, 'These guys are from Nebraska? Well I don't know much about the Nebraska music scene, but I've made a lot of money off the Huskers over the years. I'll take 'em.'"
Their gig at The Elbow Room will be sandwiched between two label showcase bands, Underwood said. "We're the sideshow from Nebraska, and I hope we blow them off the stage."
So could the NYC exposure possibly attract label attention? Underwood said that's not the band's intent. "We're not actively thinking about that, but it's in the back of our minds," he said. "We're just looking to gain some new fans. We view this as basic training. If it goes well, we plan on going back. It's fun taking our stuff out of town; it's like we're playing our first gig again."
Underwood said he's not nervous about stepping onto a New York stage. "What I'm nervous about is driving an extended conversion van through the Lincoln Tunnel."
Musico returns to Omaha Feb. 10 and is scheduled to open for Matthew Sweet at the Ranch Bowl Feb. 19. The band will hit the road again in March to play at "South by So What," in Austin, Texas, the anti-festival that runs the same week as the famous South by Southwest.
* * *
Published in The Omaha Weekly January 24, 2001
Buzzo's Wall of Guitars
Just how much guitar do you need in one band. If you're Buzzo, the answer is "just a little bit more."
The band, which is slated to take the stage Jan. 25 at the Ranch Bowl with creaturesofhabit, Gauge, System Failure and Downshift, just acquired its third guitarist, making them a 5-piece, says singer/songwriter/guitarist Aaron O'Keefe.
Why three guitars? "It creates a nice, full sound," O'Keefe said. "We just added our third guitar player a little over a week ago (JJ Bonar, ex-Row 8 Plot 30), and things seem to be working out well. I think the key is that two of our guitar players are pretty much playing the same thing in order to create the huge, thick wall of guitars we want, and then the third guitar player plays octaves and the higher parts that go with what the others are doing."
The rest of the band consists of drummer Matt Haifley and bassist Pat Reiner, who also play in creaturesofhabit, and guitarist Jeff Pritchard (ex-Episode). Bordering on hardcore, Buzzo's sound is a mix of Unsane, Craw, Helmet, Refused and The Melvins, O'Keefe said, "all mashed up and put in a blender set on puree." The band finished a triple split CD with creaturesofhabit and Fornever last summer, called He-man Veins and Broken Fingers, released on O'Keefe's Skinsuit Communications label, a project that keeps him busy.
Other upcoming Skinsuit releases include a CD by Gauge slated for this summer and a 4-song EP by Day Old Brutus, a Sioux City-based ska-core band, which will mark Skinsuit's 11th release to date. O'Keefe built a studio in his basement (which he calls Noisechamber) to give bands a cheap way to lay down tracks. "That way even the bands that lack the funds to go to a big budget studio can still be represented well," he said.
Buzzo is currently in Noisechamber finishing their first full-length CD, due for a late-summer release. That will be followed by another 5-song split with creaturesofhabit to be released both on vinyl and compact disc. And if all five band members can get their schedules together, O'Keefe said a short tour this summer is a possibility.
* * *
The Lapse in Lincoln
Speaking of shows, Saddle Creek Records' operator Robb Nansel says the following bands have been booked for Sokol Underground in March. Better mark your calendars.
March 2 -- Jealous Sound, The And/Ors, The Gloria Record
March 6 -- 764-Hero, Kingsbury Manx, and TBA
March 18 -- Death Cab for Cutie and TBA
Speaking of Saddle Creek, Bright Eyes and Son, Ambulance canceled their upcoming appearance at Knickerbocker's in Lincoln Jan. 31. The show will go on, however, with New York City's The Lapse and openers A Dim Halo and Kevin Chasek.
Seems Mike Mogis, who plays with Bright Eyes and also operates Dead Space studios, will be in Belgium at the end of the month on a recording job. Son, Ambulance's Joe Knapp said his band is working with a new member and isn't quite ready to perform live.
The Lapse closed out 2000 by touring with Joan of Arc and Bratmobile. The band includes former members of Van Pelt, Blonde Redhead and Native Nod. Their most recent CD, Heaven Ain't Happenin', was released by Southern last March.
* * *
Fonzies on the Move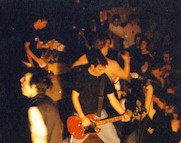 Will yet another Omaha band make the move out of Nebraska?
Omaha punk rockers The Fonzarellies are headed to Knoxville, Tenn., says the band's bassist, Thad Steady. "We're all leaving in October," he said, adding that their motivation is "warmer weather, fresh faces, and it's close to Atlanta and Nashville."
"We're all leaving in October," he said, adding that their motivation is "warmer weather, fresh faces, and it's close to Atlanta and Nashville."
Not everyone in a band will be a stranger in them thar parts. Fonzie drummer "Tex" hails from Knoxville, where he once played in Boy Genius, a band that recorded on Tommyboy records during the label's brief fling with punk (FYI, Steady says the band doesn't use "last names." Fun!). Tex's Tennessee roots helped land the Fonzies an opening slot on the Feb. 1 Superdrag show at the Ranch Bowl. Seems Superdrag is from Knoxville, too, and grew up with ol' Tex.
That's not the only Fonzarellies' news. The trio, which is rounded out by Keith on guitars and vocals, has been talking with a representative from Universal in L.A. who wants to do the band's A&R chores. "A friend of ours who worked at Vagrant Records hooked us up," Steady said. "We sent him some stuff and he said he'd represent us. That's where we are right now." Nothing's been signed and Steady wasn't sure what role the new A&R agent would play.
The band is headed out of town on a tour March 9-17 that will take them to Atlanta and back, playing gigs in Kansas City, St. Louis, Knoxville, Memphis and Kentucky along the way.
To top it off, The Fonzies just finished recording five songs at Dead Space Studios in Lincoln, working with producer Mike Mogis who has recorded a number of Saddle Creek Records artists in the past. "Dead Space is awesome," Steady said. "The songs sound great. Mike has good ideas, he's a real relaxed guy to work with."
Steady said the band will return to Dead Space in June to finish recording and plans to put out the new CD either by themselves or through an interested record label.
* * *
Schultz/Sheehan Experience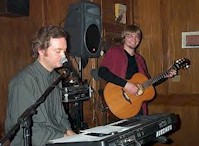 Stage Right coffee shop was packed last Friday night for Richard Schultz's annual Birthday Bash and to see the unveiling of Schultz's joint project with former Digital Sex frontman Stephen Sheehan.
The two played for about 40 minutes with a repertoire that included a couple old Digital Sex numbers, a Patti Smith cover, a couple Schultz tunes and two jointly written songs. A fellow listener compared the music to Harry Chapin, while I was reminded of Digital Sex. Sheehan's vocals were the most relaxed I've ever heard, having shaken his old Jim Morrison swagger. The sound was surprisingly full, with only a guitar, keyboard and vocals, though something on the bottom would have taken some pressure off Schultz's guitar, which acted as the primary rhythm source.
The only disappointing aspect of the night was the set length and only hearing two new Sheehan/Schultz originals. Another distraction was the crowd. Stage Right is an attractive venue with an adequate stage, but there were too many youngsters talking on cell phones, chattering, throwing spit wads and not paying attention to the performers on stage. Blame it on the caffeine.
* * *

It's time to announce the winner of the www.lazy-i.com Best of 2000 compilation CD. More than 50 people submitted entries for a copy of the disc, but only one name was pulled out of the hat, and it belonged to Sean Vest of Omaha.
Congratulations to Sean and thanks to everyone who entered. Yes, there will be more giveaways in the future, so keep checking back.
Remember, people really do win by reading Lazy-I.
* * *
Published in The Omaha Weekly January 17, 2001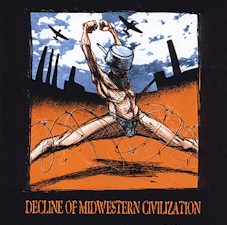 Midwestern Decline Finally at Hand
"This record is not genre specific!" warns Randy Cotton about his just-released compilation, Decline of Midwestern Civilization.
The warning is appropriate, he says, because though the CD harbors some of the hardest, fastest and meanest heavy music from around the center of America, it ain't all hardcore. "I could see certain hardcore-metal fans picking this up because they recognize some of the bands and figuring the whole thing is their genre," Cotton said. "It's funny to think about their reaction when they take a listen."
Cotton, the proprietor of Violenteer Productions and bassist for Omaha noise-rock band Ravine, compiled the tracks with bandmate, guitarist Mike Saklar, from music submitted by local and Midwestern touring punk, metal and noise bands that Ravine has crossed paths with over their years of touring.
The 19-track monster weighs in at just over 65 minutes of heavy stuff that spans from bone-grinding hardcore to grating metal to painfully throbbing noise to mathy indie to good ol' punk rock. Rarely has such a diverse collection of music been compiled on one disc nationally, let alone on a project that's focused solely on the Midwest.
"Mike and I approached this project as if we were putting together a compilation for a friend," Cotton said. "We love all these bands."
A quick run-down underscores the variety. Like any good mix tape or comp CD, you won't like all of these tracks (and if you're looking for run-of-the-mill radio rock, don't even bother), but if you're a heavy-indie rock fan, you're bound to find something here to love:
Tanger, "Dehydrated." Fort Collins. Fast, hard, sneering rock with lots of breaks and a melody somewhere underneath it all.
Season to Risk, "The Glass Parade." Kansas City. Big kick drums, guitar and icy, distorted Mr. Roboto vocals that you'll never confuse with Styx.
Ravine, "Steel." Omaha. Relentlessly complex guitar/drum/bass interplay with creep-show vocals. Much pounding.
Craw, "Chopshow." Cleveland. Pushes big guitar rock close to punk, but way too fuzzy and syncopated for the mohawk set. Don't play while navigating Dodge St.
Scrid, "Liquor Fueled Idiot Chatter." Iowa City. A big, fuzzy noise storm.
The Sound of Rails, "The Alibi Chapter." Omaha. Lifted from their 7-inch, the usually instrumental-heavy trio kicks in with strong vocals this time over swirling, chaotic, angular guitars.
Hydrafader, "Sundress." Kansas City. Closest thing so far on the disc to straight-ahead heavy metal, thanks to slabs of drums, obligatory power chords and Damon Jeffers' Paul Stanley-esque vocals.
Members of the Press, "Mammaries." Omaha. Comparatively stripped down, minor-key, alternating sycopated/straight-4 drums, verges on punk.
System and Station, "The Longest View," Madison, Wis. Cotton calls them "the kings of darkpop," this one definitely has an early Jane's Addiction feel, though much more haunting, and stark.
Fromanhole, "Shaking Blankets." Omaha. They've been compared to post-rock experimental instrumental outfit Don Caballero, thanks to the trio's relentless, intricate syncopation, like watching someone stumble forward again and again and again. Strangely hypnotic.
Sicbay, "Neggit." Minneapolis. Very punky, with chopped 1-2-3 guitar riffs dropped all over the place and harrowing vocals.
Evil Beaver, "Superbird." Chicago. In the grandest tradition of the best grunge and post-grunge female-fronted outfits, like amped-up, angry That Dog or SF Seals or Courtney L., but not nearly as cute. My favorite on the comp (but I'm a wuss).
Bad Luck Charm, "Til My Back Is Turned." Omaha. Dirty, fist-swinging, buzz-headed rock 'n' roll, as you've come to expect from Omaha's answer to the Stones and Stooges. Impossible to listen to without waggin' your head like a friggin' idiot.
Manalive!, "Open Your Eyes." Denver. Goes from made-for-moshing hardcore ska punk to verging on metal, all in a mere 2:27.
Ishmael, "Las Pappas." Omaha. Pounding hardcore, the sound of jackhammers and rage. Not for the squeamish.
Suicide Note, "Rods and Cones." Indianapolis. Noise rock quickly crossing the border to just plain weird. Brutal and unpleasant.
Keelhaul, "Lackadazical Chinese Tube Sox." Cleveland. Cotton says their fans call them an "audio high-speed collision between a MAC truck and consecutive root canals." Who am I to disagree? Very fast, very intense distorted noise rock that goes on for more that six minutes -- like an eternity.
Powerwagon, "Black Market." Milwaukee. Funky, troubled bass over painfully distorted guitar and spooky vocals, all verging on stoner territory.
Groove Champion, "Stroke of Luck." Omaha. Bluesy guitar, funky bass and fancy rock drums, plus some guy who sounds like he just stepped out of a Robin Trower album. Retro and cool.
Rounding out the package is original art by world-renowned artist Derek Hess, who's work has appeared on posters and CDs for artists including Boy Sets Fire, Alabama Thunderpussy, Bauhaus, Cibo Mato, R.L. Burnside, Season to Risk and Boss Hog.
Cotton is hosting two CD release parties for Decline at The Junction, 15th & Farnam. The first is an 18-and-over show Saturday, Jan. 20, and features Bad Luck Charm, Ravine and The Sound of Rails. The second, an all-ages affair Jan. 27, features Groove Champion, Ravine, Fromanhole and Ishmael. Admission is $8 and includes a free copy of the CD (Those who attend both shows will be charged $8 for the first, then $3 for the second). A third CD release show, at the Hurricane in Kansas City Jan. 31, features Hydrafader, Ravine and Evil Beaver.
Cotton says in addition to the bands distributing the CD at their shows (he's pressed 1,000), he's also negotiating with a number of national distributors, "but by the time it all gets worked out, this pressing could be gone." The CD's also available locally at The Antiquarium, Homers, CD Warehouse and Drastic Plastic.
* * *
Published in The Omaha Weekly January 10, 2001
creaturesofhabit Inhabit the Music Box
Hardcore at the Music Box?
The venue that's becoming known for its blues, jam and contemporary music offerings is letting the noise take the stage Saturday, Jan. 13, when creaturesofhabit, Ravine and Ill Dojo headline a night of intense music.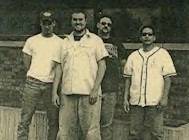 Creaturesofhabit frontman Matt Haifley said the gig came together last October when two touring bands canceled their Music Box date and venue manager J. Rankin needed some replacements. "He posted on SLAM Omaha, and our manager, Ian Pugh, responded immediately."
Haifley said the deal involved getting assurance that the band would get another Music Box date in the future if the show went off well. It did, and after some relentless hounding of Rankin by Pugh, the second hardcore night was scheduled.
A veteran of shows at the Ranch Bowl, Asylum and The Junction, Haifley said his band sees The Music Box gig as a chance to increase their audience while generating a new scene for the venue. "We don't want to pigeon-hole ourselves to one audience," he said. "We'll play in front of anyone who will listen. The Music Box has the potential to rival The Ranch Bowl, which has become the place in Omaha to see rock shows. The only thing holding back the Music Box is their over-21-only policy."
With guitarist/vocalist Pat Reiner, bassist Jason Smith and Drummer Mario Ibarra, creaturesofhabit (spelled like one long word) has been carrying the hardcore torch in Omaha for eight years.
"A lot of people would like to call our band straight hardcore," he said. "These days, saying you're hardcore means that you're expected to act a certain way and live a certain lifestyle. That's never applied to us. Or music is hardcore -- we play loud and I scream. It's in-your-face, driving and very percussive-based."
The band has released a number of recordings on Skinsuit Records, including 1998's Paranoia and the Motivated Man, which Haifley says sold out its 1,000-CD pressing. A few months ago they put out a split-CD, He-man Veins and Broken Fingers, with Omaha bands Buzzo (in which Haifley plays drums) and Fornever. And the band is planning to enter the studio again with Buzzo to record tracks for a 10-inch vinyl release slated for early summer.
With the rise of a new crop of Omaha hardcore bands -- many of which consist of musicians in the mid-teens -- Haifley said at age 24, he's beginning to feel old. "I'm not old in my mind," he said. "A lot of these new bands just want to be rock stars and have naďve hopes that they're going to take off and get out of Omaha. We've always been about staying here and representing. We've done it for eight years. It's something that should be praised. Instead, we're treated like the old guys."
What's kept them sticking to hardcore all these years? "It's what we do," he said. "Our motivation is that we've constantly gotten better at songwriting and recording, making our own merchandise, T-shirts, website and publicity. It continues to grow and we think we've dug a nice little spot here that keeps getting better. We don't want a record deal. We love this town. This is where it is for me and what I love doing. I don't want to be a rock star."
And though the Music Box show is a highlight of sorts for the band, Haifley's quick to point out that creaturesofhabit is playing Ranch Bowl the night before, Jan. 12, as part of a five-band all-ages show.
creaturesofhabit, Ravine, Ill Dojo, Jan. 13, The Music Box, 7777 Cass St., $5, over 21.
* * *
Happy Birthday, Richard
What a way to celebrate a birthday.

Omaha musician Richard Schultz is commemorating his 31st by inviting a handful of musician-friends to drop by the Stage Right Coffee Shop Friday, Jan. 12, for a collaborative jam where Schultz also will unveil his latest musical project.
A veteran of the local music scene since '89, Schultz has been a member of the WhereAbouts and Sawdust Devil, performed solo and currently fronts an electric band, The Special People Club.
"The birthday show started last year," he said. "I thought I'd do something different when I turned 30, so we got out the guitars and did some duets." Performing with Schultz at his "2nd Annual 30th Birthday Party" will be Ken Smith, Schultz's first partner in the WhereAbouts; his fiancee Kela Swenson; and a partner in a former KISS cover band, Chris Beem. "Chris was Ace Freeley while I was Gene Simmons," Schultz said. "We'll be doing a version of 'Love Gun' Marty Robbins-style."
Kicking things off will be Schultz's joint project with former Digital Sex frontman Stephen Sheehan. The two have been working together since last July dusting off some old Digital Sex and Schultz songs, creating new material and working up a number of covers, including songs by Concrete Blonde and Patty Smith.
Schultz said he was first introduced to Sheehan's music by Janette Morgan, who played in The Acorns. "Stephen and I met at different shows around town, and he gave me a call," Schultz said. "This project has developed slower than we anticipated, but we both execute it so well. It's refreshing compared to other bands I've been in. We've been rehearsing since this summer and everything's just now starting to gel."
Their collaboration features Schultz on guitar and Sheehan on vocals and keyboards. "Stephen does 99 percent of the vocals," he said. "It's fun to hear the difference when he sings a song I wrote."
He said giving up control to Sheehan was easy because he respects his history. "We played each other's records and I learned to trust him on that level," Schultz said. "I've been the leader in my other bands, but so many songs we're doing are his songs that I defer to him with full knowledge that if I have an idea too, we can choose between them. I've never shared that before."
He said the project, which has yet to be named, will include regular live performances and recording… eventually. "We're old so we don't need to put artificial pressure on ourselves," he said. "I'm not in a hurry. I like to play live before I record. We're a local band and we only matter for a little period of time and I accept that as part of the rules of the game. So I'm not in a hurry to put something out and have it wind up in a pawn shop."
Comments like those would seem to limit Schultz to obscurity in Omaha. It's a fate he doesn't seem to mind. "I'm 31. If I was going to be a big rock star on a large scale it would have happened by now. I'm a full-time student at UNO with a full-time job and I'm proud to be a part of local music. This is where I live and where I am."
Schultz' 2nd Annual Birthday Party performances start at 8 p.m. at Stage Right Coffee Shop, 16th & Harney, Friday, Jan. 12.
* * *
Published in The Omaha Weekly December 13, 2000
Turtle Moon Moves at Their Own Pace
Omaha folk rock outfit Turtle Moon has been busy promoting a 10-song demo CD they've been distributing to local radio, media and clubs, said bassist Scott Hedrick after the band performed in the 106.9 FM studios last Sunday night.
"Our sound is folk rock; it's definitely poppy," he said. "None of us are flashy musicians. We focus on making strong melodies and songs."
The demo, recorded in Gregg Markus' (of Apostrophe) basement, has a clean, simple, folkie sound, sort of like laid-back Counting Crows, Creed or a male-fronted version of Indigo Girls. Scott Jochim's vocals are more soothing than driving, even when he's belting out one of the more earnest ballads, while guitarist/vocals Dan Dwyer and drummer Pat Rejda never take the forefront or get in the way. Their acoustic balladry is hardly a sound that's topping the charts these days, but that doesn't concern Hedrick and Co. Though they'd like to push the band onto "the next level" of notoriety, they're not eager to adapt their sound to the current trends.
"It's tough to break through, especially with what's going on in popular music today," Hedrick said. "But we've always done things our own way. When we first started out in 1993, there weren't many bands locally with a frontman playing acoustic guitar."
Regardless, Hedrick said, Turtle Moon is generating a fan base through performances and pounding on the Internet. He said touring throughout the Midwest is a possibility in the near future, especially as a number of the band's members sort out different career decisions and devote more time to performing. "We're at a crossroads of sorts," he said. "The challenge is finding the time to get together and play."
With a number of new songs already written, Hedrick said Turtle Moon plans to put together a full-length CD early next year. You can check them out Friday night, Dec. 15, when they perform with Oil and Kory and the Fireflies at The Music Box, 7777 Cass St.
* * *
Sheehan's Bowie Connection
Stephen Sheehan, formerly of Omaha ambient rock pioneers Digital Sex, just returned from the West Coast where he discussed publishing rights usage of his catalog of songs written both for Digital Sex and for a number of his solo projects.
Sheehan has been under contract with BugMusic since 1993. "Bug helps songwriters present their music to film projects, TV, commercials and other artists who need material," Sheehan said. He asked for a face-to-face meeting with the firm to aggressively pursue placement of his music to commercial projects and to pursue collaborations with other artists on the BugMusic roster, which include Sam Phillips, Atari Teenage Riot, Bottlerockets, J Geils Band, Poster Children and Steve Wynn, among others.
Upon hearing a demo of some recent work Sheehan performed with Omaha singer/songwriter Richard Schultz, BugMusic executives suggested Sheehan contact Reeves Gabrels, David Bowie's guitarist for the past 12 years and a BugMusic client. After talking to Gabrels' wife, Sara, Sheehan found himself at the guitarist's front door. "He looked a lot like Frank Black and wore copper-colored fingernail polish," Sheehan said. "He was friendly and soft-spoken. I didn't feel any attitude whatsoever."
Gabrels exchanged CDs with Sheehan and agreed to stay in touch. Gabrels' last CD, Ulysses (Della Notte) released in 1999 by E-Magine Records, includes collaborations with Bowie, Frank Black and Dave Grohl. "Regardless of the outcome of our meeting, just knowing that one of the greatest and most innovative guitarists in rock history has my music on his shelf is a bit overwhelming." Incidentally, Bug also pointed Sheehan to Eric Schermerhorn, who has played with They Might Be Giants, Iggy Pop and The The; as well as legendary L.A. rock singer/producer/songwriter Kim Fowley.
Sheehan's recent collaboration with Richard Schultz includes dusting off some old Digital Sex and Schultz songs, as well as creating new material. Schultz has played a role in the local music scene since '89 as a member of the WhereAbouts and Sawdust Devil, through various solo projects and with his current work with The Special People Club. The two will perform on stage for the first time at Schultz's "2nd Annual 30th Birthday Party" at Stage Right Coffee Shop Friday, Jan 12.
Finally, a number of Digital Sex and Sheehan songs have been posted on FranceMP3.com. Digital Sex is no stranger to France, as their first CD, Essence & Charm, was released on French label Sordide Sentimental in 1986.
"The encouragement and support I received from France in the early days kept me going while I was drowning in enthusiastic indifference from other quarters, most notably the American music industry," Sheehan said. "If it weren't for certain people in France, I'd be forever basking in anonymity, which might not be a bad place, but I prefer the alternative."
* * *
Published in The Omaha Weekly December 6, 2000
Viva La Bad Luck Charm
One of the most anticipated local releases this year, Viva La Sinners, the follow-up to Bad Luck Charm's 1998 debut, Auto-Satan, is finally ready for the masses, said Bad Luck Charm guitarist John Wolf.
The band began recording the CD at Warehouse Studios at the end of 1999 and finished final production this summer. "We went through hell to get the artwork ready, but it looks great," Wolf said. BLC drummer Mark Blackman did most of the CD's art and layout, which includes a full-color, three-page booklet.
Fans of the band's full-on, heavy rock assault are in for a treat, Wolf said, as the 13-track (along with one hidden track) CD expands on the bone-breaking, loud as jackhammers, turbo-charged rock 'n' roll the band has become known for from its ear-bleedingly loud and violent live performances.
Formed four years ago by Cactus Nerve Thang singer/guitarist Lee M. (formerly known as Lee Meyerpeter before he was known as Lee Mia Hia) and Nuns With Guns drummer Blackman, the four-piece is rounded off by former Cellophane Ceiling guitarist/singer Wolf and Snakey Billy bassist Mike Carroll.
In addition to a number of local shows in the coming weeks, the band is trying to line up some out-of-town gigs after the first of the year, including a slew of Midwestern dates. "We have so much new material -- including songs that aren't even on Viva -- that we have a dilemma narrowing it down for live shows," Wolf said. "Our goal is to get this one out, get it paid off real quick, and use it to shop around and get some attention."
In addition to a new CD, Wolf has another new arrival -- his 3-month-old son, Nathan. He called being a new papa "awesome."
"My wife is real supportive of the band, so I still have time to play and rehearse, but I don't go out to the bar as much afterward. The last three months have been a whirlwind."
Bad Luck Charm is celebrating the release of Viva La Sinners with two shows this weekend. The first is Friday, Dec. 8, at The Junction, 15th & Farnam, with Sound of Rails and The Filthy Few. The 18-and-over show starts at 9 p.m.; cover is $5. The following night, Dec. 9, Bad Luck Charm performs at The 49'r, 49th & Dodge St., with Hong Jyn Corporation. Music starts at 10 p.m.; cover is $4. Copies of Viva La Sinners will be available at both shows at a discount.
* * *
The City Digs Deeper Underground
With DJ Brother Cliff leaving 106.9 FM The City, the station's intern, Doug Kabourek, has taken over co-producing The City Underground radio show with Scott Barnett, the staion's assistant program director.
Local music fans may recognize Kabourek by his stage name Fizzle Like a Flood -- a one-man project in which Kabourek plays all the instruments and records using a multi-track technique in his bedroom studio.
The City Underground, which began in October, is a 1-hour program that airs at 9 p.m. on The City featuring live performances and interviews about local music, art, dining and culture.
Kabourek said his goal as the show's co-producer is to get a wider variety of bands on the air. That includes playing demos, tapes and vinyl produced by local acts, something that's been missing from Omaha radio because most stations aren't equipped to play tape or vinyl.
"There isn't a tape player in our studio," Kabourek said. "But if I can get a band's tape, I can reformat it and put it in their computer, then play it on the air. I'm willing to do it to get a more-balanced show that represents Omaha's more underground-sounding music."
Kabourek has recorded a number of tapes himself, and his latest CD, Golden Sand and the Grand Stand, was released on Omaha tape label Unread Records, which prides itself on the number of local and national tape-only releases on its roster.
"I know there's more stuff coming out of bedrooms and basements that's only on tape, and I want to help share that music with a broader audience," Kabourek said.
Musicians with tapes or vinyl releases are invited to send them to The City Underground for consideration for broadcast. Send materials to: The City, c/o Scott Barnett, 5011 Capital Suite #300, Omaha, NE 68132.
* * *
Published in The Omaha Weekly November 22, 2000
Street Urchins Glam it On
"If I had to describe our sound in one phrase, it would be 'balls-out rock and roll,'" said drummer Dima Decibel of the punk/glam band the Street Urchins, slated strut across the stage at The Junction, 15th and Farnam, Saturday Nov. 25.
Consisting of former members of Full Blown and The Del Stars, Decibel describes the Street Urchins' sound as ridiculously loud, over-the-top, kind of campy late-'70s-sounding punk rock. "Kind of like if Motorhead lived between New York and Detroit," he said. "We're pretty plagiaristic. You'll hear the New York Dolls, The Stooges and The Ramones influences."
The self-titled, self-produced 4-song EP recorded "at the drunk tank" is a tacky distortion box filled with evil MC5 motor punk, a sassy black leather fit of creepy crawly dragster music that sounds as fun as the glam/goth/garish CD artwork. Be prepared to dance, if not writhe in contortions of pleasure or pain, depending on your tastes.
Decibel said the band, consisting of Mike Feedback on vocals and guitar, and Timmy Tinnitus (ex-Del Stars) on bass, has been jamming for about six months between Omaha and Des Moines, where the band splits its homes.
Last weekend the Street Urchins opened for the supergroup metal/noise consortium The Rejects, consisting of members of Slipknot, Genitorturers and Dope. Hosted at Hairy Mary's in Des Moines, it was an event to be missed, Decibel said.
"They were awful," he said. "These people flew in a week ago, which is as long as they had to practice. It was poor punk rock, poorly executed with the help of a 10-person road crew. They had an idiotic giant set with a drum riser and started the show way late. Afterwards, little kids in Slipknot shirts wanted our CDs and autographs."
Decibel says the band hopes to shop the CD to Junk Records, a label dedicated to trashy underground rock and roll where they have some connections.
"We want to be heard around the country and possibly the world," Decibel said, adding that the trio intends to tour as much as possible.
Saturday's show is $3 and opening acts have yet to be determined.
* * *
Cursive's last for 2000
Cursive will have their last Omaha show for the year Nov. 28 at Sokol Underground, 13th & Martha. Also on the bill is Chicago 4-piece NYMB and Omaha's Secret Behind Sunday, who will be playing their last show ever. Among other things, guitarist Landon Hedges is now playing bass in Tim Kasher's latest band, The Good Life. $5.
* * *
Review: Sunshine, The Carsinogents, Sound of Rails Nov. 19, Sokol Underground
With a sound that was a blend of Sonic Temple-era Cult, Flock of Seagulls, U2 and PiL, Czech band Sunshine played the loudest set my bleeding ears have endured in recent memory at the Sokol Underground Sunday night.
Maybe it was the 30 mph Arctic-blast winds or the fact that it was a school night, but fewer than 100 were on hand to take in the night of high-energy rock 'n' roll.
Sound of Rails started things off with a set of tight, rhythmic, almost mathy indie-style songs that featured a surprisingly dense sound for a three-piece. The combo takes an intense but tuneful tact, with spare vocals and constantly building dynamics that emphasize the instrumental side of their music that creates a dramatic vibe.
Their stage presence consisted of the bassist and guitarist basically standing to either side of the drum kit -- not much of a show, but maybe my opinion was tainted because what followed them is arguably the best live performing band in Omaha. The Carsinogents know how to make the most of any stage. Missing from their normal set-up Sunday was their film/video projector set-up that features a mix of Spanish masked wrestlers, bodybuilders and '60s-era strippers. The project apparently got busted at a 49'r show earlier in the week, but it didn't matter, it just made for a cleaner stage.
I've seen the band four times now and this was probably their best sounding set -- big, chunky guitars, horror-movie keyboards and a tight-as-a-tick rhythm section playing blazing electrified punk with a tinge of vintage surf rock underlying all of it. Intense.
No Carsinogents set is complete without pyro effects. Sunday's show included a blazing, rotating trashcan and drummer Eldon Vampola blowing alcohol into a flaming skull (a privilege usually handled by lead vocalist Dave Electro). The Sokol's elevated stage kept the band far removed (maybe too far) from the audience, making it safer for onlookers as Electro swung the mike stand over his head. Electro, a.k.a. Dave Goldberg, is the first frontman since Ritual Device's Tim Moss to bring a show's energy all the way to the brink of the stage, and then into the crowd. The band is always better when nothing separates them from the audience.
Then came Sunshine. Only about 50 people remained to see the headliner tear through an ear-splitting set of classic-tinged '80s-style head-bobbing New Wave-meets-punk anthems. Lead singer Kay was a tall, lanky, black-maned thyroid case swinging a guitar around like an electric necklace. The sound was rife with delay and feedback, chiming guitars and either a thick rolling bass or keyboards. The guitar effects were sheer '80s echo-chamber stuff that brought back memories of a kinder, gentler, post-big-hair time when U2 still hadn't played Red Rocks and MTV still played rock videos. Kay's shrill, atonal, Johnny Rotten-esque vocals, however, took away from the effect and was am acquired taste. By the end of the set, you could hardly tell he was from a former Soviet Block country.
At one point in their set, chunks of something were falling from the Underground ceiling. Before the final song, I decided take out my earplugs (a must at all Sokol shows) at the back of the room to see just how loud it was and almost passed out from the sheer volume. Tinnitus, here we come.
* * *
Published in The Omaha Weekly November 15, 2000
Juror 13 Declares a Mistrial
After three years of bone-jarring riffage, Omaha hardcore/metal band Juror 13 is hanging it up to pursue other interests. The band's farewell show is Nov. 16 at The Ranch Bowl with Blister 66 and Heroic Dose.
"We've been doing this for a while. We had a lot of opportunities to get ourselves in front of people and have gone nowhere," said guitarist/vocalist Jeff Bowers, one-third of Juror 13 along with bassist/vocalist Earl Thornton and Drummer Jeff Bowers.
Bowers said the decision to break up spawned from the band's Midwestern tour last April that took them to St. Louis, Indianapolis, Cleveland and Ann Arbor. "We crossed paths with a lot of other touring bands and realized we were lacking something," Bowers said. "That pushed us to take a harder look at what we were doing, to get more creative. Before that, we were almost formulaic with how we wrote stuff. We didn't try as hard as we should have to work out good songs; we just spit them out."
Bowers said that for the past nine months, the band has been looking for other ingredients to add to their sound, auditioning both singers and guitarists. But the search proved fruitless. Then this fall, both Thornton and Bowers turned 27. "That brought on a lot of this," Bowers said. "We started looking past the band and toward what was coming next in our lives. In my case, that meant going to school. Things just kind of fell off. We were writing but not playing many shows. We were getting lazy."
Bowers and Thornton realized they weren't doing 20-year-old drummer Wilson any favors, and decided to part ways. He said the band's high points were playing at Rockfest, putting out their 1999 CD Demonstration, and opening shows for Static X and Soul Fly at the Ranch Bowl.
Bowers plans to move to Denver to attend the Colorado School of Art, while Thornton has joined Des Moines band Heroic Dose as a second bass player.
* * *
Janglepop ends, The Davis Three begins
Janglepop vocalist/bassist Chuck Davis said the band's performance at The City's Homegrown Halloween Jam at the Music Box Oct. 28 was their last. After six years and two albums, Janglepop is moving on to explore other music projects, Davis said.
Among them is his new band, The Davis Three, which will have its stage debut Nov. 18 at The 49'r, opening for The Get. The new band is comprised of Davis on vocals and bass, Aaron Skavdahl on guitar and Chad Rolles on drums. "These are all songs written by me, most of them written prior to putting this band together," Davis said. "After we've played our first couple gigs, we will be looking to record a demo."
Davis said the trio plays "tight, hooky, earnest rock music, occasionally dark and melodramatic." The Davis Three are also slated to perform on The City Underground radio show Nov. 26 and again at The 49'r Dec. 2.
* * *
Published in The Omaha Weekly November 8, 2000
When The Destiny Café, 1217 Howard St., closed its doors for good last weekend, it left an Omaha jazz legend and his band high and dry.
Preston Love has been performing with his combo every Friday and Saturday night at The Destiny since January 1999. Love said he received a call from the venue Thursday saying that the bank was foreclosing on the restaurant and that the doors would be shut for good the following day. After some negotiations, the restaurant was allowed to remain open for the final two nights of jazz last weekend, where Preston and company played to a packed house of fans upset over the loss of what had become one of the most comfortable jazz scenes in Omaha.
"It's much more of a disaster than any gig I ever closed," Love said from his office at The Omaha Star. "That venue was ideal. People were in tears because they loved coming up there and they got to hear some kind of degree of world class musicianship instead of this crap they're calling jazz these days. I've had a lot of calls asking 'What are we gonna do?'"
The closing of The Destiny couldn't come at a worse time for Love. He said the band had a contract with the establishment to play New Year's Eve. This late in the year, it'll be difficult to find a replacement venue, as most are already booked for the holidays. This will mark the second year in a row since he began performing in 1940 that Love hasn't brought in the New Year with his saxophone.
"I had one other New Year's off in my lifetime and that was because I was in the hospital," Love said. "We used to have such a wide range of places to play. This used to be a major jazz city. Now there's few places that are booking bands like mine."
Whether you're a jazz aficionado or a casual listener (like me), it's impossible not to recognize the treasure Omaha has in Preston Love. According to his book, "A Thousand Honey Creeks Later," Love has played with just about every jazz legend since World War II including Count Basie, Lester Young, Ray Charles, Dizzy Gillespie, Marvin Gaye, Smokey Robinson, Aretha Franklin, Gladys Knight and Stevie Wonder. At 79, he still plays a wicked sax. An evening I spent in the intimate upstairs bar at The Destiny this fall was a trip through time, as Love and his combo played classic jazz and swing tunes while an admiring crowd kicked back, enjoyed cocktails and was treated stories about the golden years of big band music.
The Destiny also was to be the venue for the pre-release party for Love's upcoming CD, recently recorded and mixed at Warehouse Studios by producer Gary Foster, who plays drums with Love as well as the Omaha trio The War Ensemble. Foster said the finished CD should be in hand in December.
"We have a mutual love for Basie and the Kansas City-style of swing of the '30s and '40s. This is the first time he's had a chance to do it his own way in the studio," Foster said of the upcoming CD.
He said the recording has been picked up for international distribution by Cadence North Country Distributors of New York City. "They distribute lots of independent jazz releases all over the world," Foster said. "We're also talking to City Hall, a national distributor. There's a lot of people who know and love Preston's music."
Meanwhile, Love, Foster and the rest of the band are keeping their eyes and ears open, looking for a new venue both for the CD release party and for New Year's Eve. "We have friends and fans looking out for us," Foster said. "Something's bound to happen."
* * *
Once a mighty five-piece punk/ska band, the Fonzarellies are down to an intimate trio these days with the loss of their singer, Kyle, and rhythm guitarist, Jay (If you're wondering what their last names are, don't ask. No. 1 Fonzie, Thad Steady, says the band doesn't use last names. In fact, Steady isn't Thad's real last name. How rebellious!).
"It all happened about a month and a week ago," Thad said. "Blame it on corporate downsizing. We're all still friends."
The band is down to Thad on bass, Keith on guitars and vocals, and new drummer, Tex, who actually hails from Knoxville, Tenn., and has recorded with Tommyboy recording artist Kid Genius. "Tommyboy tried their hand at putting out rock bands, including Anthrax," Thad said. "All the bands eventually were dropped."
As a five-piece, The Fonzies had been recently finished recording a second full-length CD, We've Never Heard of You, Either, which they still plan to sell at shows and at The Antiquarium record store.
After playing a handful of performances as a trio, Thad said the new line-up is tighter than the old five-piece. "It's a lot easier to get newer songs done," he said. "And socially, it's more of a family. We all have similar styles and attitudes."
Check out the new, tighter Fonzarellies trio Nov. 25 at The Cog Factory, when the band plays with The Moronic 5 and Haven 21.
* * *
The disturbing Baltimore trio, Meatjack, crawls back to Omaha Nov. 9 for a show at The Junction, 15th and Farnam. Easily one of the most violent, disturbing and enraged bands to cross a Heartland stage, Meatjack take elements of heavy noise rock, metal, and distortion, and mix them with anxiety, paranoia, rage and sorrow for a gruesomely loud look at the darker cavities of men's souls. Their live, multi-media journeys into the bizarre add even more darkness by using concentrated, gruesome film collage that the band calls "penetrating vehemence."
These fun-loving boys have been busy since their last sojourn to Omaha in October 1999. "In June, we put out a split CD with the band Damad, also on At A Loss Recordings," said Meatjack's Brian (again, no last name given). "And one of our songs was in the film and soundtrack for John Waters' Cecil B. Demented."
For such a violent band, nothing violent has happened to them lately, Brian said. "But we did lose a drummer. We'll be touring with Will Scarf (from the bands Keelhaul and Crawl) filling in on drums. So we are still currently looking for a full-timer who either lives in or wants to move to Baltimore."
In fact, if you go to the band's website -- www.meatjack.com -- you'll be greeted by a banner asking if you're interested in joining up. "Must be dedicated, hard working, reliable, able to commit to a regular practice schedule, be able to tour and play out often & have pro gear." Presumably, you also must be able to endure painfully loud and gratingly hard music, various upsetting images and lots of screaming. Heart patients and pregnant women need not apply.
Meatjack is currently touring alone and hooking up with bands in each region of the country. They'll be playing with Damad and Mastadon in Georgia, then Keelhaul joins their tour in Cleveland for five dates, Pachinko and Powerwagon in Wisconsin, and Burnt by the Sun for their Baltimore gigs.
Omaha metal legends Ravine will be joining them for the Junction gig Nov. 9, along with intense, heavy-handed Ishmael and hardcore band Juror 13. Tickets are $5. The following night, The Junction will host Transforming Apollo from Lawrence, Kan., along with Fromanhole and Third Kind. Then Saturday, New York stoner rockers Core hit the Junction stage with Creatures of Habit and Vual. All shows are 18 and over.
* * *
Fresh from star-spun appearances on Farm Club and the Conan O'Brien show (Oct. 30, then Oct. 31), At the Drive In continues its sell-out national club tour at The Sokol Underground Nov. 9. The band has been on the road supporting their first full-length album in two years, Relationship of Command, released in September on Grand Royal.
The El Paso, Texas, 5-piece has been compared to everyone from Rage to Fugazi, Sidekick Kato to Braid, but, in fact, on their latest CD they come off as a cross between early Jane's Addiction (without Perry Farrell's soul) and an angry, angular Public Image Limited -- loud, abrasive, but always with a melody lurking somewhere beneath all that angst. Their shows last this month with Czech punk band Sunshine (who is slated for a Sokol appearance Nov. 19) and the Murder City Devils have drawn upwards to 450 along the East Coast, and are said to be brutal, off-kilter affairs, a perfect compliment for tour mates Cursive, who will be joining ATDI for shows in Denver and Salt Lake City following the Sokol date.
* * *
Published in The Omaha Weekly October 26, 2000
The Good Life returns to Omaha for a CD release party Nov. 1 with Tristeza at Sokol Underground after spending more than two weeks touring the southwest, West Coast and Midwest with Better Looking Records' labelmates The Gloria Record.
In addition to introducing fans to their debut, Novena on a Nocturn, The Good Life also took the opportunity to draw a clear distinction between their sound and that of a certain other Omaha band close to the musicians' hearts.
"People don't even know that the two bands are related," said The Good Life's drummer Roger Lewis. "People have come up to me and said, 'I didn't know that this was by that Cursive guy.'"
"That Cursive Guy" is Tim Kasher, guitarist/vocalist and songwriter of The Good Life, as well as for Saddle Creek recording artist Cursive, who have spent a good part of this year touring in support of their latest album, Domestica.
Other than sharing the same lead vocalist, however, there's little in common between Cursive and The Good Life. The clear differences lie primarily in the angst department -- or maybe in the different kinds of angst. Whereas Cursive basks in its all-out sonic assault that leaves listeners looking for something to break, The Good Life revels in laid-back, acoustic-based melodies that are more approachable to the typical listener and that highlight Kasher's husky, breathy vocals and tender-hearted songwriting skills.
Novena opener, "A Dim Entrance," for example, starts with Kasher's forlorn voice alone singing, "Send me to bed/My head's drowning out/The thick and blurry sounds/Of horses on the highway," while slowly a rhythm track builds and a tinkly piano taps out a simple, sweet counter-melody. Gradually the track builds more and more but never loses its sense of sadness and languor. Finally you recognize the Kasher of Cursive as he breaks through loudly, toward the end, belting out the final lines, until the song fades back again to silence. For the most part, the music is slower, quieter and dreamier but not without the same anxiety that marks Kasher's work with Cursive. Meanwhile, a few songs, such as "What We Fall for When We're Already Down," aren't far removed from some of the more withdrawn moments on Domestica.
Lewis said the CD was well received as the band passed through El Paso, L.A., Southern California, Sacramento, Salt Lake City and Denver. "Our first show in Pomona, Calif., at the Glass House drew about 400," he said, "and we sold a lot of merchandise that night. It felt good to go out and introduce the record to the country." Joining Kasher and Lewis are guitarist Landon Hedges and keyboardist Mike Heim.
Lewis, who also has toured with Bright Eyes, said the band drew a similar "emo" crowd. "There were a lot of emo kids, but we were playing with a lot of emo bands. They all play the same song that I've heard so many times, over and over. I'm sick of that song," he said.
Lewis said the band would like to branch out and tour with a wider variety of performers. "We're not an emo band," he said. "We play a different type of music that goes beyond that sound. We need to start booking tours with bands outside of that style."
He said The Good Life is now being booked by Ground Control, the same agency that books shows for Bright Eyes and The Faint, and that an East Coast tour is in the works for December.
* * *
Speaking of Better Looking Records, Omaha bands are well represented on that label's just-released Holiday Matinee CD Compilation, Vol. 2. Holiday Matinee is a San Diego-based promotion company that represents The Good Life and that used to represent most of the bands recording on Omaha's Saddle Creek Records label. Holiday Matinee president Dave Brown co-owns Better Looking Records with former Crank! Records' employee Paul Fisher.
Joining Cursive, Bright Eyes, The Good Life and The Faint on the compilation are such indie music stalwarts as Wheat, Tristeza, Sunday's Best, Vue and No Knife. Copies of the comp are available from the Better Looking Records website, www.betterlookingrecords.com.
Published in The Omaha Weekly October 19, 2000
Omaha metal band Ravine just got back from a two-week Midwestern tour that took then through Iowa, Chicago, Indiana, Ohio, Michigan and Wisconsin.
"It wasn't a lengthy tour," said Ravine bass player/vocalist Randy Cotton, who has been touring for almost a decade with Ravine, and former bands Ritual Device and Nightmare. "We needed to get out there and put out a head's up about the upcoming Decline of Midwestern Civilization compilation, and that we have a new drummer (Oliver Morgan, ex-Reset. Guitarist Mike Saklar rounds out the trio on guitar). The tour also helped us tighten up new material before we head into the studio for our next CD."
Ravine's last CD was the soundtrack to the independently produced, all-digital motion picture, Killing Diva, and featured some of the most atmospheric -- and most aggressive -- music they've ever produced. Their sound is a pounding, rhythmic, minor-key guitar assault, with intricate, angular sequences that always seem to end with a crescendo.
Cotton kept a diary of sorts, highlighting the tour's highs and lows:
9/22 -- Des Moines. The tour's first stop is the legendary Hairy Mary's, known for its punk rock atmosphere that includes a motorcycle over the bar and pool table lights made out of a drum kit. Only five people made it out to the Saturday night gig, but among them was a member of new-deathmetal-hip-hop outfit, Slipknot, dressed in civilian clothing. From Des Moines, the 9-member band's stage show includes dressing in industrial coveralls and bizarre, homemade horror masks, a gimmick that caught the attention of fans and a handful of record labels. They eventually signed with Roadrunner, who released their first album in 1999. "One of the Slipknot guys used to work at Hairy Mary's," Cotton said. "He got us our second show at the Safari Club (Hairy Mary's second incarnation; the current bar is its third), and had talked about getting us on tour with them. It never happened."
9/23 -- Iowa City. The band plays to a packed house at Scrid's last show. With its members moving in different musical directions, the Iowa City metal band has decided to call it quits. Fallout included dozens of broken beer bottles on the equipment. "It took a while to get all the shards out," Cotton said. "It wasn't a good thing."
9/24 -- Chicago. Cotton spots infamous Chicago poet Thax Douglas in the crowd. Douglas' latest book, Tragic Faggot Syndrome, was printed and distributed by legendary underground comic book publisher Last Gasp. The book's jacket includes a portrait of the author standing next to a Ravine sticker in the now-defunct Chicago punk landmark Lounge Ax. "Thax approached us when we were loading stuff off stage and gave us books," Cotton said. "His stuff is pretty demented; he uses some bizarre language." Also in the crowd that night was former Omahan Nate Flansburg of the band House of Commons.
9/26 -- Cleveland. Ravine plays with Boston indie rock band Barbaro. "The circuit is flooded these days with a ton of stoner rock/metal bands," Cotton said. "It was amazing to see an indie rock band with a hard edge put on a killer show." Cotton said Barbaro could be passing through Omaha this December on tour.
9/28 -- Lansing, Mich. "We had never played this place before," Cotton said. "The door guy asked us what we sounded like. He says, 'The bands that were here last night played 311-style stuff and we spit in their f***ing beers, so you better not sound like that." Cotton said he found no luggies floating in his drinks, and the doorman bought a copy of their CD. "It was one of the best nights on the tour."
10/2 -- La Crosse. With a day off and on their way to Minneapolis, the band made a detour to catch a show by Shellac, a trio consisting of producer legend Steve Albini, veteran producer and bassist Bob Weston and drummer Todd Trainer. "We saw the show and hung out with them for a while," Cotton said. Albini and Weston now run a studio called Electrico, and Cotton said the band discussed possibly recording there in the future.
10/3 -- Minneapolis. For the first time, Ravine takes the stage at the legendary First Avenue & 7th St. Entry. "All the years I've been doing this stuff and we never played there," Cotton said. "The bottom line is it doesn't matter who you are, if you're asked to play First Avenue, you're gonna get treated unbelievably well."
Cotton said the tour's low point was a campus gig at Terre Haute, Ind., and having a women throw boiling water out a window at the band for parking their van in front of her house. All in all, though, the tour was a success, he said.
"Touring is a small investment for any band that's taking themselves seriously," he said. "If you're gonna record or do demos and make your recordings available, you should hit the road. The fans aren't not gonna come to you, you've got to go to them."
Another side benefit: After the tour, Kansas City's Season to Risk asked Ravine to tour with them next spring. "They didn't ask until we got back from this tour," Cotton said. "I think they were waiting around to see what we were gonna do, and it showed them that we were for real."
* * *
Another benefit of Ravine's recent road journeys has been getting the word out about The Junction, the bar-turned-rock showcase at 15th and Farnam that Cotton has been booking for the past six months.
He said interest was high along the road from other national touring bands who are looking for a place to play in Omaha. Unfortunately, Cotton says he doesn't have time to work every show going through the venue, and is looking for bands or anyone interested in helping book the joint.
"It's a good place to learn the business and for someone who's in a band having a tough time getting shows," Cotton said. Bands are asked to do the bare minimum -- essentially, sign a contract that says they'll show up for the gig. The deal lets the band keep any door money (Cotton gets part of the bar), though they're responsible for paying the soundman (usually about $25). The Junction has its own road-quality sound system and bands can also host all-ages no-booze shows. Though Cotton does some promoting, getting the word out is mostly the bands' responsibility.
So far, he said, a couple local acts have signed up to book the club at least one night a month. "All I ask is that bands try this once," Cotton said. "Once they see how simple it is, they'll want to continue doing it." Those interested in booking shows at The Junction can call Cotton at 896-2305.
The next Junction show: The Carsinogents, with The Chicken Hawks, Friday Oct. 20, 9 p.m. $3 cover 18 & over show, with drink specials for those of legal age.
* * *
Omaha punk band The Thuggs have called it quits after five years together, according to Thuggs' guitarist/vocalist Johnny Thursday.
The reason: Guitarist/vocalist Sleazy Joe Avary has taken a cameraman's job that will transfer him to Milwaukee by the end of October. The sleazy one also got hitched July 31.
As for the rest of the band, bassist/vocalist Thad Steady will continue his work with The Cuterthans and The Fonzarellies, while drummer Armond Tanzarian will now have time to immerse himself in his efforts to support the Green Party. Thursday said he's now in the process of forming a new punk band. "I hope we play a last show, so I can get drunk and be mean to people," he said.
The breakup couldn't have come at a worst time, as The Thuggs recently finished recording tracks for a new CD. Thursday said the band intends to finish mixing the tracks and will still release the CD sometime in the future.
* * *
Published in The Omaha Weekly October 12, 2000
The same week 106.9 The City announced it was dropping its "free form radio" format, the station also launched a new program to replace Trout Tunes, their former local music program.
On at 10 p.m. every Sunday night, The City Underground is more than just a local music hour, said Scott Barnett, the station's assistant program director, who hosts the show with Music Director Brother Cliff.
"The program is still evolving," Barnett said. "The focus is on local music and nightlife, the art scene, we even plan on doing a segment on local theater."
Other regular topics will include restaurant reviews as well as a look at some of the area's more unique watering holes, such as the Polynesian-flavored Mai Tai Lounge or the grungy, campy Interlude Lounge. "We'll always have a review of what Scott and I did over the weekend and a review of a venue or restaurant," Cliff said.
Topics since the show first aired Sept. 17 have included everything from grocery stores as singles bars to the Saddle Creek Records label to last Sunday's in-studio interview with local rock band Musico.
"We want to have a live band on the show ever week," Cliff said. "About half the show is dedicated to music, while the other half is stuff of local interest -- all kinds of cool, quirky things."
"During the week, the station's programming is very rigid," Barnett added. "This gives us a chance to loosen up and have some fun. The vibe is like hanging out and talking about music with some friends."
Barnett and Cliff are both Omaha transplants -- Cliff has lived in Omaha for about nine years while Barnett blew into town less than two years ago from Chicago.
"People bitch about never having anything to do here," Cliff said, "but then they turn around don't go out to the shows. Omaha has a wide variety of live music, from heavy metal to main stream to funk to cover bands. The music scene is on a definite upswing. I remember years ago seeing bands like Fifth of May and 311, and now we're getting back to that quality of music."
Although City Underground is only an hour a week, Cliff and Barnett say it provides an important stage for local bands.
"A lot of radio in Omaha is cookie-cutter format, created entirely somewhere else," Cliff said. "The general consensus is that local music isn't a viable entertainment source for radio, and that's not true, especially in Omaha. (Local music) is the only kind of entertainment that is ours. It's unique, it's cultural, it's very important and viable on radio stations."
Regardless, Cliff added, it can be hard to convince a radio station to play Grasshopper Takeover instead of Santana. "For the stations, it's tough to make that call," he said. "We're lucky we have this hour to expose people to local music."
* * *
Musico's took their opportunity as guests on last week's City Underground to promote their CD release party Oct. 14 at the 18th Amendment with Five Story Fall and The 9's.
Musico has a distinctive, American rock 'n' roll sound, sort of like Urge Overkill meets The Tubes with plenty of '80s rock inspiration in the mix (there's no denying the influences, such as Elvis Costello on the organ-driven rocker "So Easily" or Trip Shakespeare and XTC on "Admit You're Wrong."). Their self-recorded and self-titled 10-track CD doesn't catch their live vibe (which is pure, unadulterated booze-hound party). Instead, the band makes up for it with stripped down, intimate arrangements that take advantage of quiet moments to accentuate the hooks, fuzzy guitars and simple pop melodies.
Brad Underwood, bass/vocals/keyboards, said the CD was recorded using an digital recorder at various rehearsal spaces and houses, including one in Denton, Texas -- former home to the band's new guitarist, Pluto. "We departed ways with (guitarist Mike) Hobbs in January with a record half done," Underwood said. "I knew Pluto when he was a guitarist with the Yardapes back in the early '90s. We called him in Texas and he was game."
Underwood and drummer Mark Hinrichs loaded up the van and drove to Denton, where they spent two days recording on Pluto's porch. "It was awesome," Underwood said. "You can hear dogs in the background on some of the tracks. We had to stop recording when a train rolled by."
A month later, Pluto was on his way to Omaha for good. Now with the CD in hand, the band hopes to generate a following both locally and regionally. "We're definitely gonna tour," Underwood said. "We're on the ground floor in Omaha and Lincoln, but will start booking regional shows. We're where every band is when they start out: trying to get the venues to return phone calls."
Meanwhile, the band has had some luck swapping gigs with out-of-town acts, including country rocker Marlee Macleod, who helped Musico book an upcoming show in Minneapolis. "We also have some natural 'ins' down in Texas," Underwood said. "We'll head down there this winter, to Denton and Dallas, then try to work Austin."
The goal: a record deal, of course. But Underwood said the band would rather find a booking agent first. "Our path is to do this ourselves," he said
* * *
Last minute entry: A little bird told me that Sound of Rails and The Carsinogents will be playing at the rarely open 906 artspace this Friday night. The venue will host an art show starting at 8 p.m., followed by the bands at 10 p.m. Sound of Rails includes former members of Omaha rockabilly legends Fullblown. As for the Carsinogents, if you haven't seen them live yet, you'll never get a better chance. Be prepared to rock.
* * *
Published in The Omaha Weekly October 5, 2000
A blow for indie music fans: Omaha's KROCK-93.3 FM last week pulled the plug on "Pirate Radio," the city's only true alternative radio show featuring indie-label artists. Pirate Radio co-host, Robb Nansel, said fellow co-host, Roger Lewis, was notified by KROCK that the show had been canceled.
Nansel says he's currently looking for another station to pick up the show. Broadcast from 9 to 11 p.m. Sunday nights, Pirate Radio featured an array of popular indie rock artists who simply are not heard anywhere else on your FM dial. Everything from Modest Mouse to Flaming Lips to Camera Obscura were played, along with new releases and local bands, usually from Nansel's Saddle Creek Records roster.
Nansel was unsure why KROCK chose to end the program. Efforts to reach KROCK program director Tim Sheridan Monday afternoon were unsuccessful. Lewis, who works for Homer's, is currently on a West Coast tour with The Good Life.
"I think we'll find someone else to pick it up the show," Nansel said. "We're just trying to expose the music to those who wouldn't have a chance to hear it otherwise."
* * *
Speaking of Bright Eyes, the Saddle Creek Records artist featuring singer-songwriter Conor Oberst and a rotating crew of supporting players will be back in town Oct. 9 for a show at Sokol Underground that also will feature Tiger Style recording artist Her Space Holiday, North Sea Story and Ambulance.
Afterward, Bright Eyes hits the road again to New York to perform at the annual CMJ Music Conference, with Cursive and The Faint as part of a Saddle Creek Showcase at Westbeth Theater Oct. 21. Oberst and company will then head out for a 3-week European tour, while Cursive will begin preparing for their November tour with Grand Royal recording artist At the Drive In that will include a Nov. 9 date at Sokol with the Murder City Devils.
* * *
Also headed to New York for the CMJ Conference is Man's Ruin recording artist Men of Porn, featuring former Omaha punk legend Tim Moss (ex-Ritual Device). Moss and his new line-up, which features Brian Hill on bass (former Buzzoven, Acid King) and Sean Tyler on drums (former Oakland's Eldopa), will be playing the Man's Ruin Showcase Oct. 20 at the Continental with stoner rock pioneers High on Fire and Alabama Thunderpussy.
Upcoming Porn releases include an LP/CD for Man's Ruin (Spring 2001), an experimental EP for Small Stone Records (Jan 2001), and a 7" single for Ismist Records, Moss said.
You can check out the pornsters when the band makes a stop in Omaha on their way cross-country for an all-ages show with Bad Luck Charm at the Ranch Bowl Oct. 12.
Meanwhile Bad Luck Charm guitarist John Wolf says his band's new 13-song CD is slated for release in early November.
* * *
What's the best way to make a stage debut? How 'bout opening for your favorite band? That's exactly what Council Bluff's Names Without Numbers is doing when they take the stage before Jimmy Eat World at the Sokol Underground Oct. 13. The ticket also features a reformed Red Menace and Split Second.
Names Without Numbers guitarist Dave Owens booked the show and figured "why not open for them?" he said. Consisting of former members of alt-rock band Life Nine, Names Without Numbers features John Hearn on drums and lead vocals, Brian Muldrew on bass and Ryan Cruiskshank on guitar. Owens describes the band's sound as somewhere between Jimmy Eat World and Get Up Kids.
"I grew up listening to all kinds of music," Owens said, "but then heard The Juliana Theory, and that led me to other bands, and eventually to The Cog Factory, where I've a seen a lot of shows."
It's no wonder that Owens is now working with the Cog to book a number of upcoming national shows, most with bands whose music is secular in nature. "All of our songs come from real faith-based life experience. The message is to be who you and and let God direct your path," he said, but added. "We're here to show the love, not to cram Christianity down anyone's throat."
Has being in a Christian-based band turned off any potential listeners? "Sure," Owens said, "but we get a lot of respect because we stand up for what we believe in. Everyone has the option to accept it or blow off."
Among the upcoming shows:
-- Stairwell (Takehold Records), Names Without Numbers, and N.O.R., Thursday, Nov. 9, Cog Factory
-- Dashboard Confessional (solo project from lead singer of Tooth and Nail recording artist Further Seems Forever), Sunday, Nov. 12, Cog Factory
-- Squad Five-0 (which Owens describes as "glam-punk, Cinderella meets Suicide Machines"), Living Sacrifice ("Metallica meets Sepultura"), Ace Troubleshooter ("melodic-punk"). All three bands have released material on Tooth and Nail Records. Saturday, Nov. 18, Cog Factory.
* * *
Published in The Omaha Weekly September 21, 2000
Cursive lead singer and guitarist Tim Kasher shows a softer side with his new project, a four-piece called The Good Life. In addition to Kasher on guitar and vocals, the band also features former Glance to the Sequel and sometimes Bright Eyes drummer Roger Lewis, Secret Behind Sunday guitarist Landon Hedges and Mike Heim on keyboards.
The band's 9-song debut, Novena On A Nocturn, is slated for release Oct. 31 on Better Looking Records, a new label launched by former Crank! Records' employee Paul Fisher and Dave Brown, owner of Holiday Matinee, an independent publicity company with offices in San Diego and Washington, D.C.
Kasher says with no classes to attend again this fall, he can devote himself solely to music. "I felt I had some free time apart from doing Cursive," he said. "It's great to be able to come home from a Cursive tour and then go out on a Good Life tour."
Two songs from the new CD online at the Better Looking Records website (www.betterlookingrecords.com) paint a more melodic, gentler sounding Kasher than we're used to. "The Moon Redhanded," while still sporting Kasher's familiar Robert Smith (The Cure)-style vocals, has a laid-back rhythm section and a mostly acoustic arrangement that still manages to rock in a melancholy way. "Birthday Present," with it's hic-cup, syncopated drums, simple rhythm guitar and slight piano part, balances somber lyrics like, "I didn't want to cut that cord/You suck the life right out of me" that echo some of Domestica's sentiments. The difference, though, is that The Good Life eases you into the songs, whereas Cursive lovingly bashed your brains out with them.
"I've never been interested in being pegged as one style of song writer," Kasher said. "It's great to hear that it sounds so different from Cursive. I've always gone down these two streets, of writing for bands and for acoustic guitar."
The Good Life leaves Friday for a 2-week tour through the Midwest and the West Coast with The Gloria Record, who have a new release on Crank! Then it's back on the road with Cursive through Oct. 23, followed by a week back home before heading out again with Cursive Sept. 4. Kasher hopes to schedule a CD release show in Omaha during the off week. Meanwhile, future plans call for Good Life East Coast tour the second half of November.
* * *
Raygun Revolt, a new power pop project by former 4 Lb. Robin members singer/guitarist Reagan Roeder and bassist Albert Kurniawan, along with drummer Brad Allison, just finished recording their 4-song debut, Hollywood.
Recorded in Roeder's basement studio onto computer, the release sounds muddy and homemade, but the band's love for indie and British underground pop still manages to shine through. The guitar-driven easy rockers have a sort of Teenage Fanclub meets Pablo Honey-era Radiohead feel to them -- an interesting contrast to Omaha's run-of-the-mill radio-friendly FM-wannabe bands.
Roeder said he hopes the demo can open some doors to clubs and maybe even attract a record label. "I want to record a full-length next year, but I want to find a label to pay for it," he said. "I'm looking for an indie that would be big enough to be able to invest but small enough to have a person-to-person relationship."
With a Houston booking agent already lined up, Roeder said Raygun Revolt plans to hit the road this January, destined for gigs in Austin. Touring is the band's chief focus. In fact, Roeder said he and Kurniawan had planned on moving to San Diego or Austin after being unable to find a drummer in Omaha willing to do road work, then along came Allison.
He has little interest in building an Omaha fan base. "Omaha has always had good bands, but the fans go in and out of style," he said. "Going to see live music isn't always the thing for people to do here."
With that in mind, however, Roeder said he recently agreed to help Ravine's Randy Cotton book shows at The Junction, 1507 Farnam St., on a one-weekend-per-month basis. "I want to turn the Junction into another cool venue where the non-rotating Ranch Bowl bands can play," he said. "Hopefully we'll bring in some experimental stuff. It'll be a good place for my band to try out new music."
Check out Raygun Revolt's live debut Friday, Sept. 22, at The 18th Amendment with 5 Story Fall and Bad Luck Charm.
* * *
Published in The Omaha Weekly September 14, 2000
The roster of fall releases by Omaha's Unread Records is crowded with a number of … wait-a-minute, you've never heard of Unread Records? That's probably because the label is part of the underground world of cassette-tape-only record labels, a music scene so obscure that it makes an indie label like Saddle Creek Records look like DreamWorks in comparison.
Operated by Chris Fischer out of his house/performance space known as Gunboat, Unread Records has produced cassette and vinyl releases from some of the underground's most famous unknowns, including a tape by South Carolina's "king of banjo" Charlie McAlister, as well as a 7-inch single by Shrimper and Catsup Plate recording artist Will Simmons.
Fischer says there are "zillions" of tape only labels. Some more-famous artists who have put out tape-only releases include Sebadoh's Lou Barlow, folk-music favorites The Mountain Goats, and even undisputed funk-groove indie rocker Beck, Fischer said.
"I started my label three years ago to put out tapes for me and my friends," said Fischer, who recently moved to Omaha from Lancaster, Penn. "I don't have any artists signed to anything, and I don't ever want to put out a thousand units of anything."
That shouldn't be a problem for the 20-year-old entrepreneur. Most his 27 releases include hand-made cassette shells or screen-printed jackets. Though promotion is usually through word of mouth or the Internet (www.lab.eccentrica.org/unread), Fischer has placed ads in fanzines and sent flyers to a handful of record labels that pass them onto their customers. His most popular release thus far is the McAlister cassette Turn of the Century Photograph of, which moved more than 300 units.
Fischer said the label will branch out to CDs this fall, with a release by Fizzle Like a Flood (Omaha singer/songwriter Doug Kabourek, who also performs as The Laces). Also look for a split 7-inch vinyl release by Park and A Boy Named Thor, a split-label CD with Twee Kitten Records, a Jarbaby one-sided LP, as well as cassettes by Church of Gravitron, Park, Caleb Fraid and others.
Just as obscure as Unread Records is Gunboat, Fischer's performance space located in the basement of the house he rents at 301 So. 38th Ave. Past Gunboat performers include most of the Saddle Creek Records' stable of artists, who have made house shows a staple on their recent tour schedules.
"House shows are a different kind of scene, a more personal performance that allows the fans to hang out with the people who play," Fischer said. "There's no stage, it's kind of one-on-one."
Gunboat shows attract a mostly under-21 crowd made up of house show regulars or people who have heard about the shows either by visiting the Saddle Creek Records website (www.saddle-creek.com) or by spotting a flier at The Antiquarium or Drastic Plastic. Fischer says his largest show drew about 70 people.
One recent night at Gunboat included performances by Bright Eyes, Philadelphia's Jen Turrell (Rabbit in Red), and Pennsylvania band Chauchat. Last week, Fischer hosted Jarbaby from Normal, Ill.
Among the bands slated for Gunboat's upcoming Sept. 20 show are The Good Life (a new project by Cursive's Tim Kasher), Boston's Kolya, Omaha emo-rockers Secret Behind Sunday and Lincoln's Her Flyaway Manner (slated to release a CD on Caulfield Records) Fischer says the cover is usually two or three dollars, all of which goes to the touring band to help cover their expenses.
* * *
Published in The Omaha Weekly September 7, 2000
Omaha punk-rock moguls The Thuggs have entered a recording studio, sort of.
Guitarist/vocalist Johnny Thursday said the 4-piece laid down some tracks in guitarist/vocalist Sleazy Joe Avary's domicile off 48th and Farnam, where the band set up an Otari 8-track next to Avary's favorite love seat.
"The first two days we laid down the bass and drum tracks in separate rooms, on Wednesday I did the guitar stuff and last night we got really drunk and did the vocals," Thursday said last Friday afternoon. "This is the complete and total epitomization of the DIY (Do It Yourself) ethic. It also was the only way we could afford it."
The Thuggs, which also includes Thad Steady (Cuterthans, Fonzarellies) on bass/vocals and Armond Tanzarian on drums, has been playing gigs the last few weeks at The Cog Factory and The Junction.
The band hopes to release the 8-track recordings as a follow-up to their 1997 self-titled debut on VML Records, a label owned and operated by members of Chicago's Vindictives. That CD became a rarity of sorts, as hundreds of copies were lost in a fire which consumed Steady's house. Copies are still available from The Thuggs' website -- www.thuggs.com -- where you can also check out upcoming show dates.
No word yet on when the freshly recorded tracks will be available for public consumption, both on CD and on punk-friendly vinyl. "We'll probably do CDs because they're so cheap," Thursday said. "But I want to do vinyl as well because of the whole punk code of honor, which recognizes vinyl as the only true format. Digital recording is a machine recreating music with ones and zeroes. That's fucked up."
* * *
Fans of Omaha's late '80s and early '90s music scene hold onto your hats: Digital Sex frontman Stephen Sheehan is gearing up to hit the stage again. Sheehan recently began collaborating with Omaha singer/songwriter Richard Schultz, a solo artist who has also performed with The Whereabouts, Sawdust Devil and Special People Club.
"He has an understanding of the history of rock music, which is becoming a rare commodity these days among rock musicians," Sheehan said. "We'll be doing some songs of his, some of mine, some covers and some originals that we've worked on together that I think are quite wonderful."
The upcoming yet-to-be-scheduled gig will mark the first time Sheehan has performed live in more than six years, since the demise of the last version of Digital Sex in 1994. For the young folks out there, Digital Sex (a band whose name was way ahead of its time) formed back in 1982 when core members Sheehan, bassist Dereck Higgins and guitarist John Tingle created a hybrid that combined the sounds of such obscure acts as Durutti Column, Throbbing Gristle, Psychic TV, Brian Eno, Left Banke and Joy Division with their own Midwestern experience. The result was a unique ambient rock music that gained a following here, in Roune, France, and later in Pittsburgh, where the band discovered they had enough fans to drive the release of a new Digital Sex CD compilation in 1994.
These days, the personality conflicts that drove the band's numerous break-ups are gone, Sheehan says, and he, Higgins and Tingle stay in regular contact. So, is there a Digital Sex reunion on the horizon?
"The convoluted answer is that is Dereck and Scott Miller (ex-The World, a band that also featured Sheehan) and I have played together once in a sort of experimental way," Sheehan said. "John's been in contact with Scott more than I and has expressed interest in joining this configuration at some point."
Miller, remembered for his work with former Omaha punk band Mousetrap, recently moved back to Omaha from Chicago and is focused on a number of Internet-based music projects, Sheehan said. "As far as Dereck and I and John doing Digital Sex again, I would be up for poking the corpse."
But the odds are against a reunion, Sheehan added, because of problems coordinating schedules. "It's already been difficult for me and Dereck and Scott to reconvene for a second time, so a Digital Sex project would probably have to have some form of incentive beyond the curiosity of a reunion."
* * *
Published in The Omaha Weekly August 31, 2000
Omaha alterna-pop trio Good Speed are entering the studio once again, just months after self-releasing All the Life Money Can Buy, a 13-track CD recorded at The Nevada Room. This time the band is booking time at Warehouse Studios, says lead vocalist/guitarist Ryan Osbahr.
"We're ready to move onto the next level of recording," he said. "We're impressed with the last few CDs we've heard recorded at Warehouse, including the new Jank 1000 and Oil CDs."
Osbahr said the band will record two tracks off their last CD, along with five or six new songs. Expect a whole new sound, as two-thirds of the has been replaced since the last album. Luke Carl now works the drums, while John Heirs has taken over bass chores. Why the personnel shake-up? Osbahr said it's tough to find people who see the same future for the band, which currently has gained a following playing local venues such as The Ranch Bowl and the now defunct Exchange.
"With the next CD, I definitely want to do some touring throughout the Midwest in areas, such as Kansas City, St. Louis, Des Moines and Minneapolis," Osbahr said.
Touring beyond the cornfields is a distant goal. "Booking would be an issue," he said, "as well as finding members who would want to commit to leaving the area for extended periods of time. Most of us, including myself, have 8-to-5 jobs. I would quit today if the opportunity arose, but I need to get the rest of the team to think the way I do."
You can check out Good Speed at "Slamboree," a benefit for the SLAM Omaha website Saturday, Sept. 2 at the Ranch Bowl. Also performing will be Man Down, Lower Case i, Split Second, The Fonzarellies, 8th Wave, Musico and Uggly. Show's at 7 p.m., tickets are $5.
* * *
Omaha's premier hip-hop crew, The Crossphade Family, just finished their follow-up to the 1998 opus, "681," said producer Todd Reese, a.k.a. DJ Suicide, CEO of the Crossphade Family.
Keeping with the theme of 681 (the first three numbers in the zip codes in this area, get it?) Middlenium also has a Midwestern slant. "Middlenium is a representation of the middle of the map and of a new millennium taking over," Suicide said.
On 681, Crossphade was a tuned up, high-tech version of the old school hip-hop that the artists in the Family grew up on, like Rakim, KRS-1, Grandmaster Flash, Curtis Blow or Run DMC. They don't use samples, except for a couple guitar lines lifted by permission from local R&B act, Beebe, who Suicide has produced. Instead, the sounds heard on 681 are all Suicide's creations. In addition to his outrageous, thick-ass beats, Crossphade's other distinction is quality rhyming, dropped straight on the beat where it belongs. Crossphade member Breathless' sassy delivery is clever and funky enough to make Missy Elliot blush in comparison. Sinsta Kane is a confident black voice (see KRS-1), Supreme is the troublemaker, while Suicide is a voice of urban wisdom. Taken together on one disc, 681 is tight like the product of a hip-hop family, each sibling with a unique voice, together under an unstoppable groove.
Joining Sinsta Kane, Supreme, Breathless and Hurricane on Middlenium are newcomers Big Nube, Keelo-Z and Mr. All Nytta. "We kinda went back to the roots of hip-hop with this one," Suicide said. "It's got more of the old-school feel."
Mainly through performances and one-on-one sales, Crossphade sold around 4,000 copies of 681, primarily in the Midwest without a distributor. "We had a couple inquiries from record labels, including Electra and Sony," Suicide said.
Although 681 enjoyed respectable college radio play, progress was hampered by lack of a vinyl version of the CD. "It hurt us that we didn't have wax," Suicide said. "A lot of jocks are still spinning records. This time we're going to burn some wax along with the CDs."
Middlenium should be in hand in September, with vinyl pressed later this year. Suicide said the Family will almost exclusively target the Midwest this time 'round and continue to keep feelers out for possible label interest. "We're gonna stick the fishing pole out there and see who bites," he said.
"It's a good time for us to release the CD. A couple years ago, we didn't even want to release 681 because of the amount of gangsta rap going on around Omaha. A lot of that stuff has since been thinned out, and as a result, the hip-hop scene is coming back strong."
* * *
Grasshopper Takeover are just chillin' here in the Big O for a couple weeks between gigs on their multi-month-long national tour, said frontman Curtis Grubb.
He said the band's latest brush with the major labels was a recent offer by Atlantic Records to appear on a compilation CD with the likes of Eminem. The label targeted the band's feel-good pop ballad "Esta Vida," off their International Dance Marathon CD. Grubb says he turned down the deal because Atlantic wanted too big of a commitment from the band for little return. Atlantic isn't the only one sniffing around GTO these days. Grubb says the band also has been talking with the folks from Maverick Records, Madonna's label. Stay tuned.
* * *
Published in The Omaha Weekly August 24, 2000
By 11 p.m., they were waiting in line to get in at last week's Oil CD release party at The Music Box. Manager J. Rankin said around 600 crowded the midtown venue for a show that also featured Musico and The Get.
Rankin points to Oil's aggressive promotional tactics, which included a number of radio appearances and advertisements the band bought in local papers.
The Get's bassist, Corey Weber, hopes for a similar-sized crowd when his band hosts its own CD release party in the coming weeks, having put the finishing touches on their new collection, which, judging by last Friday's performance, should be smoking.
* * *
Speaking of smoking, the Music Box had a surprise in store last week. Walking up the venue's ramp to the front door, you knew something was definitely up. Where was the huddled mass of smokers who usually crowded the deck, sharing ashtrays along with their addiction? Once inside, an old familiar odor answered the question.
I asked a bartender when they had lifted the prohibition on smoking, a feature that the owners staunchly stood behind when the venue opened a year ago.
"Last Wednesday," he hollered over the racket.
"Why'd they change their policy?" I yelled.
"To make money."
Well, it wasn't all about the Benjamins, Rankin said. "This is what the people wanted," he said. "In all honesty, I would like to see the nonsmoking thing still work, but it's tough to pull off in the Midwest."
The idea must have been in the works for a few weeks, judging by the cool little black-and-silver matchboxes embossed with The Music Box logo scattered around the tables. Smoking is limited to the upper-tier bar, as no-smoking signs are everywhere in the lower section. Despite the fact that nary a puff can be smelt in the lower bar, Rankin said further precautions are being taken to keep the smoke out of your eyes. "We're in the process of adding an additional 15 tons of ventilation," he said. "The units have 12-inch-thick charcoal filters that take everything out of the air."
Chances are the fancy air conditioners won't be up and running for this Saturday's American Diabetes Association benefit featuring eight bands, including Spiral Locomotive, Project Wet, 8th Wave, The Fonzarellies, Jimmy Skaffa and Chesire Grin. A $10 donation gets you in to the festival-like party that runs from 6 p.m. to 1 a.m.
Other upcoming acts of note include legendary harmonica player and bluesman Rod Piazza & The Mighty Flyers, along with the Shufflecats and Lincoln's Baby Jason and the Spankers Aug. 30; and the reigning father of British Blues John Mayall & the Bluesbreakers, Sept. 18.
Rankin insists the bar isn't turning into a blues club. "We're adding about one blues event a month, which is about the maximum for us on a regular basis," he said, pointing to an upcoming show featuring former Ozzy Osbourne guitarist Zakk Wylde Oct. 7.
But what about the local acts? "There's a multitude of great bands out there we haven't had in yet, but there's only so many days in a week," he said.
Business is good at the Music Box, Rankin said, but there's still a lot of work to do. "Once summer is over, all the alternative things going on will disappear. We'll come to our own this fall and winter because of lack of options in town."
* * *
The latest word on the Sokol Underground is that its demise has been put on hold yet again, this time indefinitely. Although the Omaha World-Herald recently reported that plans to turn the venue into office space have been scrapped, only one show is planned in the foreseeable future. Oh, but what a show it is, slated for Friday, Aug. 25. The bill includes no less than five touring national acts:
Enon -- Comprised of Brainiac's John Schmersal and Skeleton Key's Rick Lee and Steve Calhoon, the band is on the road supporting their SeeThru Broadcast release Believo!, a hodgepodge of rock ditties smothered under a thick mucilage of distorto electronica.
Entertainment -- A Chicago 4-piece that includes two former members of Omaha's D Is for Dragster, these guys play big guitar proto-punk with a nod toward New Wave and '70s glam. Their new 4-song single just released by Speed Nebraska is about as much fun as you can have with a turntable and a set of speakers. Think Richard Hell and the Voidoids meets Television and Roxy Music, with a touch of Devo thrown in for good measure.
The Faint -- The Omaha electronic rock outfit just got back from weeks on the road with Camera Obscura and Vue supporting their latest Saddle Creek Records release, Blank Wave Arcade. According to drummer Clark Baechle, this could be the last time you'll get to see the band perform for quite a while, as they begin the arduous process of writing new music for their next CD.
Panoply Academy Corp. of Engineers -- From Bloomington, Ind., their music is a fierce, distorted post-punk racket. Formerly known as Panoply Academy Glee Club, the band is on the road supporting their latest effort, Concentus, released last spring on Secretly Canadian.
The Vogue. This punkish Seattle 5-piece is in town supporting their recent Made in Mexico release, As Brass and Satin.
* * *
Published in The Omaha Weekly August 17, 2000
Speed Nebraska Records, the label operated by former Frontier Trust and D is for Dragster frontman Gary Dean Davis, still believes in the power of vinyl.
"I believe everyone has at least one good 7-inch in them," Davis says about why he continues to put out old-fashioned 45s by modern-day rock bands. "Why vinyl? Because Elvis never made a CD."
His latest release is by Entertainment, a Chicago 4-piece that Davis describes as "picking up where The Stranglers, Devo and Roxy Music left off." Two members of the band, guitarist/vocalist Jeremiah Perfect and keyboardist Stiff Starr, both played with Davis in D is for Dragster. Jeremiah (who says that these days, the band prefers not to use their "last names"), met Davis through Joe Kobjerowski, a former drummer for Frontier Trust, who was Jeremiah's roommate during his Omaha years. "I was in high school the first time I saw Frontier Trust," Jeremiah said. "They helped influence me to start a band."
Entertainment's 4-song single, "Shake/Pretty Lips Are Red" b/w "Every Day Is a Party When You Love Jesus/The Stranger," was recorded in Chicago by Dave Trumfio of the new wave band The Pulsars, who has worked in the studio with such acts as The Mekons and Cibo Mato. "He came to our first show and told us afterward that he was into it," Jeremiah said. "We recorded a bunch of stuff in his basement. He's a good engineer. The Pulsars were definitely very new wave and he helped us with all the electronic stuff."
Maybe Trumfio's biggest contribution was his disciplined approach to recording. "He wouldn't let us be lazy," Jeremiah said. "He was brutally honest when we started out."
The engineer's electronic music background was a natural compliment to Entertainment's hybrid dance rock that melds synths with a big honking guitar and over-the-top rhythms by drummer "Chris" (a.k.a. Kid Krimson) and bassist "Brett." Jeremiah said Entertainment targets rock more than the electronic music genre. "We use keyboards because we love '60s garage bands like Question Mark and the Mysterions," he said. "When we started out we were sick and tired of the really loud, two-guitar approach that buries everything. We wanted a thinner guitar and another instrument, such as the keyboard."
The band will unveil the limited edition (500 copies) single when they swing through Omaha on tour, playing a gig at the Sokol Underground Aug. 25 with Enon, The Faint, Panoply Academy Corp of Engineers, and The Vogue. Their month-long tour will focus on the West Coast and include gigs at Los Angeles' Space Land and the Paradox Theater in Seattle.
Their next project is a 5-song CD featuring two songs from the 45, a new track and a couple tracks recorded during live radio shows. In this era of consumer demand, their CD was inevitable, but Jeremiah, like Davis, doesn't mince words when it comes to expressing his love for vinyl. "I've always listened to records," he said. "CDs just don't seem real to me. It has nothing to do with indie cred, I just prefer vinyl. I don't even have a CD player."
* * *
The Fonzarellies scored a coup by having their just-recorded track, "Are You Ready?" included on the Magnet New Music Sampler Vol. 14, distributed with the August/September 2000 issue that just hit mailboxes last week.
The samplers are a promotion sent to subscribers six times a year with the magazine, a true bible of indie rock aficionados whose motto is "Real Music Alternatives." The Fonzarellies track is huddled among songs by Tarwater, Ass Ponys, Jen Wood, Brown25 and Red Telephone.
How did they get included on the comp? "We sent the CD to Fastmusic.com, a distributor out of New York for punk labels. They, in turn, passed it onto Magnet," said Fonzarellies bassisst Thad Steady. "They told us we could have the No. 5 slot on the CD for $100."
The track is part of the band's new 6-song CD EP recorded at Dead Space Studios in Lincoln by the Mogis Brothers, known locally for engineering CDs by the Saddle Creek Records artists. Look for it in October, possibly as a split-label release with Steady's own Indian Burn Records and a to-be-determined second label.
Another of the EP's tracks will find its way on the upcoming Mullet Core compilation, to be released by Drive Thru Records and only available at those ultra-trendy Hot Topic stores (look for one in a mall near you). Other bands on the Mullet comp include Bloodhound Gang, Less Than Jake, Jimmy Eat World, and New Found Glory.
Steady says the band hopes to tour the EP this winter, but you don't have to wait that long to see the Fonzarellies. The band will be playing with Pomeroy this Saturday, Aug. 19, at The Ranch Bowl; and with 8th Wave, Split Second, Code Red and The Leftovers Sept. 3 at The Cog Factory.
* * *
Published in The Omaha Weekly August 10, 2000
This Thursday's show at the Sokol Underground, featuring Cursive, The White Octave and Stillwell, will be the last put on by Marc Leibowitz's 1 Percent Productions.
Leibowitz is headed to Portland at the end of the month to take a new job after being laid off from his day-job at a local tech company. "I've been thinking about moving for the past nine months," said the Omaha native. "I was offered a job in Portland and decided to put my house up for sale. It sold in four days."
Leibowitz, whose first 1 Percent show was an Ani Difranco concert at the Sokol Auditorium in October 1997, has brought in such national touring indie-rock acts as the Dismemberment Plan, Built to Spill, Tristeza, Sleater Kinney, Death Cab for Cutie, Guided by Voices, The Jayhawks and Pedro the Lion -- cutting-edge bands that draw only a few hundred die-hard college music fans but who arguably are among the best bands performing today. It goes without saying that without 1 Percent, those bands may never have graced an Omaha stage. His shows also have helped generate a following for one of Omaha's true national record labels, Saddle Creed Records, whose acts include Bright Eyes, The Faint, Cursive and Lullaby for the Working Class.
In fact, over the past few years, Leibowitz has worked closely with Saddle Creek's Robb Nansel and Roger Lewis (who also works for Homers Record Stores) to put together the shows. "Robb and Roger hopefully will continue to book shows after I'm gone, but who knows where they'll have them and to what extent," Leibowitz said. "The relationship between 1 Percent and Saddle Creek Records has been symbiotic. I couldn't have done the shows without them and the shows helped their label, as well."
Leibowitz decision to leave Omaha and end 1 Percent goes beyond losing his day job, however. He says he had become frustrated with the unclear future of his venue of choice, the Sokol Underground, a small, punk-style performance space located beneath the Sokol Auditorium that most likely will be closed in the coming weeks and renovated into offices. The future of the Underground remains in question, though those close to the situation say that the closure is all but certain. Leibowitz says he has been forced to turn away a number of touring national acts who have approached him for Omaha dates, including Jets to Brazil and Versus.
The Sokol organization, which controls the facility, can't complain about the shows' attendance numbers. The last six 1 Percent shows all have drawn between 200 and 300 people (last month's Pedro the Lion was a sell-out). "I didn't have that success in the beginning," Leibowitz said. "We did a lot of small local shows with small touring acts. Now we've managed to get these local bands to draw quite well. I can put Cursive or The Faint on a bill and we're gonna get some kids at the show. Overall, I've done pretty well."
By far his best shows have been the two Ani Difranco concerts booked in the upstairs auditorium, the first of which launched 1 Percent with a surplus. On the other hand, a series of mishaps resulted in "getting killed" on his sixth show, the Jayhawks in April 1998. He looks back at the experience without regret. "As far as I was concerned, Ani Difranco paid for the Jayhawks," he said.
Shortly afterward, Leibowitz was "frozen out" of the upstairs auditorium when the Ranch Bowl's Matt Markel gained exclusive control over that venue. Markel has been 1 Percent's chief competition, but despite that, Leibowitz says Markel is an asset to the city.
"In the end, it's good to have someone like Matt here," he said. "Most cities don't have someone like him, and have to deal with national agencies like SFX and Contemporary, who are in with Ticketmaster and have no room for the little guys. Matt is the little guy. And I'm the littler guy."
Leibowitz also has had to deal with a limited promotional budget and little support from both the Omaha World-Herald and, recently, The Reader. "If I had to do one thing differently it would have been to forge a better relationship with radio," he said. "It's important and it's helped over the last six months. Pirate Radio (on KRRK Sunday nights) and The City (106.9 FM) have helped get the word out."
Will he continue booking shows in Portland? It's unlikely, Leibowitz says. "I want to pay $5 to see bands from now on, not $500," he said. "Every band I like visits Portland. I want to go back to being able to simply watch a show and be able to get up and leave if it sucks."
* * *
The Carsinogents will be trotting out a new bass player when they open for the all-girl band, The Pindowns, this Saturday, Aug. 12, at The 49'r. Vocalist Dave Goldberg said Mark Phillips will be taking over for Mike Ivers, who recently left the band. The Carsinogents also will be playing a show at The Ranch Bowl Tuesday, Aug. 15, with the Young Hasselhoffs and The Cuterthans.
Goldberg said the band has completed recording a 5-song EP at Rainbow, produced by Dan Brennan of Red Menace fame. "We're currently sending it to various labels and people with connections," Goldberg said. "Ideally, someone will pick it up and put it out. We're very eager to tour."
FYI, for those who are on the fence as to whether to hit that 49'r show, Goldberg said The Pindowns perform in Catholic school girl outfits and have played a party for cinematic hero Ron Jeremy. See you at the show.
* * *
The dozen or so who were fortunate enough to catch Ambulance's Joe Knapp and Landon Hedges, along with Matt Whipkey, at McFoster's Natural Kind Café got a rare treat. All three singer/songwriters managed to move the tiny audience with their lonely acoustic ballads, but it was Knapp who stole the show with his moody, affected and downright tuneful songs that sound like Art Garfunkel doing a calypso Simon Joyner. Knapp's unique playing style and intimate, confessional lyrics are highlighted in a recently released Bright Eyes/Ambulance Insound.com Tour Support CD EP. While all seven songs are keepers, the done-on-the-porch portable-tape recorder quality of the release leaves much to be desired. Look for a much better produced 4-song Bright Eyes/Ambulance split EP out this September on Saddle Creek Records.
* * *
So you're dying to see 3 Day Meat Sale but you can't get out to the Ranch Bowl this Friday and Saturday, where the band will be performing both nights? Don't fret, pet, because the performance will be streamcast via the Internet at the Digital Club Network (http://www.digitalclubnetwork.com). 3DMS vocalist Michael Gagliana said the band is among those testing the new technology, that requires a RealAudio player and a decent Internet connection (at least 56k) to enjoy.
Incidentally, 3DMS just self-released their 5-song CD, You Can't Beat the Meat, available at their shows or from the 3DMS website (www.3DayMeat.com). This is straight-ahead rock and roll that's as smooth as anything on your radio.
* * *
Randy Cotton's Violenteer Productions has just booked a number of hardcore, metal and punk shows at The Junction, 1507 Farnam St. Check out Gauge, Episode and Vual this Friday for an 18-and-over show. It's $5 at the door, and the sonic onslaught begins at 9 p.m. Then next Friday, Aug. 18, Omaha's Skinsuit Records celebrates its birthday with performances by Creatures of Habit and Buzzo. That's followed the next night with a performance by Minneapolis' The Menstrual Tramps and Omaha's own The Thuggs.
* * *
Published in The Omaha Weekly August 3, 2000
It's been almost a year since the last time Lincoln's Mercy Rule graced an Omaha stage and more than two years since the release of their last CD, Flat Black Chronicles, on Lincoln's Caulfield Records label, arguably the best local release of 1998.
So where has the band been hiding or, for that matter, are they still together?
Rumor had it that Ron Albertson, the trio's drummer, moved to New York City, effectively ending any future for the band. Bassist Heidi Ore says while Albertson did move, Mercy Rule is still alive and kicking.
"No, the band hasn't broken up," Ore said from her new Lincoln home. Albertson's move to the Big Apple is merely temporary as he pursues his other love, graphic art. "Ron is in New York doing art for the summer, which could go on through the winter," Ore said, "but the move is not a permanent thing."
Albertson couldn't have picked a better time to pursue out-of-state interests, as Ore and her husband, Mercy Rule guitarist Jon Taylor, celebrated the birth of their second daughter, Kira, April 18. "Now we've got a 3-month-old and a 3-year-old (Zoie Taylore)," Ore said, adding that motherhood has only put a temporary delay on the band's projects. "Motherhood at three months is an intense moment, but that fades as they get older."
* * *
Trivia question for Mercy Rule fans: What band did Heidi Ore and Jon Taylor play in before they formed Mercy Rule in 1991? The answer: 13 Nightmares, headed by vocalist Greg Cosgrove, who also sang in Clarke County. Now Cosgrove is heading a new outfit, a super-group of sorts, which performed last week at The Junction under the name Rocket 88.
The band is a composite of a handful of musicians who have been active in the Omaha music scene for years, including bassist Mike Tulis (ex-Fullblown), guitarist Matt Rutledge (ex-Compost), guitarist/cello/lap-steel player John Holtorff (ex-Acorns, ex-Pleasure Chest), drummer Eric Ebers (ex-Ravine, ex-Ritual Device) and keyboardist Dana Rauch.
Tulis said the band got its name from the first rock and roll song ever recorded, "Rocket 88," by Ike Turner. "It's our default name that we used for that gig," Tulis said. "Who knows if we'll keep it."
The band's music is a far cry from the rockabilly spy-guitar sound Tulis played in Fullblown. "This band has more focused songwriting, sort of a cross between Nick Cave and the Bad Seeds and early Bruce Springsteen," he said. "It's kinda weird, but the songs are good."
The songwriting comes by way of Cosgrove, who says even now he's uncertain what sound he's after. "Earlier on, it sounded almost symphonic, like Phil Spector's records," he said. "The songs are simple, with basic chord structures."
The music's origins are lengthy. After the breakup of Clarke County, Cosgrove was in the Lincoln trio The GC3 with Steve Streight and Colby Starck. After that band ended a couple years ago, Cosgrove said he began writing dozens of downbeat songs inspired by, among others, serial killer Gary Gilmore. "When Matt (Rutledge) moved back from Virginia, I wanted to move forward and start a new band," he said. "We first started playing some of those murder songs, most of which are focused on the bad choices people make because of economic reasons."
If their live performances are few and far between, Cosgrove says that's by design. "The shows are like carrots for us to stay motivated," he said. "We decided we don't want to be just another live band. I want to make these great songs, record them and put them out. The real joy for me is taking out my guitar and writing songs. Playing those songs live with a band is gravy."
He said he hopes to have the band in the recording studio by late summer or fall. In the meantime, you can check out Rocket 88 (or whatever they end up calling themselves) when they open for the Hong Jyn Corporation Aug. 19 at The 49'r.
* * *
Three young voices are joining an already crowded Omaha market of singer-songwriters.
Originally known as In Flight Productions (until they realized the name was already taken), the artist consortium consists of Matt Whipkey, Landon Hedges and his band Little Brazil, and Joe Napp, a.k.a. Ambulance. The three will be performing together in their debut songwriters' showcase Aug. 4 at McFosters Natural Kind Café at 38th and Farnam.
Whipkey says the production company is just a convenient way to promote their shows. "I've been doing shows like this for three years with UNO's Student Democrats," he said. "We put on some of the first Bright Eyes shows, as well as solo performances by Tim Kasher (Cursive) and Bill Hoover (Dark Town House Band). Now I'm beginning to focus on my own shows."
Whipkey just released a 5-song EP, Innocence, that captures his stripped-down, acoustic coffee-house style that he describes as "slightly political, typical stuff with an edge to it."
Whipkey says he's been involved in local politics since he was a freshman in high school, having worked on Tom Cavanaugh's campaign for county clerk as well as Ben Nelson's first run for U.S. Senate. He helped form the Student Democrats organization in 1997 and was instrumental in getting Omaha's first skateboard park approved and built, located just east of the Peony Park Hy-Vee. Whipkey is currently managing Diana Battiato's campaign for Register of Deeds. Not bad for a lad of 19.
Landon Hedges, formerly of Self Oddysey, fronts the hard rock outfit Secret Behind Sunday, which has opened for a number of local Saddle Creek Record artist showcases. Joe Napp is better known as Ambulance, whose first release was a split EP with Bright Eyes. Napp has also played drums and provided backing vocals for Conor Oberst and company both on his recordings and on stage.
The Aug. 4 show is $5 and starts at 8 p.m. If afterward you still haven't gotten enough of Whipkey, catch him again the following night at The Natural Kind, hosting a benefit for the Student Democrats that will also feature singer/songwriters Wes Gillis (ex-Emotion 8) and Jenny Schaap.
* * *
The Making of Meltdown 2000 or
How an ambitious group of Jaycees turned an annual street dance into the biggest show Fort Calhoun has ever seen.
For the most part, there are two "big events" every year for the town of Fort Calhoun, Neb., population around 700, located about eight miles north of Omaha on Highway 75.
First, there's the Fourth of July, when the fireworks stands located on the southern edge of town become jam-packed with Omahans eager to load up on pop bottle rockets, festival balls and other colorful explosives unavailable in the city limits. The next busiest time comes around Halloween, when Omahans again make their sojourn north, this time to the local orchards to pick apples and visit the pumpkin patches.
Fort Calhoun Jaycee Mike Smith hopes to add a third big event to the town's calendar -- Aug. 5, the day of Meltdown 2000, what should easily be the largest one-day event Fort Calhoun has hosted in recent memory.
As a former resident of Fort Calhoun, I was more than a little shocked when I heard that instead of the usual local cover bands, this year's annual Jaycee charity street dance would play host to international recording stars The Verve Pipe.
Smith has coordinated the street dances for the past six years. Last year's acts were Omaha cover band Top Secret and local acts The Nuclear Bees and Illicit. The draw was impressive -- about 1,500 -- but nothing compared to the 8,000 Smith hopes to draw for Meltdown 2000.
Why the giant leap? "I don't have a freakin' clue," Smith joked. "I said about five years ago that for the year 2000 we'll have a national act that will put Fort Calhoun on the map. Well, here it is."
The planning started last December. After getting approval to host the event by the Fort Calhoun City Council, Smith began rummaging through a list of potential bands. His first idea was to book a couple '80s-era bands, and before long, the Jaycees were in negotiations with Pat Benatar and Rick Springfield.
"When that fell through, we thought we'd target alternative acts and stay away from the bands performing in all the other local summer festivals," Smith said.
With no industry background, Smith, 39, said he was "shooting from the hip," trying to contact agents with the help of the Internet and some tips from a few friends in the business. It didn't take long until he was on the phone with a number of national booking agencies and had a verbal agreement with Dream Works' recording artist Papa Roach. But before the deal could be finalized, the band had joined the Korn tour. "I was told I could either book both bands or neither," Smith said.
The guarantee was a bit pricey: $175,000.
"That was out of our range," Smith said. "We didn't have the capacity to hold a show that large, anyway."
He kept plugging away with agencies, including Monterey Peninsula Artists (MPA). He finally compiled a list of around 50 bands in their price range. Then all's he had to do was pick one -- a tough decision when you've never really listened to alternative rock before.
"I gave the list to several people, ranging in age from 18 to the upper 30s," Smith said. Eventually, the field of prospects was narrowed down. "To be honest, not many artists were interested in playing in Fort Calhoun, especially after we told them that we hadn't done anything like this before."
Finally, an agent from MPA called and said he had a band available -- The Verve Pipe, a band best known for their 1997 song, "Freshmen," which became a number one modern rock hit and a Top Ten pop hit that helped turn their album, Villains, gold.
"I had heard 'Freshman' before, but that was about it," Smith said. "I went out and bought their CDs and found out what other hits they've had. We submitted an offer to MPA and they agreed."
That was in mid-May. Since then, a committee of Jaycees headed by Smith has been working through the festival's logistics nightmare. The only feasible place to hold such a large gathering was the Fort Calhoun Baseball Complex, a new diamond located just east of the mammoth Wilkinson factory on the south end of town. For parking, 24 acres of nearby farmland was rented in fields adjacent to the complex.
Smith said crews will begin setting up the large performance stage, valued at more than $10,000, Friday. For staging, the Jaycees are getting some big-time professional help from Mannheim Steamroller's Chip Davis. A resident of nearby Ponca Hills, Davis has long been a Jaycees supporter, Smith said.
"It's all being done through Soundtrack International -- the stage lighting, sound and production," Smith said. "Davis' people are doing the entire production."
Vendors also will begin pitching their tents around the field. Beer and food should be plentiful, though patrons are welcome to bring in sealed bottles of water. Smith said he's even trying to convince The Anchor Inn, a Blair restaurant located near the Missouri River, to sell their famous "watermelon" mixed drinks -- a potent Kool-aid flavored substance that's mostly alcohol. Don't worry. Smith has arranged to have plenty of portable facilities on hand.
Tickets to Meltdown 2000 are $15 advance, $25 day of show, available from Ticketmaster (located at area Baker's supermarkets) or at the event's "box office" located at The Forgot Store in Ponca Hills. Gates open at 11 a.m., the show begins at noon and runs to 11 p.m., rain or shine. Also on the bill are local bands Nuclear Bees, Cheshire Grin, 3 Day Meat Sale, Quid Pro Quo and Illicit. For more information, check out the Meltdown 2000 website at fcjcs.hypermart.net.
* * *
The legendary Charlie Burton will be making one of his infrequent stops in the Omaha/Lincoln area this weekend.

A former Lincoln, Neb., resident, who in 1991 became part of the legendary and nouveau-fashionable Austin, Texas, music scene, Omahans remember Burton for his anything-can-happen stage shows, where he and his band, the Hiccups, slammed out clever rock-heavy rockabilly ditties between shots and made sure everyone was having a grand ol' time.

These days, Burton's taken on a more professional, more C&W demeanor, with his revolving-door band, The Texas Twelve Steppers -- an ever-changing assortment of Austin musicians drawn together by the willingness to hit the road.

Burton's schedule calls for playing at Lincoln's Zoo Bar Friday night, Aug. 4, then being inducted in the Nebraska Rock & Roll Hall of Fame Saturday, where he'll top off the honor with a performance at Lincoln's Pla Mor Ballroom. Word has it he'll be joined by countless former band members. Burton ends his whirlwind Nebraska tour with a show at the 18th Amendment, 96th & L St., Sunday night for a 21 and over performance beginning at 8 p.m.
Read more about Burton in this interview from 1998.
* * *
Published in The Omaha Weekly July 13, 2000
Kansas City's own Season to Risk blows into town for the first weekend show in Omaha in recent memory. Consisting of vocalist Steve Tulipana, guitarist Duane Trower, drummer David Smyth and newcomer Billy Smith (ex-Dirtnap) on bass; the band has been around for a decade playing rock hard metal-edged rock a la The Jesus Lizard.
The band released two albums on Columbia Records before switching over to indie label Thick for "Men Are Monkeys, Robots Win," in 1998. They're scheduled to enter the studio again in September to record a new CD, this time for Owned & Operated Records (O&O), a small indie whose roster includes Shiner, Tanger, Wretch Like Me and Pavers.
"When we released our first two records for Columbia, we toured like hell," Tulipana said. "Our job was being in a band, which was nice, but we also had to put up with all the bureaucratic bull and no one ever told you what was going on. After a month and a half, the A&R people, the publicists and all the people who were stoked about you at the label were fired."
Since moving to an indie label, Tulipana said life has slowed down considerable. "We don't tour nearly as much," he said. "You have to work harder on tour support. You're the one doing the publicity, which is fine with us -- it gives us more control."
He said being on O&O is like being part of a young, hungry rock and roll team. The bands often tour together in a showcase style similar to when underground punk label SST was going strong. "Some of my favorite shows were the SST roadshows that featured bands like The Swans and Black Flag on one bill," Tulipana said. "They were all working together for the same goal. It was amazing."
Omaha is the beginning of Season to Risk's tour, which kicks off in Minneapolis and takes them to Wichita, Oklahoma City, Austin, Dallas, Houston, Charlotte, Philadelphia, New York, Boston, Chicago and St. Louis. Meeting them in Austin will be labelmates Wretch Like Me with Epitaph recording artist All (an off-shoot of The Descendants). Also on the bill Saturday night are Omaha metal rockers Ravine and Kansas City alterna-rock band Moaning Lisa.
* * *
Published in The Omaha Weekly July 6-13, 2000
It's been five months since emotions were at a fever pitch over Omaha hip-hop outfit Noizewave's gangsta-rap anthem, "Say Hi to Jimmy." The song and its title were references to fallen Omaha Policeman Jimmy Wilson, Jr., a 24-year-old, third-generation Omaha Police Officer shot and killed during a routine traffic stop the evening of Aug. 20, 1995.

For many, the song was the ultimate slap in the face to Omaha's boys in blue. Overnight, the band was being interviewed on the local TV news and in the Omaha World-Herald. The notoriety only helped stoke the flames of anger, and only now are relationships between the band and the media beginning to thaw, said Noizewave's MC Zack Hennings, a.k.a. Surreal.
"Some people are still pissed," Hennings said. "The song was actually about a guy that my brother and I rolled with back at T.J. (high school in Council Bluffs), who became a cop and did some pretty bad stuff. The phrase 'Say hi to Jimmy for me' is something criminals say to cops when they're being arrested. The song itself wasn't really about Jimmy Wilson."
Formed in February 1997, Noizewave is a predominately hip-hop rap act that features live instruments. In addition to Zack Hennings, the crew includes Hennings' brother, AP, who shares the microphone with MC Youngman. They're backed by guitarist Squid, bassist Floyd Peppa, and DJ Genius.
Hennings said fallout from "Say Hi…" included Noizewave's videos being banned from O2TV's Secondary Emission cable program, as well as being banned from play on 89.7 The River and 93.3 K-Rock. Even venues turned a cold shoulder on the band. Both the Ranch Bowl and Sokol Auditorium barred them from performing, Hennings said.
But it didn't stop there. "We got death threats via e-mail and everywhere we went, everyone had an opinion about us and that song," Hennings said.
Eventually his crew did make a public apology to Jimmy Wilson, Sr., "for any pain the song had caused his wife and family," Hennings said. "We didn't apologize for the song, though. Wilson was genuinely interested in where we stood on a lot of things. He had no hard feelings toward us; in fact, Young called him a few times just to BS. Regardless, we're probably not his favorite people on earth."
Some thought the controversial song was merely a publicity stunt to help sell their then-current album, Community Standardz. If so, the stunt didn't pay off. The CD has only sold about 500 units since its February release vs. the 2,000 of Infernal Racket, their prior release, over the course of a year.
Only time will tell if the controversy will hamper sales of their next CD, currently in the works at Street Style Productions, a new studio on 24th and Lake owned and operated by DJ Genius. The facility also offers video production from Aaron Gum, who's produced videos for Noizewave and other local acts, including metal band Fornever.
Hennings said the first single from the CD will drop in August, with the remainder of the album available in September. "Our goal is to shop this CD to the labels," he said. "We had a little bit of interest because of our sales, but we didn't get enough airplay last time 'round."
The band will mark its return to the Ranch Bowl Aug. 7 at a show that also will feature rap-core outfit OGP, Trippin' Default and metal band Pinpoint, and there's even some talk about a possible slot on the upcoming Test Fest show at Westfair Amphitheater Aug. 13.
In retrospect, what did Hennings take away from the Jimmy Wilson controversy? "I regret the way we answered a few of the questions on television," he said. "We honestly knew the song would get some attention, but we didn't think it would blow up like that. I regret the way we handled some of it."
* * *
The music didn't stop when modern jazz trio The Evil Three's drummer, Paul Higgins, moved to Chicago. In his place stepped Gary Foster, veteran of Preston Love's band. The new group dropped the Evil Three moniker and was rechristened The War Ensemble.
Foster says he's been playing with War Ensemble tenor saxophonist Jeremy Carter and bassist John Kotchian for years. "These guys are in their early 20s while I'm in my 40s," Foster said. "When they were in their teens, they wanted to play jazz and didn't have a drummer. We jammed in my living room mostly. Then I started playing with Preston and they did their own thing. When Paul (Higgins) left for Chicago, they approached me again."
Foster said Higgins move was prompted by "some playing opportunities that came up. He was disenchanted with the Omaha music scene. It was getting hard to find gigs and people who really care about their music."
Foster said the city's jazz scene has always been rather sleepy. What would it take to liven things up? "It'll take people being able to make money at it," Foster said. "A lot of people believe we play for fun and because we have to play. But we still have to eat and stay alive. A lot of musicians just go where the opportunities are. Historically, Omaha has always had great players, but they've moved on to play with the likes of Count Basie and Duke Ellington . Omaha's a great town, but it's small and the people have a very narrow range in terms of what they'll listen to. There's a very small number of people who are keeping the scene alive."
He said fans of The Evil Three won't see much change in their sound with Foster behind the set. They continue to play the same modern jazz style, along the lines of John Coltrain and Miles Davis, with a little more of an improvisational spin, he said. Kotchian and Carter also write their own material.
War Ensemble packs them in every Thursday night at The 49'r. Meanwhile, Foster also plays Preston Love's group every Friday and Saturday night above The Destiny restaurant in the Old Market. In addition, he also is producing Love's new album, currently being recorded and mixed at Warehouse Studios. It should hit the streets in September.
"Preston's always played someone else's music," Foster said. "We have a mutual love for Basie and the Kansas City style of swing of the '30s and '40s. This is the first time he's had a chance to do it his own way in the studio."
* * *
Published in The Omaha Weekly June 29, 2000
Bad Luck Charm, arguably Omaha's loudest straight-ahead rock-and-roll band, is finishing up its sophomore effort, the follow-up to last year's bludgeon-fest, Auto-Satan.

"We've got everything recorded and most of it is mixed, we're just a couple sessions away from mastering and should have it out in August," said guitarist John Wolf. The band entered Warehouse Studios last October and has recorded 15 songs (13 of which will be on the CD) with Jim Holman at the knobs.

"The rockin' songs are harder, but there's some different stuff in there, too," he said. "Everything from a Stones country-blues thing to straight-up rock and punk." There's even a couple covers, including songs from classic '70s Boston garage rockers DMZ and British 70's punkers The Damned.

Wolf said the band is looking for a distributor and will burn some 4-song demos to send to the media and record labels. Would they jump at an offer from a label? "If it happens, it happens," Wolf said. "We paid for our last CD right away and didn't have to owe anyone. We're going to tour the Midwest with this one and go from there."

Wolf is an Omaha rock veteran, having also played in seminal Omaha punk band Cellophane Ceiling in the mid-'90s, and just recently finishing a tour with Man's Ruin recording artist Men of Porn. BLC also includes ex-Cactus Nerve Thang frontman Lee Meyerpeter, bassist Mike Carroll and drummer Mark Blackman. If you haven't seen these guys live, you're missing out on some of the best beer-soaked, post-grunge guitar-heavy rock in the Midwest.

"We do this because we enjoy doing it," Wolf said. "Some clubs want us to play because of our attitude: We don't give a shit."
* * *
Published in The Omaha Weekly June 22, 2000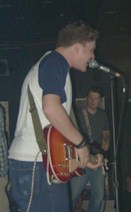 Count yourselves among the lucky ones if you got to see Red Menace when they opened for Cursive June 3 at the Sokol Underground. As it turns out, that show was the band's last, said guitarist Jamie Massey.
The Omaha 4-piece, which has been playing locally since 1996, sported a huge, guitar-heavy emo sound. Along with Massey, the band featured guitarist/singer Dan Brannen, drummer Matt Baum and bassist Ryan McLaughlin.
While Massey confirmed that the band has disbanded, he wouldn't put a lid on their future. "We originally set out to make the break-up a permanent thing," he said. "But we're still friends, who, as of right now, aren't playing together."
Massey said the breakup was due to miscommunication and confusion, as the band tried to set up a tour in support of their 7-inch single, "Marsupial" b/w "Singletary."
"Some tour dates fell in the wrong places and conflicted with other people's schedules," he said. "We just sat down and talked and decided to take a break."
How long that break will last, Massey couldn't say. During the interim, he's formed a new band with former Ravine drummer Eric Ebers, roommate Ethan Jones, and ex-Come On, Jack-ster Zach Lorenzen called Race for Titles. "We've been playing together for a while and might perform in a couple months," Massey said. "Right now, we're just writing songs. We're four people from four different bands having a great time."
* * *
The Carsinogents, Omaha's edgy, pseudo-rockabilly, flame-throwing wonders, are staking out The Nevada Room recording studio the first week in July to cut tracks for an upcoming 7-inch with producer Dan Brannen to be released on Speed Nebraska Records.
In addition, the band is working on a 5-song CD to be released at around the same time. And if that isn't all, the Carsinogents will be included on a compilation this summer being put out by Arizona-based Scapular Winging Records.
If you haven't seen The Carsinogents' over-the-top incendiary performance you're missing out on one of the best shows in the area. The band features ex-members of Omaha legendary rockabilly act Fullblown, as well as former members of Glance to the Sequel and New York-based Cameros. Check them out July 9 at Knickerbockers in Lincoln with D.H. Peligro (Dead Kennedys) and July 14 at Dazy Maze with The Black Dahlias.
* * *
The final line-up for Violenteer production's Decline of Midwestern Civilization compilation is complete, and a handful of the bands included on the CD are hosting a benefit show this Friday and Saturday at The Junction, 1507 Farnam St., said the project's producer Randy Cotton.
The CD will include tracks from local bands Ravine (which features Cotton on bass and vocals), Members of the Press, OGP, Bad Luck Charm, Ishmeal, Fromanhole and Groove Champion. National touring bands on the disc include Denver hardcore outfit Man Alive!; Kansas City's Season to Risk, Topeka grindcore band Origin (who recently signed to Relapse), Iowa City's Scrid, Cleveland metal/hardcore outfit Keelhaul (as well as their other project, Craw); Madison, Wisconsin's Power Wagon (former Kill Dozer guitarist Jeff Ditzenburg), Indianapolis hardcore/metal band Suicide Note, Fort Collins power rock marvels Tanger, and Kansas City sludgerockers Hydrafader.
Cotton said the benefit concert will help cover the CD's production costs. "All tracks are in hand now, waiting to be mastered by (Ravine's) Mike Saklar," he said. " We should have discs in hand by the end of July."
Cotton said he's currently in negotiations with a national distributor for the comp, and has been approached by a number of local bands interested in being included in the next volume. "This is definitely the first of a series," he said.
The line-up for the June 23 show includes Ravine, Bad Luck Charm and Ishmeal, while the June 24 show will feature OGP, Ravine, Fromanhole and Groove Champion. Both 18 and over shows are $5.
* * *
Will connections pay off for Lincoln alt-rockers Meelee?
The power-pop 5-piece, who's slated to take the stage at The Music Box June 28 with Springfield, Missouri, groove pop outfit Michyksaseal, has just put the finishing touches on a new 9-song CD titled, Rock, Paper, Scissors, the majority of which was engineered by studio veteran Dave Snider (The Cars, Pixies, Aerosmith) at Ballroom Studios. Final tracks were engineered by Jim Fagen and Tom Ware at Omaha's Warehouse Studios, said Meelee drummer Steve Wells.
Meelee, which comes from the same alt-rock school that includes bands like Smashing Pumpkins, The Sundays and Sarah McLaughlin, sports plenty of dual-female vocal power provided by vocalist Diane Cornelius and bassist/vocalist Barbie Pardee. The two formed the band while at UN-L in 1998 with guitarists Chuck Synovec and Dave Kimbrough and drummer Wells.
Okay, so where do all the great rock connections come in? Seems that Wells is the cousin to Static X lead vocalist Wayne Wells, a.k.a. Wayne Static. In addition, Meelee expects some special guests in the crowd when they play in New York City in early July.
"A guy in our New York office happens to be friends with the president of Warner Bros. Records," said Wells, who works at Experian, a Lincoln-based marketing company. "We hope to have a couple of the label's representatives on hand when we're playing out there."
The band's goal (duh!) is to get signed by a major record label, Wells said. "We've all got day jobs that we'd leave behind if the right offer came our way."
* * *
Published in The Omaha Weekly June 15, 2000
Who remembers Lavender Couch, the all-female alternative folk/pop band from way back in the mid-'90s? Well, former Lavender Couch guitarist/vocalist Camille Rawlings is making the circuit again with a new outfit called Sugarburn.
Sugarburn isn't exactly a new idea -- the band formed about two years ago, but quickly parted ways. Now they're back again with Rawlings on guitar, bassist Melissa Wood (ex-Sawdust), vocalist Donna Davis (ex-Blah Buddah, ex-Petal Fast), and drummer Matthew Meyer (ex-Randies, ex-Jambo). All the women share vocal chores.
"We plan to spend the summer playing live and then record a full-length sometime in August," said Rawlings, who also handles the bulk of the writing chores. "It's hard to define our sound, it's sort of alternative pop."
I remember seeing Lavender Couch on a very hot summer night at the old Sharkey's on Cass St. Back then, the band had a definite Lilith Fair flair at a time when Lilith was just a twinkle in Sarah McLachlin's eye. Check them out July 1 at The 49'r with Boston band Helicopter Helicopter and July 8 at The Exchange with Omaha band Oil.
* * *
Speaking of reunions, Turtle Moon, alternative band that garnered a following in the mid-'90s, has regrouped after a 2-year break, says guitarist Scott Hedrick.
The band put out two CDs recorded at Eclipse Studios before they broke up in the late '90s. "Scott Jochim, the lead singer, was in law school and the rest of us also were busy studying, which didn't leave much time to practice," Hedrick said. Now with nothing left but Jochim's bar exam to complete, the band is at it again, and plans on entering the studio to record a promo EP before cutting a full-length CD this winter.
Turtle Moon, which also includes Dan Dwyer on guitar/vocals and Pat Rejda on drums, was known for its acoustic pop sound, a la Toad the Wet Sprocket. "We've grown individually since the last time we played together," Hedrick says. "There's a more mature sound in terms of songwriting. Scott's written some of his best stuff ever -- eight or nine new songs in the last month -- which we hope to get recorded."
Until then, you can check them out at The Exchange June 17 with Godspeed and at the Ranch Bowl July 1, opening for Apostrophe's CD release party.
* * *
Bands are being prodded to get their vital statistics in for the Midwest Music Directory (MMD), a music reference guide that will catalogue booking and contact information for bands and clubs in Colorado, Nebraska, Iowa, Illinois, Kansas, Missouri, Oklahoma and Texas, says Dave Codr, the man behind the project.
Codr, who also runs a local phone service that lists bands and upcoming gigs, said the idea for the directory came from the guides he used while booking a club in Santa Barbara four years ago. "These directories were everywhere throughout California," he said, "They were the bibles that every club owner, booking agent and musician referred to."
Codr said listings are free for bands and clubs, and everyone who submits info will get a complimentary copy of the directory. "This is a nonprofit attempt to bring more attention to the music scenes here in the Midwest," he said. "We originally were going to focus exclusively on Omaha bands, but over the course of the past year, decided to expand the scope throughout the region. Hopefully it will make it easier for bands to book shows both here and out of town."
Deadline for submissions is June 23, with a street date for the finished directory of July 31. Others on the MMD distribution list include sound men, area press, radio stations, record labels and booking agents.
Bands interested in being included in the directory can call Codr at 932-1456, e-mail him at mmd2001@home.com or visit the MMD website at http://members.home.net/number/mmd/
* * *
Members of former Midwest alt rock band Such Sweet Thunder -- vocalist Scott Roth and Drummer Sven Deepe -- have joined forces with ex-Turbo Sex Chicken guitarist Mike Frank and bassist Scot Petersen to form Pulse.
The band has been playing gigs at Knickerbockers and Duffy's in Lincoln, as well as a gig at Dazy Maze in the Old market and Cunningham's in Kearny. They'll enter Warehouse Studios July 22 to begin work on a full-length CD with producer Jim Holman, Frank said. "We'll put out this new CD ourselves and market it via the Internet and at shows."
Upcoming gigs include June 29 at Knickerbocker's and July 2 at Duffy's.
* * *
The Saddle Creek Records stable of artists continues its roadwork in support of their covey of new national releases.
Cursive hits the road July 1 for a 3-week tour of the Midwest and East Coast that will include five dates with Grand Royal recording artist At the Drive In.
The Faint begins its summer tour July 7 with SubPop recording artist Vue and San Diego's Camera Obscura that takes them from the West Coast to the Southwest all the way to the East Coast before finishing in Fayetteville, Ark., Aug. 8. Catch them before they leave town at their July 2 release party at the Sokol Underground for their new 12-inch picture disc of remixed tracks from their current CD, Blank Wave Arcade.
Bright Eyes just returned from a brief tour in Europe. The band is slated to hit the road for two weeks in July with V2 recording artist Grandaddy, who currently holds the No. 2 spot on the College Music Journal radio charts.
Bright Eyes recently signed a deal with a new booking agent, Ground Control Touring, who counts among their clients are such notable indie bands as Cat Power, Guided by Voices, Rainer Maria, Smog, Belle and Sebastian, Versus, The Apples in Stereo and Neutral Milk Hotel.
Bright Eyes is slated to tour Japan in late August and early September. Catch them in Omaha July 17 at Sokol Underground with Ambulance, Gymnastics and Urban Legends; and July 6th at Sokol Underground with Pedro the Lion and Velour 100.
* * *
Published in The Omaha Weekly June 6, 2000
What's cooking at the Nevada Room, one of Omaha's more popular recording studios for the rock-inclined? We caught up with proprietor Jim Bogensberger who gave us a rundown of doings at his knotty pine-paneled home at Northwest Radial Highway and Decatur.
-- Omaha deathmetal band Lead is in the studio this week, beginning work on their next full-length.
-- Hip-hop/funk band Scott's Wallet also is in the Nevada Room this week, laying down tracks for a 4-song EP.
-- 3 Day Meat Sale, the power-pop four-piece, will begin working on two songs that, according to lead vocalist Michael Gagliani, includes a gospel number. Gagliani says the tracks will be pressed on -- get this -- vinyl! The single is a follow-up to the band's 5-song self-released debut CD, You Can't Beat the Meat.
-- Hardcore/metal act Row 8 Plot 30 will begin recording a 4-song followup to their Everything's a Weapon full-length. They'll be entering the studio with a different line-up that includes a new bassist and drummer.
-- A new full-length by OX45, recorded at the Nevada Room, has a street date of June 8, when the band hosts a CD release party at The Ranch Bowl. The hard-rock 4-piece includes former Rosegarden Funeral vocalist Jay-Z.
* * *
Whatever happened to Men of Porn, former Omahan Tim Moss' gutter-groove sludge-rock outfit who limped into town last March only a few days after the band's drummer went psycho and the bass player quit?
Moss said the night he got back to San Francisco he was in the rehearsal studio with drummer Joey Osbourne (Acid King/Altamont) and bassist Brian Hill (ex-Acid King/ex-Buzzoven) to get ready for an opening slot at a Dwarves CD release show a couple days later.
"We figured the punk rockers would pelt us with beer bottles and such, but surprisingly, the set went over great and we sold almost as much merch as the Dwarves," Moss said.
A week later, the three Pornsters entered the studio to record an Aerosmith cover ("Lightning Strikes") for Right in the Nuts, a tribute album to be released this summer by Detroit's Small Stone Records. The 2-CD stoner rock-filled homage to Tyler/Perry also includes tracks by Scissorfight, Alabama Thunderpussy, Solace and Raging Slab. After the session, Moss said Hill joined Porn full-time. "After he quit Acid King last year he disappeared and took a break from music," he said. "After getting back to the rock, he discovered it's still in his blood."
Moss said Osbourne will continue on drums until he can find a permanent replacement. The Men of Porn will return to the studio later this summer to record a 7-inch single for Ismist Records and an EP CD for Small Stone, scheduled for release this fall. After that, the band begins work on a full-length follow-up to their debut, American Style, for Man's Ruin Records slated for release next spring.
* * *
Looks like the first time that I got to see Rock Candy -- the four-girls-and-a-guy pop band whose average age is about 15 -- will be my last time. The band broke up after their CD release show May 29 at the Ranch Bowl.
In an e-mail, Rock Candy guitarist Beth Dagle confirmed the breakup, citing conflicts between drummer Alan Shinkunas and lead vocalist Jessica Moore. "He quit because he couldn't stand (her)," Dagle wrote. "After he said he quit, she said 'yeah, me too.'"
Dagle said a "regrouping" is possible in the future with all or some of the members.
The breakup is a shame because the band proved it definitely could rock. Sure, there were times on stage when they seemed a bit off-cue, and they did play a few very poorly chosen covers (including an ill-advised version of "I Touch Myself"), but for the most part, their original material (while showing more than a passing influence to Veruca Salt and Elastica) was loud, fast and punky in a Punky Brewster sort of way. When everything clicked, you could see the dollar signs floating just above their heads.
Their talent wasn't lost on the crowd of around 50 who crowded in front of the stage. About a half-dozen times that night, someone walked up to me and said, "These girls are only 15! Imagine what they'll sound like in a couple years." But it was the drummer from one of the opening bands who put it the most succinctly: "All's they have to do is stay together and not get knocked up and they could be big. The odds are definitely against them."
How right he was.
* * *
Raygun Revolt, the new power pop project by former 4 Lb. Robin members singer/guitarist Reagan Roeder and bassist Albert Kurniawan, will be stepping into the studio in July before hitting the road.
Roeder, 24, said Raygun formed after 4 Pound Robin called it quits when half the band refused to tour due to personal commitments. Though around for less then a year, Robin had begun to gather a draw, thanks to constant gigs in the Omaha area.
"This project is more focused on touring," Roeder said. "We'll be working with Redemption Records, who will give us tour advice and produce the CD."
The band, which also includes Hi-Fi 90 drummer Josh Salestrom, is still shopping around for a studio, but should have a finished CD in hand by September. After a number of local gigs this fall, they'll begin touring regionally in 2001.
Roeder, who also writes all of the band's songs and counts The Promise Ring, Radiohead and Spoon among his influences, said Raygun Revolt is his only job these days. "You have to be 100 percent dedicated," he said. "If you stick to it long enough, something will come of your music."
* * *

Published in The Omaha Weekly May 27, 2000
J. Rankin, general manager of The Music Box, says one of his biggest challenges as the venue's new booking agent is getting the 3-month-old music club established in the community.
Rankin took over booking chores at the live music showcase at the end of April when former booking agent Meredith Partlow left. Don't look for any drastic changes in booking policy, Rankin said. "Considering the fact that we're very, very new, we haven't actually created a niche yet for what we're doing," Rankin said. "We're not going to be a blues club or a headbanger bar; the styles will vary from night to night as much as the weather.
"We're trying to not be in a groove, so to speak," he added. "If everyone has a stereotype that we're an all-ages club or blues venue or whatever type bar, then we'll start excluding people who aren't into those specific scenes. At this point, we're not established in the community; people don't equate us with anything. They still aren't even sure what goes on in here."
Rankin, 29, said the club also won't focus solely on either local or national touring acts. "We'd like to have a nice mix of the two," he said. "Omaha loves an event, and an event means a national or regional-type act. Locals are also very crucial to the business."
Rankin says he learned the business booking blues acts for seven years at McKenna's. He's been involved with The Music Box since the project began last July and has been general manager since November, in charge of the facility's layout and design.
So how will The Music Box establish itself in Omaha's crowded live music market? "We'll just keep doing what we do," Rankin said. "The whole idea is longevity. Look at the Zoo Bar in Lincoln. Larry (Boemer, the bar's owner/operator) has been booking live blues seven nights a week for 27 years. Sokol has earned a rep as a place for up-and-coming indie rock shows. We've only been here three months. We're just the new business in that building that used to be something else. No one knows this is the place for music."
He shrugs off mention of any specific competition, such as The Ranch Bowl, the bar's closest rival in terms of staging and sound systems. "We're in competition with anyone who serves a drink or food, or is considered 'entertainment,'" Rankin said. "Anything you do with your leisure time is our competitor. As far as clubs, there's the Ranch Bowl, 18th Amendment, the neighborhood bars, Saddle Creek, the Civic Auditorium, Sokol, and us. Yes, it's definitely competitive, but we feel we're offering a different style of act than the Ranch Bowl and the others."
He said the Music Box would continue its Wednesday through Saturday schedule. "If the potential is there and we can pick up a band on the other nights and promote it, we will," he said.
* * *
Marc Leibowitz looked a bit melancholy at last Tuesday's Death Cab for Cutie show at the Sokol Underground. Maybe because he could see the writing on the wall for the venue, which along with The Cog Factory, had become Omaha's only true showcase for nationally touring indie-rock bands. Not for long...
Leibowitz, whose 1% Productions has brought acts such as The Dismemberment Plan, Built to Spill and Guided by Voices to the Sokol Underground, confirmed Tuesday that the July 6 Pedro the Lion show will be the venue's last.
Sokol Omaha President Gary Masek told The Omaha Weekly that the downstairs hall will be closed to any further rentals or concerts. The space is slated to become the new home for the national office of the nationwide Sokol organization.
So where will 1% book shows in the future? Leibowitz didn't say, but also didn't indicate that he was through bringing in national shows. He'll be plenty busy in the weeks to come with four shows slated at Sokol Underground:
June 3 -- Cursive CD release, w/Red Menace & Scenes from The Next
June 17 -- Bright Eyes w/Ambulance, the Gymnastics and Urban Legends
July 2 -- The Faint 12" Remix release
July 6 -- Pedro the Lion w/ Bright Eyes, Cursive and Velour 100
* * *
Doug Kabourek -- a.k.a. The Laces -- is recording a new CD of low-fi emo-style pop reminiscent of the Saddle Creek-style. The CD's working title: Golden Sand and the Grandstand.
"It's a concept album inspired, but not really about, Aksarben," he said. A UNO student, Kabourek said be began dwelling on the retired racetrack after passing the huge, abandoned grandstand on the way to class. "I'm a history buff and get off on exploring historic places," he said. "I walked around there one day and got inspired to write some songs about events that may have happened there over its 80 years."
The recording isn't about Aksarben, he said, but about a fictional horse track like Aksarben. "Making a record about Aksarben seems even lamer than this project already is. Golden Sand is a race horse that the protagonist -- a jockey -- rides."
Kabourek says the CD should be more psychedelic than his previous self-released CD, Forever for Now, incorporating an electro-theremin, the same instrument used to make the horror-movie sounds in the Beach Boys' "Good Vibrations" single. "The Flaming Lips and Matthew Sweet use theremins, but are limited pretty much to descant scales and background noises."
The CD is being recorded at his home studio in Bellevue, though some sounds were recorded at Aksarben. Look for the CD by the end of summer, possibly on a Kansas City-based label.
* * *
Published in The Omaha Weekly May 18, 2000
Electronic sex rockers The Faint have put the finishing touches on a new 12-inch picture disc that contains remixes of tracks off their Blank Wave Arcade CD. Lead singer Todd Baechle said the band solicited the remixes on the Saddle Creek Records website (www.saddle-creek.com) and got 20 takers.
One remix for each of the nine tracks was used. Among those that didn't make the cut was a remix of "Worked Up So Sexual" by Death Cab for Cutie guitarist/producer Chris Walla (but never fear, that track is slated to appear on an Insound.com tour-support compilation CD that also will feature tracks by Sub Pop recording artist Vue and Trobleman Unlimited artists Camera Obscura, two bands The Faint will tour with this summer).
Saddle Creek is releasing the vinyl-only 12-inch jointly with Minneapolis label The Blood of the Young, a rather obscure label whose roster includes releases by Song of Zarathustra and the Infinity Dive, with upcoming releases by Switchblade and The Vida Blue. The record should be available before the band hits the road in July.
* * *
Omaha band Lower Case i are spending this week in BJM Studios recording a 4-song EP to be released on Matt Markel's GetGo Records, said frontman Dereck Courtney.
The band, which has been around for five years, plays heavy metal alternative and has opened for the likes of Powerman 5000, Static X, GWAR and Our Lady Peace. Courtney said the EP will include one new track and songs the band has been playing live for the past few months.
"We don't have enough time to record a full-length," he said of the project, which is being produced by BJM's Mike Brannan. "We sold out of our last CD and we really need something in hand before we hit the road."
Courtney, who grew up in West Virginia and moved to Omaha when he was 18, said the songs are "about the hillbilly condition. My youth was a unique experience. I was in a lot of odd situations that I never knew were odd."
The band also has been asked to play the second stage at the upcoming K-Rockfest. "We played it last year and that's how this all came about," Courtney said. "Markel saw the show and talked to us afterward about doing a record."
Check out the band's new website at www.lowercasei.com.
* * *
You've heard of the Decline of Western Civilization -- now prepare for "The Decline of Midwestern Civilization," a Midwestern band compilation being put together by Randy Cotton, proprietor of Violenteer Productions and bassist for Omaha metal band Ravine.
Cotton said the CD will mix of local punk and metal bands with Midwestern touring metal outfits that he and Ravine guitarist Mike Saklar have come across over their years of touring.
Local bands involved in the project include Twitch, Row 8 Plot 30, Ravine, The Fonzarellies, Bad Luck Charm, Ishmael, Red Menace, Fromanhole, New Avenue Kings and hip-hop metal band OGP. National bands include Milwaukee's Bongzilla; Denver hardcore outfit Man Alive; Kansas City's Season to Risk, Topeka grindcore band Origin (who recently signed to Relapse), Iowa City's Scrid, Minneapolis' System and Station, Cleveland metal/hardcore outfit Keelhaul (as well as their other project, Craw); Sioux City hip-hop metal band Burncycle and Madison, Wisconsin's' Power Wagon (former Kill Dozer guitarist Jeff Ditzenburg).
Nationally known poster artist Derek Hess already has contributed the CD artwork, and most of the recordings are in hand, Cotton said. "We're still waiting on a couple tracks, including some new material from Keelhaul," he said. "I hope to have it ready in June."
Cotton said a benefit concert is being organized to help pay for the CD's production costs, and he's currently in negotiations with a couple distributors.
* * *
Speaking of Violenteer, last month's Shiner/Tanger show at the Junction is another in a series of shows Cotton recently has booked at the controversial nightspot. Other upcoming shows include Gunfighter (former members of Molly McGuire) May 23 and Man Alive May 28.
Cotton said he began booking The Junction shortly after the "Killing Diva" motion picture premiere late last year. The film featured a soundtrack by Ravine. So how is Cotton combating the notorious reputation the bar has garnered among local bands? "When Billy (the bar's proprietor) asked if I would book shows I said, 'Sure, but only if I can do it my way,'" Cotton said. "So far, I haven't heard any complaints."
* * *
Published May 11 in The Omaha Weekly
Saddle Creek Records announced two major CD releases for late spring and early June.
Bright Eyes' "Fevers and Mirrors," the full-length follow-up to last year's "Every Day and Every Night" EP is slated to hit the streets May 29. Pre-release hype is huge and already the CD has debuted at No. 42 on the College Music Journal (CMJ) charts, says Saddle Creek's Robb Nansel. Unlike sales charts, CMJ compiles college and non-commercial radio airplay reports, as well as other key industry indicators,
Fan's of Bright Eyes singer/songwriter Conor Oberst's moody, confessional style won't be disappointed by what arguably is his most thought-out and well produced effort to date. Oberst has developed a rep for writing rather dreary songs that depress more than uplift. From that standpoint, "Fevers and Mirrors" is quite a departure, featuring some pretty heavy numbers as well as fully realized accompaniments that move things along quite nicely (look for a full review in an upcoming issue of Omaha Weekly).
Recorded over a month at Lincoln's Dead Space Studios, the CD features a stable of Saddle Creek special guests, including Lullaby for the Working Class's Mike and A.J. Mogis, The Faint's Todd Baechle, and Cursive's Matt Maginn and Clint Schnase.
Speaking of Cursive, "Domestica," that band's full-length follow-up to 1998's "The Storms of Early Summer," has been pressed and is ready to hit the store shelves June 19. Those who are expecting a quiet return to form from a band that has gone through a break-up and a reunion over the past year, guess again. This one is brutal.
We're to believe that Cursive singer/songwriter Tim Kasher's recent marriage and subsequent divorce had nothing to do with these stark rockers that make Trent Reznor's darkest moments sound like the theme from The Newleywed Game. Song titles like "The Casualty," "The Martyr" and "The Night I Lost the Will to Fight" paint a not-so-pretty picture of domestic despair.
Despite the mid-June street date, fans can pick up copies of the CD at Cursive's CD-release party May 27 at Sokol Underground.
With their stable of releases ever growing, Saddle Creek just signed an exclusive distribution deal with Southern Records in the United States, Nansel said. Southern also has exclusive distribution deals with Dischord, DeSoto, Teen Beat, Simple Machines, Tree and Thick as Thieves records. "We think they're much more representative of our style of music," Nansel said. "We'll still be able to consign material and sell CDs at venues."
The exclusive deal with Southern means the distributor will get a bigger cut of the revenue, but Nansel said that would be offset by better promotions as well as placement in regional chains.
* * *
Rainbow Recording Studio manager and Paddy O' Furniture lead man Nils Erickson said his band is hocking a new 20-song CD recorded live off the sound board during a recent Music Box gig.
"Board tapes never turn out well, they always suck," Erickson said. "We were pleasantly surprised when we played this back and could hear all the parts." He said the CD has been getting some airplay on The City and Z-92. Fans can pick up the glorified bootleg for $10 at any of the band's local appearances.
* * *
Doug Kaiser, guitarist for edgy, experimental noise rockers Fromanhole, says his band has been recording at the Nevada Room studios, putting together tracks for either an EP or a possible split single.
* * *
Former Linconite turned Minneapolis record mogul Dan Schlissel says his label, Ismist, just released a new 7-inch record by Graig Markel (former Urethra Franklin, Pull Out, New Sweet Breath). He's also working on an album for comedian Lewis Black, who appears weekly on Comedy Central's The Daily Show. Also look for a Men of Porn single on Ismist later this year, he said.
Fans of old-school LinOma punk rock should check out Ismist's sequel to their successful "LINOMA" CD, "LINOMA II: Riot on the Plains," completed late last year. Twenty bands from Omaha's golden punk past represent, including Frontier Trust, Mercy Rule, Fischer, Cursive, Opium Taylor, Ditch Witch, ICBM (former members of Mousetrap), Sideshow and Polecat.
With only four of the 20 bands still in existence, Schlissel said won't find this one available by mail order. "Without live bands to help sell the CD, no one would buy it," he said. "Pressing it would have been rather silly. What we did was post the whole record at www.MP3.com. It can be downloaded as two volumes, since the MP3 folks don't like 72-minute CDs." You can find a link to the MP3 LINOMA II page from Ismist's website, at http://incolor.inetnebr.com/ismguy/.