Besinger said he wears the gloves to get in the right mood. "You think of a frontman wearing gloves and it's pretty gross," he said. "I did it on a whim. It makes me feel really creepy; it gets me in the proper mindset."

He modeled his manic stage persona after Shannon Selberg of '90s Minneapolis noise-rock cretins The Cows. Selberg supposedly had a nasty habit of throwing microphone stands into the audience and (if you can believe Wikipedia) once played a show with a sex doll tied to his body. "He was a great, intimidating front man and that stuff burned into my brain," Besinger said. "If you're going to be up there, you have to get their attention."

Just don't get Besinger's attention by standing in the back of Sokol Underground (or, for god's sake, sitting down) and chatting during the performance. "I can't stand that," he said. "I don't care if you don't like the show. You can hate it or love it, you can spit at us and scream 'You Suck!' Just don't look bored."

Few who have attended one of STNNNG's Omaha shows have. In fact, Besinger said Omaha has been one of the band's favorite stops since STNNNG first got together back in 2003. Part of the initial attraction to the city was due to guitarist Nate Nelson, who lived in Omaha for years before moving to Minneapolis.

"I don't think we had played 10 shows before Nate got us gigs in Omaha and Lincoln," Besinger said. "We have a lot of friends down there, so even if no one comes to our shows, we have a reason to come to Omaha. We love it so much, that's why we keep coming back."

But the main reason the band is headed here is to support their new album, Fake Fake, slated for release in the next few weeks on Modern Radio Records, whose roster includes The Plastic Constellations and The Chambermaids. The follow-up to their frantic debut, Dignified Sissy, Fake Fake is "a more mature, grown up record," Besinger said. "We spent a lot more time recording this one versus Sissy, which we pounded out over a weekend."

Besinger hopes Fake, Fake will eclipse Sissy in sales. "We're pressing an additional 200 copies," he said. And just how successful was Sissy's sales? "Well, we don't have loads of copies that we're using as insulation for our homes. So to me, it was a roaring success."

The Oct. 13 Omaha show will be sort of a CD release party for Fake Fake. Besinger said it will be the first time anyone will be able to get the album, weeks before the CD's official CD release show at Minneapolis' 7th St. Entry with pals Signal to Trust. Between then and now, they'll be touring the East Coast, trying not to go broke along the way. How much do they make on tour? "Oh, you make loads," Besinger said sarcastically. "As long as nothing breaks, like the van, we'll hopefully break even."

But for Besinger and the rest of STNNNG, it ain't about the money, it's about the hugs. "I love the music so much that it flows through me, just like a vessel. It's a conduit to unify people, to bring people to one consciousness. I love being part of the whole communal experience."

Then he added, "Actually, I just like having my ego stroked."

---
Back to

Published in The Omaha Reader Oct. 11, 2006. Copyright © 2006 Tim McMahan. All rights reserved.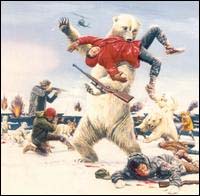 ---

"Well, we don't have loads of copies that we're using as insulation for our homes. So to me, it was a roaring success."

---