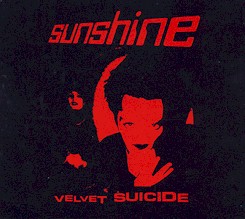 ---
"I don't care if we're touring Europe or the U.S., the people are the same everywhere."
---
He said touring in the United States means everything to the band. "It's the most important part of our tour," he said. "In Europe, we're a really underground band because we're on a small label, but we're bigger there than we are here. In Europe, it's important for us to play with U.S. bands because everyone is curious to see them."
With an obvious love for Bauhaus, early Cure and any other '80s pop-punk-verging-on-New Wave band, Sunshine sounds like a weird hybrid of Them-era '60s garage rock, Material Issue faux nostalgia and, at times, very early U2 minus the pretension. Strange and slightly off-kilter, they proudly wear their influences on their guitar straps like badges of honor. "I'm 32, and for me the golden years of rock and roll were the '80s," Kay said. "We're not trying to rip anyone off, itís just the influence. Everything is coming back in weird circles that are fashionably trendy now."
Though Kay sounded excited about the tour, more than once he said it was tiring, and boring. "I don't see much of the country," he said. "Everything is going quick and fast and itís a lot of driving."
Though he's a long way from home, he doesn't miss his homeland. "Maybe the other guys do," he said. "Our bass player is alone and probably homesick." But not Kay. He's brought his girlfriend along, while Martin has his wife in tow.
"I'm cosmopolitan. Also, I like being on the road. It's really important for my life personally. I don't care if we're touring Europe or the U.S., the people are the same everywhere. The crowd is really young and dancing."
The one thing he probably is getting tired of is touring Velvet Suicide, which has been out for a couple years. The band is writing songs for a new album, some of which they are playing on tour. "We recorded some new stuff before we left the U.S. last time out, but had to cut it short," he said. "It was a last-minute thing. We have another recording session before Christmas, then again in January. The new album will be out in early spring of next year."
He said the new CD will be more of the same late-80s punk-rock-influenced sound, but more powerful. "We will use more keyboard stuff," he said. "It's like a celebration of New Wave."

---
Back to

Printed in The Reader Nonembet 15, 2000.
Copyright © 2000 Tim McMahan. All rights reserved.