Frustrating? Despite it all, Freel seems downright understanding about Kirkpatrick's ever-shifting priorities. So much, in fact, that after recording the last couple Swell CDs without him, Freel welcomed Kirkpatrick back for Whenever You're Ready, even bending over backwards to overcome a geographic hurdle.
"I was in Milwaukee and Chicago for awhile and I sent Sean some tapes," Freel said, explaining how the new album came together. "He said he wanted to work again, so I came back to California and stayed in San Francisco. He lives in Santa Barbara, a scene that's too mellow for me."
The 300-miles separation forced Freel to drive down the coast to record the drum parts in Kirkpatrick's garage. "We tried doing it by tape, but that didn't work. I had to go down there and explain how the parts came together," Freel said. "All he does is the drum parts; that's it. We discuss them in depth all the way through the process. Aesthetically, the situation worked out between us."
There was a happy byproduct to the separation. Freel says he and Kirkpatrick both were influenced by the constant travel along Highway 101 -- a drive that rambles back and forth between the ocean, dry rolling hills, old missions, vineyards and some forgotten little towns. The product of two years of recording in five locations is a classic road trip album soaked in the color of a California sunset.
Standout tracks include the haunting "Next to Nothing" that syncs Freel's pounding acoustic strumming with Kirkpatrick's loose, scattershot drums and a forlorn, echoing keyboard line. That acoustic guitar-and-drums combination is the backbone behind Swell's sound, a laid-back beachnut vibe that would be right at home next to a camp fire or breaking surf. At the same time, there's a lush, film noir shadow that haunts their music, making it feel like a soundtrack to an edgy indie movie. Even when Freel brings on the electric guitars, the impact is more transcendental than heavy.
"To me, the album sort of distills the other six records we've recorded. It's a 'greatest moods' album," Freel said. Clocking in at around 66 minutes, that's a lot of moods. Did the band include so much material because they knew this could be their finale?
"I always feel that way about every record, that it could be the last one," Freel said. "And that's how I approach them. It explains why it's so long. We kept finding songs we wanted to work on, and kept putting them on there. We thought about cutting it, but figured, 'fuck it.'"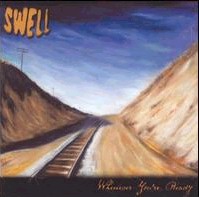 ---

"To me, the album sort of distills the other six records we've recorded. It's a 'greatest moods' album."

---