The version on the new 12-inch still centers on that egotistical, ripped "man built out of snow," but now Meyer-Cusack and the rest of the band, which includes guitarist Bradley Turk and bassist Daniel Lehmann, have added a backstory.

"We thought that it could be about this friend who turns out to be an asshole, and how all the time spent with him turns out to be wasted," Meyer-Cusack said while drinking a PBR tallboy at O'Leaver's, leaning forward to be heard over an old Kite Pilot song blaring on the jukebox.

Grudgingly I admit the change is an improvement, though it'll take a while for fans to get used to it. The snowman tune is one of nine classics on The Nature of Magic..., all of them fun, upbeat songs appropriate for dancing or at least bobbing your head to the beat. Musically, it's reminiscent of fun pop acts like Too Much Joy, Pavement, Atom & His Package, Moldy Peaches, They Must Be Giants, Fizzle Like a Flood and Tilly and the Wall. But at its heart, it's pure Talking Mountain hocus-pocus.

Surprisingly, no one in the band cringed when I describe their sound as "Cutecore." Well, maybe a little. "When people ask, I tell them it's Monster Pop," said Turk, the band's newest member who recently moved to Omaha from Des Moines, where he was in a band called The Family Unit, which became The Bradley Unit.

Meyer-Cusack said their music is "like The Beatles, but with less people and more keyboards." In a city that celebrates morose, confessionary folk dirges and/or acidic garage rock/punk/metal, Talking Mountain is unapologetically fun (though the lyrics can be deceptively depressing, Lehmann said).

"We could be another band that writes about how a girl broke our hearts," Meyer-Cusack said, "or we could be a band that puts on a sweet show and sings about snowmen and apples putting on pants."

Part of their "sweet show" involves wearing cuddly monster masks that resemble something made by Jim Henson. "It's better than just being a bunch of dudes playing in normal clothes," Meyer-Cusack said. Still, playing in masks has its disadvantages. "There have been lots of problems," he said. "There are no eyeholes, so you can't see your guitar, but you can look down at the keyboard."

"It's almost harder to see out of eyeholes anyway," Lehmann said. "Mine is just a piece of fabric with a mouth hole."

"We're trying to create something that's interesting to look at, like the Showbiz Pizza Band or Josie and the Pussycats," Meyer-Cusack added, "a cool world where no one cares what we look like. I don't want people to look at me."

The monster motif is part of an overall theme created by Meyer-Cusack and emblazoned on the band's cool album artwork, road cases, T-shirts even the screen-print fabric sleeves used for their cassettes. That level of detail also went into their recording, which was made in Meyer-Cusack's basement and is being released digitally and on vinyl by Slumber Party Records.

"We bought a Pro Tools system for less than what it costs to go to a studio," Meyer-Cusack said, "and we didn't have to do it in three days. We spent months overdubbing."

"It's fun to record your own album," Lehmann added. "You don't have to explain to some guy how you want the bass to sound or worry about him forcing his recording knowledge on you. It doesn't suit our band to have a super-pristine, over-produced studio album."

"This is our first real album," Meyer-Cusack said. "It makes sense to not pay that money. If some label likes the album and wants us to make another one, they can pay for it. They can play on it, too."
---
Back to

Published in The Omaha Reader Feb. 25, 2010. Copyright © 2010 Tim McMahan. All rights reserved.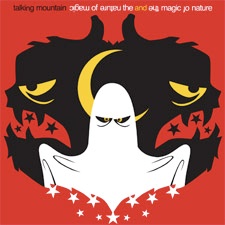 ---

"

We're trying to create something that's interesting to look at, like the Showbiz Pizza Band or Josie and the Pussycats, a cool world where no one cares what we look like. I don't want people to look at me.

"

---