"It's a very small community, and music is very much a part of people's lives," said Teitur as he navigated the Interstate somewhere between Pittsburgh and Cleveland in a land that must seem a million miles away from his native soil. "Living there is probably like living in any small town in America, but without a chance to drive four hours to see the latest band."
With only one radio station on the islands, Teitur grew up listening to Western pop standards. "Obviously I didn't get a chance to hear eclectic records or develop an interest in a certain performer or style of music, or see cool rock bands. All I had was what was on the radio."
But that was enough to inspire him to take on a career as a musician and songwriter with a style influenced by artists as diverse as The Beatles, Gershwin, Burt Bacharach, Joan Armatrading and Joni Mitchell. "I didn't write Faroes music," he said, explaining that all of his songwriting is in English. "I listened to some Faroes songs of course, but there's not much Faroes in my stuff. It's no different than how bands from Sweden and Norway write Western-influenced music."
With his old-school singer-songwriter roots, it only made sense that Teitur's first album would be produced by one of pop music's more successful hitmakers, Rupert Hine, who has worked with everyone from Tina Turner (Private Dancer) to Stevie Nicks (Other Side of the Mirror) to Suzanne Vega (Songs in Red and Gray).
Teitur said Hines first heard his music through his music publisher, and afterward approached him to work on the project. "We really clicked when we first met," Teitur said. "The process of working with someone to find the essence of what you're trying to accomplish is hard work, and someone like Rupert got me there."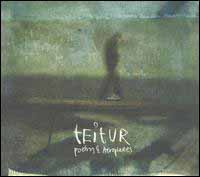 ---

"Obviously I didn't get a chance to hear eclectic records... All I had was what was on the radio."

---