That dark, weird world permeates the band's new album, La Musica Negra, released May 20 by Capitol Records. Comprised of modern-day roadhouse rock, the CD has its roots in Delta Blues and indie grunge. The opener, "Way Out West," is the kind of track that would fade-in during that montage sequence in the movie when the two heroes and their one fine babe are driving cross country in a late-'70s Dodge muscle car, pouring beer on their bodies and shooting guns out the window, laughing at the world. It's all rock attitude, with its chugga-chug guitars and slurred vocals, taunting "I'm letting the good times roll, down in the rabbit hole."
The whole CD has a weary, sordid, smeared-grease-on-chrome feel to it. The songs are hangover memories spiked with cigarette headaches and bad breath. The lyrics are about cheating the world and the devil, while looking toward Jesus with burning remorse, guilt or unexpected loneliness.
"I, Pistol" sounds like Beck if Beck decided he wanted to rock instead of just roll, mainly because Bondy has a gritty Beckian voice. It also helps to have Rob Schnapf (Beck, GBV, Elliott Smith, The Vines) behind the knobs in the studio. Other times ("It's Alright, It's Okay (Jesus Told Me So,)") it sounds like grunt rock that hasn't been heard since Urge Overkill was doing it right in the '90s.
It's not all rock braying. They mix things up with slower ballads like "Camella" and "Dirty Goodbyes" that manage to hold the power and your attention despite the down-shift. Through it all Verbena keeps its stark, rust-belt identity firmly in tact, though their infectious guitar riffs and driving rhythm section could make them the next Stone Temple Pilots or Foo Fighters.
Bondy said La Musica Negra was the product of the band's own determination to get it right, having thrown away their first studio efforts. "We made a record and scrapped it with the label's blessing," he said. "We all agreed that it shouldn't come out, but we had no idea what we were going to do."
That's when the trio, which includes Les Nuby on drums and Nick Daviston on bass, enlisted Schnapf, who Bondy says understood where the band wanted to go. Fans of Delta Blues (Bondy says he lives only a hours from where Fat Possum Records does business), Verbena makes no qualms about building its sound from the music that came before it.
"We have a rich sense of the bands that we come from," he said. "The story goes that rock and roll is supposed to eat its young, but how can you start a band and not know what came before you? If you want to throw out the blues and become a no-wave band, then that might work, but for someone like us, the last two records are almost classical in how we approached them."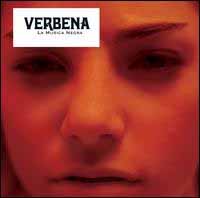 ---

"After six years and three label presidents, the fact that we're still on Capitol is ridiculous."

---