Voltadomar

At the Speed of Light

Team AV

Prog-art instrumental "rock" in the Yes vein. Too often it's a mish-mash of fusion jazz sporting angular indie-rock guitars that do little more than annoy. The bulk of the CD's variety comes from shifting back and forth between a few unnoticeable chords. Though it's obvious that they're going out of their way to not be catchy, it would be nice if something on the CD were memorable other than the frantic speed and intricacy of the compositions. The result is tedium and monotony bordering on jam. Never is there a strong, central theme or melody, the kind that makes music by instrumental giants Pell Mell, The Album Leaf and Tristeza work so well.
---
back to

Posted Jan. 30, 2002. Copyright © 2002 Tim McMahan. All rights reserved.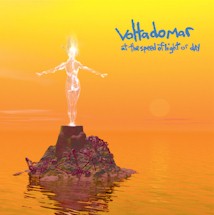 | | |
| --- | --- |
| | Rating: No |
| | Obligatory pull-quote: "Never is there a strong, central theme or melody." |