Back then, Dapose said he listened to death metal bands with names like Suffocation, Morbid Angel, Emulation and Gore Guts. "I didn't like it when I first heard it," he said. "Then I found myself listening to it, and it became this infatuation. That's why I joined a death metal band. We got really good at playing that style, but after awhile I got out of it because I was sick of the negativity involved with it."
Through his friendship with Jacob Thiele, a former Westside High classmate, Dapose would eventually meet The Faint and contribute to 2001's Danse Macabre before becoming a full-fledged member of the band. "I traded the spastic idea of music being really aggressive and pissed off for the idea of lyrics that actually meant something, and a song that makes you feel something other than just the energy charge from death metal."
Success with The Faint soon followed, and although Dapose loves playing The Faint's brand of no-wave electronic dance music, his fascination with death metal never faded.
Enter Precious Metal, Dapose's one-man death metal project that will debut Friday night at Sokol Underground. Standing alone with an electric guitar and a microphone, Dapose will perform his brand of death metal over prerecorded drums and keyboards. More than just a side project, he says it's a chance to influence the direction of a musical style that has become stagnant.
"Death metal is fun, but it's limited in its negativity, which is old and boring," Dapose said. "There's some good gore bands out there like Cannibal Corpse who present music in a horror-movie way. It's completely disgusting to read the lyrics, but you get a kick out of it. I like that, but at the same time, that's not the only thing I want to hear and think about. Every other band that's not painting a picture is pissed off and hates everything, and it's kind of juvenile and not thought-out.
"It's hard to express something positive in death metal because the frequencies and sounds aren't pleasant," he said. "They're satisfying, but they don't make you smile or hold your fist in the air and go 'Yes!' I'd like for that to change, and I think there's a way to do that, but it probably won't be popular. Metal heads like their metal the way it is."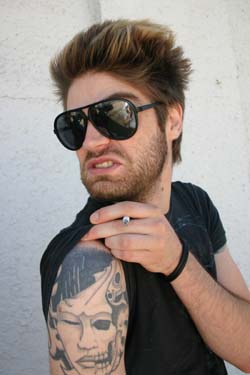 ---

"Death metal is fun, but it's limited in its negativity, which is old and boring."

---