Take Me Home
A Tribute to John Denver

Various Artists

Badman

Who would have thought that a tribute album -- usually the territory for last-gasp artists trying to glom onto someone else's legend -- could bring such a fresh perspective to these war-torn AM radio faves?

And what a perspective it is. The compilation, a labor of love by Red House Painters' Mark Kozelek, brings together some of the very best of the slow-core ambient wonder-bands, all of whom owe a certain debt to Kozelek for paving the way for their emotionally driven, drowsy-acoustic sound that's become a movement of sorts in the indie music world. Most of your favorite Denver songs are here (with the notable exception of the CD's title track and (thank God) the hick-flavored, knee slapper "Thank God I'm a Country Boy"), lovingly rendered in the artists' distinctive voices, many of them so dramatically altered that they're almost unrecognizable.

The Innocent Mission's take on "Follow Me" comes closest to the original, except for Karen Paris' lost, lonesome vocals that only add to the song's seclusion. Former That Dog vocalist Rachel Haden's warm, reflective rendition of "Poems, Prayers, and Promises" sounds as personal as if she wrote the song herself. Slow-core heroes, Low, give a suitably morose reading of "Back Home Again," that would fit right in at any church service, thanks to the droning organ and mourning vocals. Tarnation (with Joe Gore) sound like Peter, Paul and Mary meet Peter Gabriel on a stunning version of "Leaving on a Jet Plane," that seems to naturally underscore the song's unintended irony. Hannah Marcus' cover of "Looking for Space," is the most harrowing of the bunch. Bone-achingly sad, it's a stark and ultimately confessionary approach on a Denver song I'd never heard before. But it's Kozelek and his band who stray the furthest from Denver's original intentions. The Red House Painters' over-seven-minute-long instrumental version of "Fly Away" is majestic, with its huge wall of dense electric guitars. Their minor key take on "I'm Sorry," with Kozelek's striking, broken-hearted voice, makes Denver's version sound like a hootenanny in comparison.

In fact, the thread that binds all these renditions together is the almost funereal feel of the performances. These are slow, quiet and purposely haunting renderings that add a new twist to songs that, for many, were merely pleasant niceties to hum along to on the way to work. It's pretty rare for a tribute CD to have this much of an impact on how an artist's music is perceived. As our old friend John would say, "Far out."
---
back to

Published in The Omaha Weekly July 6, 2000. Copyright © 2000 Tim McMahan. All rights reserved.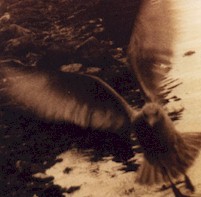 Rating: Yes
The Line-up:

Bonnie Prince Billy -- The Eagle and the Hawk
The Innocence Mission -- Follow Me
Rachel Haden -- Poems, Prayers, and Promises
Red House Painters -- Fly Away
Mark Kozelek and Rachel Goswell -- Around and Around
Hannah Marcus -- Looking For Space
Granfaloon Bus -- Matthew
Sunshine Club -- Annie's Song
James Hindle -- Whispering Jesse
Tarnation with Joe Gore -- Leaving on a Jet Plane
Low -- Back Home Again
Red House Painters -- I'm Sorry