The move came shortly after Studio B relocated its operations from the Mormon Bridge compound to a new facility on 49th and Hamilton in the summer of 2005. "I saw an opportunity to start my own company and expand upon what I'd been doing," Van Sloun said. The first step was finding a building that he could transform into his vision of the ultimate mastering studio. He found it in a 1,000-sq. ft. vacant garage at 14910 Grover St. What made it ideal was the building's 16-foot ceilings. "I was looking for cubic volume instead of square footage," Van Sloun said. "Cubic volume is what makes a room sound good."
Half the space was taken by the lobby, office and bathroom. The remaining 450 square foot was dedicated to creating a state-of-the-art mastering suite, the ultimate listening station. To get there, Van Sloun hired Chapel Hill studio architect Wes Lachot, who designed Mogis' ARC Studio and The Faint's Enamel Studio, as well as Mitch Easter's Fidelitorium Recordings, David Barbe's and Andy LeMaster's Chase Park Transduction and the redesigned Electric Lady Studios in Greenwich Village, originally owned by Jimi Hendrix.
Entering Van Sloun's mastering suite is like walking into a glowing fabric-and-oak sonic temple. On the wall across from the Starship Enterprise-style Crookwood mixing console is an oak sound defuser surrounded by large fabric-covered bass traps and acoustic panels. "This room isn't square," Van Sloun pointed out, "It's trapezoid -- 18 feet wide in front and 20 feet wide in back. That keeps the sound moving." An acoustic "cloud" hangs overhead, covering R25 insulation and drywall mounted on springs to absorb mechanical energy.
In fact, every construction decision -- from installing a $3,000 oak floor to placement of the cushy leather couch -- was made to create the perfect listening environment, not only for Van Sloun but for his clients, who can sit back and hear their recording as if for the first time.
How's it sound? Van Sloun demonstrated the room using trusted reference recordings by Donald Fagen and Alison Krauss, as well as music he recently mastered by Tilly and the Wall and Beep Beep. It was like an audio thrill ride. For someone who spends too much time listening to music on an iPod, it was like giving sight to a blind man.
Van Sloun said he's always had the finest audio equipment; now he has the perfect space to use it. "It was like having a Lamborghini stored in a carport that you only drove to the HyVee," he said. "This room is a premium race track."
Find out for yourself at the studio's open house for past, present and future clients Saturday, March 1, noon to midnight at Focus Mastering, 14910 Grover St., Suite 100. For more information, call 402.504.9624 or visit focusmastering.com.

---
Back to

Published in The Omaha Reader Feb. 20, 2008. Copyright © 2008 Tim McMahan. All rights reserved.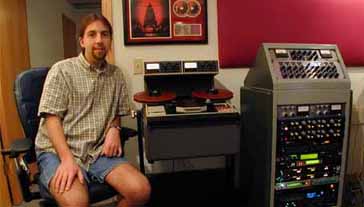 Van Sloun in his old digs at Studio B.

---

"It was like having a Lamborghini stored in a carport that you only drove to the HyVee. This room is a premium race track."

---