Bring You To Your Knees
A Tribute to Guns & Roses

various artists
Law of Inertia
Look, I'm as big a fan of G'n'R as anyone, but the last thing I want to hear is a tribute album done by a bunch of bad metal bands. More than unnecessary. But since they tried, here's the score:
Welcome to the Jungle -- Zombie Apocalypse -- Horrible monster-metal approach is amusingly bad, just like most metal.
You're Crazy -- Haste -- See above.
14 Years -- Vaux -- Garage punk in posture, hip in delivery, as good or better than the original.
It's So Easy -- Unearth -- Only half-crappy -- the half where the guy ain't screaming isn't horrible.
Nightrain -- Break the Silence -- A run-of-the-mill bar-band cover.
Anything Goes -- Death by Stereo -- They take a song that's already heavy and turn it up a notch. I always thought G'n'R's version sounded sort of half ass. This is all ass (and that's good).
Sweet Child o' Mine -- Most Precious Blood -- Why these guys get this one? Maybe because someone in the band knows how to play piano. No one in the band knows how to sing, however.
November Rain -- Time in Malta -- The original is so damn long, what do you do with it? Not this.
My Michelle -- Dillinger Escape Plan -- Growl screaming. Maybe Axl was a better singer than we all thought?
Paradise City -- Eighteen Visions -- Straight-forward reading adds nothing to the original.
I Used to Love Her -- Every Time I Die -- Suitably laid-back, nice.
Out to Get Me -- God Forbid -- More growling. Ugh.
Rocket Queen -- Bleeding Through -- The worst cover on the CD.
Estranged -- The Beautiful Mistake -- Almost NYC, almost indie, and not bad.
The final bad vs. good score -- 10 to 4. Band wins hands down.

---
back to

Posted Dec. 27, 2004. Copyright © 2004 Tim McMahan. All rights reserved.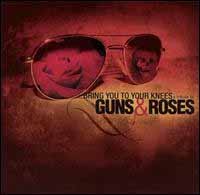 | | |
| --- | --- |
| | Rating: No |
| | Obligatory pull-quote: "...the last thing I want to hear is a tribute album done by a bunch of bad metal bands. More than unnecessary." |
| | |