Simon Joyner / The Mariannes / The Golden Age
Feb. 21, 2003
Sokol Underground
Other than the fact that this was a release show for two 7-inch records (I'm told Simon Joyner's wasn't available), the buzz going into last night's show at the Sokol Underground was about The Golden Age, a 6-piece band out of Lincoln that had been rumored to be the next Saddle Creek Records signing. One of the label's executives quickly doused that fire, telling me that, though they love the band, there are no plans to sign them to Creek (There was a large Creek presence on hand, by the way). In the end, it probably doesn't matter because these guys sound so polished, just about any other sizable indie label will want to gobble them up.
I don't know a thing about the Golden Age other than what I just mentioned. The six-pieces consist of drums, bass, guitar, keyboards, guitar/vocals and someone who switches between guitar, accordion and mandolin. Eclectic? Not really. Their sound is relatively mainstream from an indie standpoint. The singer has the classic Creek look a la Conor Oberst (he's short, slight, with dark swoop hang-in-the-face-hair and shiny shoes), though he sounds nothing like him. I was told going in that they sound like Bright Eyes -- I didn't hear any of that. In fact, at times the singer's voice (there was only one mic on stage -- no harmonies) came very close to sounding like Joe Knapp. The music was a mix of modern-day baroque pop and the Wallflowers. In fact, the person next to me said they reminded him of The Left Banke (who remembers "Walk Away Renee"?) sans strings. They rifled through about 10 songs end-to-end with only the briefest break in between -- very well-rehearsed, very prof. And they closed with their strongest song, a Wallflowers-esque rocker which showcased the singer's high, throaty voice. The crowd was into it from the start and they got the best response of the three bands. There's no question that they'd fit right in with the rest of the Saddle Creek stable.
Next up was The Mariannes, who suffered through a few technical problems during their set (plugging in the wrong chords, equipment adjustments, etc.). Regardless, they sounded good and looked assured. I hadn't noticed it on their record, but their songs are powered by Robert Little's bass, which pumps things forward over Matt Stamps' rather spare guitar lines and sweet, warbly vocals.
Last up was Simon Joyner, accompanied by violinist Lonne Methe (Naturaliste) and guitarist Alex McManus (The Bruces, Lambchop). I haven't seen Simon in more than a year, and he was in his usual voice -- confident in its unsureness -- playing as many upbeat numbers as dry, slow ones. Methe's fiddle provided a constant drone/bottom to every song, sometimes adding timbre, other times pure dissonance, giving everything an avant flare. Same goes for McManus. On Simon's more experimental pieces, Alex looked rapt in concentration, trying to make the right noises to compliment wherever Simon was headed. For the third song -- which Joyner said was a new one and still untitled -- the trio fittingly bent every element of structure on a painful, dark, almost gothic lament with lyrics that talked about "liking your music when I'm drunk". The crowd seemed unsure how to respond, and Joyner met their confused applause with "Thank you, I think." You get a sense watching Joyner that he knows each performance is a unique experience for both him and the listener, and that once the ball starts rolling, there's no turning back and no way to control where it's going, and that he wouldn't have it any other way. The more upbeat, folkie numbers were my favorites, and no one can turn a phrase like Joyner, who's maybe the best lyricist Omaha has ever produced.
Beyond the music, everyone was talking about the Rhode Island tragedy -- it was clearly on everyone's minds. Who hasn't been in an oversold club and thought to themselves "If there's a fire in here I'm never getting out"? Safety wasn't a concern last night. The crowd was comfortable -- a respectable 175 -- and these weren't the type of band to use pyrotechnics other than what they can produce with their instruments.
---
back to

Posted Feb. 21, 2003. Copyright © 2003 Tim McMahan. All rights reserved.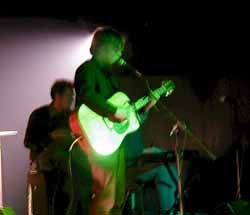 ---

You get a sense watching Joyner that he knows each performance is a unique experience for both him and the listener, and that once the ball starts rolling, there's no turning back and no way to control where it's going, and that he wouldn't have it any other way.

---