Jim Jacobi and the Jojakimbi Band


I'm Datin' Satan!

Kahuna Records





Old school punker Jacobi's been doing his thing since the first punk wave hit the shores in the '70s. You'd think a guy his age would lose his stamina, but he manages to keep it up on most of the heavier, harder, noisier, angrier numbers. The opener is two minutes of sheer Midwestern Ramones, with Jacobi spitting out the inspiring line "She's turned from a lovely woman / Into a lunatic bitch." Nice. "Hung Over" is pounding surfaholic heavy metal with an Iggy Pop twist. In fact, Iggy's influence is all over the noisier songs, from the growling title track to the burning "Old Fashioned Love" to the thick-lipped chugger "Chunk-a-runkus."

Less interesting are the seedy, countrified howlers. It's a fine line between cheese and camp, and Jacobi walks it like a blind man on the funk-guitar-fueled "Nervous White Guy," horror-metal grinder "Stella" and truck-stop back-beater "Four Beer Story." Maybe he's mellowing as he gets older, just like a fine malt liquor. I just assume he leave the hick stuff at home -- it's the punk that makes him legend.

---
back to

Posted Nov. 1, 2002. Copyright © 2002 Tim McMahan. All rights reserved.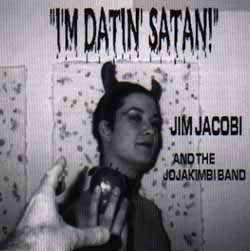 | | |
| --- | --- |
| | Rating: Yes |
| | Obligatory pull-quote: "Iggy's influence is all over the noisier songs." |
| | |